April 30, 2023, by Chris Tully, for First Tracks Cumberland
CUMBERLAND, ME – Veteran reinsman Bruce Ranger moved four steps closer to the 10,000-win threshold on Saturday (April 29) at Cumberland, picking up a quartet of victories including three-in-a-row on the twelve-race program.
Ranger began the day with Southwind Marilyn, steering the 10-year-old Art Major mare to a wire-to-wire score for trainer Wayne Smith. Owned by Courtney Pitts and Adalberto Silva, the favorite paid $4.80 to win.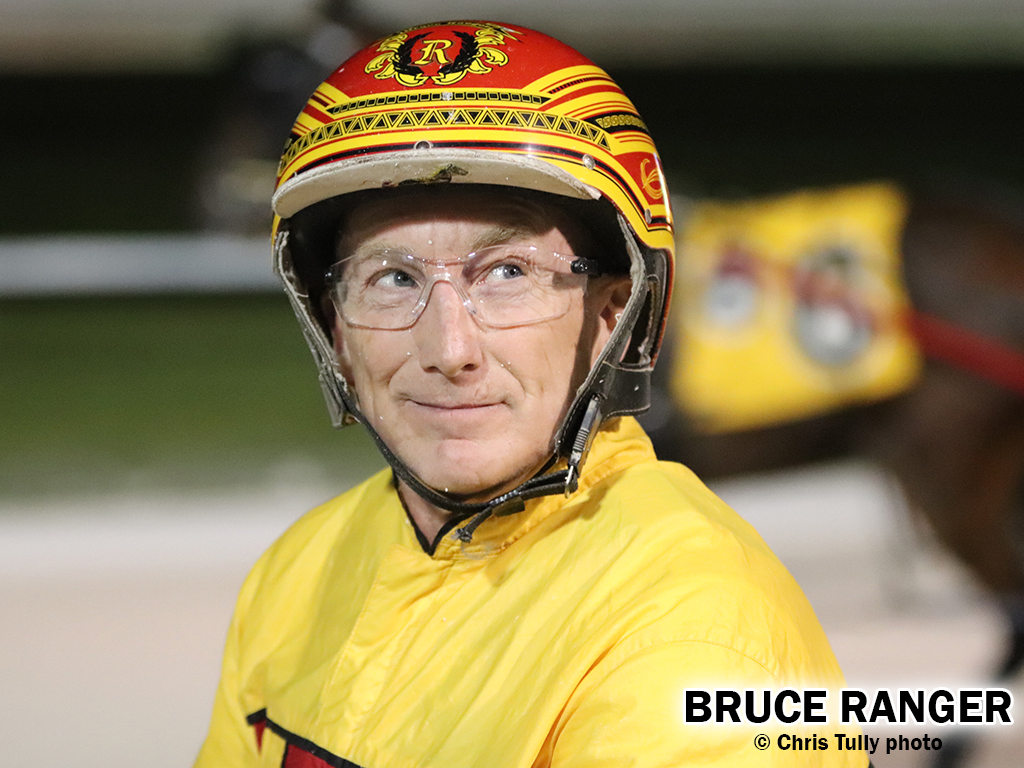 The Ranger crusade continued in races nine through eleven with victories by Airspinder (1:55.4, $3.00, trainer Chris Lefebvre), Third Power (1:56.2, $4.40, Katelyn Gerow) and Pacin Perfect (2:00.2, $12.80, Richard Allaby).
The Maine-native and fan-favorite now has 9,986 lifetime wins with $43,840,289 earned over a whopping 48,988 lifetime starts. Ranger sits nineteenth on the all-time dash win list.
Nick Graffam enjoyed a driving double on the card, including a big win with The Bird Dance N to take the $20,000 Spring Fling Late Closer Final No. 2 in 1:55.2. Part of an ownership entry, the heavy favorite danced swiftly around the oval unchallenged to win by five lengths for owner Jose Cerventes and trainer Karl Butterfield. Entry-mate Dragonoloy was second; Bay Brute (Aaron Hall) was third.
Graffam closed the day at 985, and now has $8,494,699 in career earnings.
The 'Ranger-Graffam' watch continues Monday and Tuesday at Plainridge and then moves to Bangor on Wednesday (May 3) for the opening day of racing in Northern Maine.
The $6,000 winners over pace was captured by Adriano Hanover who was driven to a decisive front-end score by Kevin Switzer Jr in 1:56. Owned and trained by Gerald MacKenzie Jr., the 6-year-old Western Ideal stallion found the Cumberland oval much to his liking, having emanated from the Meadowlands.
Next week, the public can watch and wager at Cumberland Raceway on Friday (May 5) and Saturday (May 6) for the full cards of stakes-laden Thoroughbred racing action from Churchill Downs, Louisville, KY. The highly anticipated Kentucky Derby is next Saturday with programs, big screen television viewing and betting all available at the Fairgrounds, provided by First Tracks Cumberland.
The action at Cumberland resumes Friday (May 5), as the live harness racing continues at Cumberland throughout the spring and early summer months with regular racing on Friday and Saturday each weekend. First post is slated for 3:15 pm (EDT) during the extended pari-mutuel meeting, which runs through August 5.
Be sure to follow us on Facebook: https://www.facebook.com/FirstTracksCumberland/
For more information, check out our website: https://firsttrackscumberland.com/