April 20, 2023, by Chris Tully, for First Tracks Cumberland
CUMBERLAND, ME – The Spring Fling Late Closing Series is set to begin at Cumberland Raceway this weekend, featuring several legs going postward on Friday (April 21) and Saturday (April 22) at the iconic Southern Maine oval.
Friday's (April 21) card showcases a full card of eleven races on the program. The co-featured events of the day are the third and sixth races, both $6,000 legs of the Spring Fling # 1 for TrackMaster 65 pacers. Two divisions split evenly at six apiece with the top eight elimination money winners that race in the leg and enter eligible for the $15,000 final next Friday (April 28).
Infinite Symbol A (Kevin Switzer Jr.) has been installed as the favorite in race three. The 9-year-old Aussie-bred mare earned $37,459 last season, and gets some post position relief. She is followed by Bet On Success (Drew Campbell) and PBR Street Gang (Bruce Ranger), both of whom come into this race fresh and ready.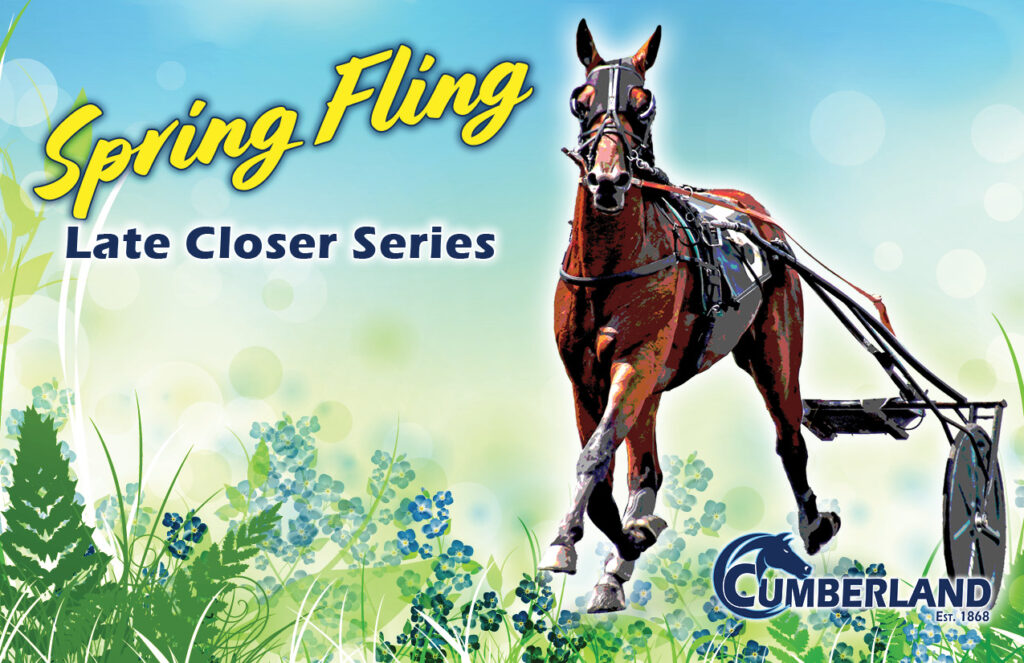 Race six sees some new blood in Alex Having Fun (Aaron Hall) as the early favorite. Renewed off a win in last week's qualifier, the 6-year-old son of Rock N Roll Heaven emanates from north of the border for his new connections. Oceanview Echo (Dan Deslandes), and Bolt Ruler (Bruce Ranger) round out the top three contenders.
The eighth race on Friday marks the start of the Pick 4, and carries a $3,000 guaranteed pool.
Back by popular demand, and in effect through the month of May, fans and punters that attend Friday's races and buy a program on-track, will receive a free program for Saturday's card.
Saturday's (April 22) card features three Winners Over $10,000 handicaps vying for $6,000 in rewards each. In addition, an ownership entry gets the early favorite status in the nine-horse field for the lone $7,500 leg of the Spring Fling # 2 for TM 72 pacers, carded as race eight.
Dragonology (HN 1, PP 4, Deslandes) and The Bird Dance N (HN 1A, PP 7, Nick Graffam) make up the Jose Cervantes-owned, Karl Butterfield-trained coupled entry and may be looking at a big payday in the $20,000 Spring Fling #2 final on Saturday (April 29).
Second choices The Next Big Thing (HN 2, PP 1, Andy Harrington), and Bay Brute (HN 7, PP 8, Aaron Hall) will look to upset the apple cart for next week's rich final.
Cumberland welcomes back our local heroine and 2022 Maine Sire Stakes Champion Wolverina. Trained and co-owned by Mike Graffam (with Bill Arnold) and driven by Nick Graffam, the now-4-year-old pacing mare earned $192,886 last season winning 12 of 15 seasonal starts and crushing her opponents at nearly every venue. The daughter of Cheyenne Hollywood leaves from post seven in the sixth race, $6,000 FM Winners Over/Handicap pace in her first test as a 'graduate.'
The seventh race is the $6,000 Winners Over Trot and is led by Prescott (Harrington) and last week's winner McStoned Again (Switzer Jr.). They will be challenged by Mister Muscle (Graffam) and Broadway Giant (Ranger) for Maine's 'top trot' bragging rights.
Race nine brings back the top male pacers in the Winners Over group, led by last week's victor Lexus Witha View A (Switzer Jr.). Havoc-wreaking hopefuls include: Grand Galop Semalu (Deslandes), Bush Man N (Gary Mosher) and Calvin B (Mark Athearn) who gets some much needed post assistance in this outing.
Saturday's loaded program carries eleven races with full fields, and post time for both days remains at 3:15 pm. Looking ahead, the public can watch and wager on the 149th renewal of the Kentucky Derby on Saturday (May 6) at the Fairgrounds. Last year, First Tracks Cumberland had a local fan hit big on a "hunch" wager placed on longshot winner Rich Strike.
First Track's Cumberland Spring/Summer meet will continue throughout the Spring and early Summer months with regular racing on Friday and Saturday each weekend. First post is slated for 3:15 pm (EDT) during the extended pari-mutuel meeting, which runs through August 5.