April 13, 2023, by Chris Tully, for First Tracks Cumberland
CUMBERLAND, ME – When Race Secretary Rob Pennington opened the box for Cumberland's opening weekend, he was pleased to find over 150 horses had been dropped in for the double draw for Friday & Saturday (April 14 & 15).
"We had anticipated robust interest, and we were not disappointed," noted Pennington.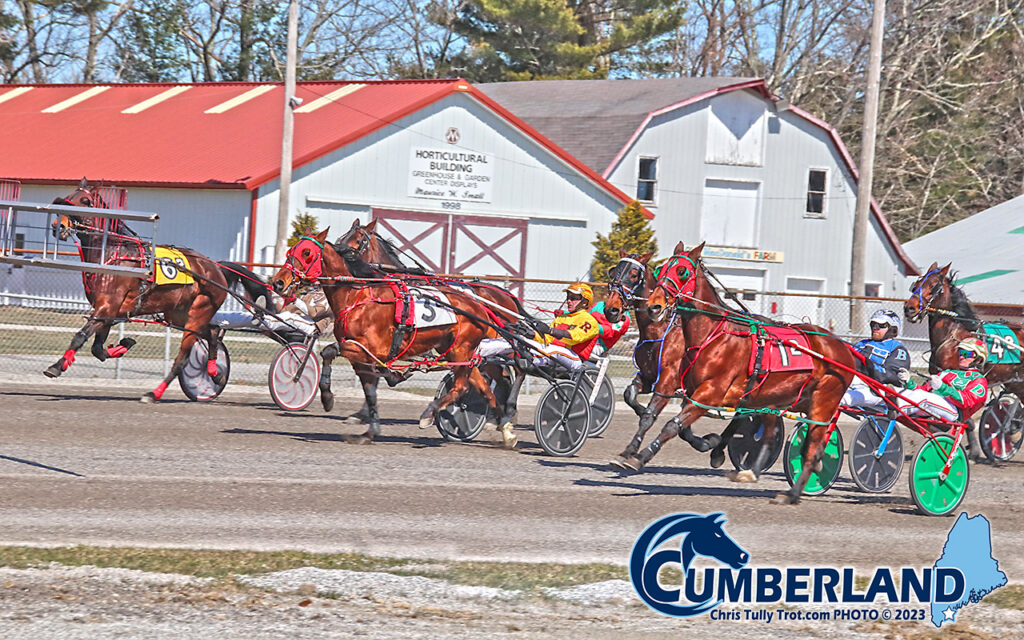 Presiding Judge Charles Malia echoed those sentiments, "These guys are eager race after being off for the last three months. Saturday's qualifiers were strong, which is always a good indicator of preparedness."
While Pennington, and his new assistant race secretary/charter Andrew Topham, sorted through the myriad of entries, one thing was abundantly clear, "Overall, the racehorses entered represent a large group of dedicated Maine horse people." Certainly with over forty different conditioners represented, the Spring opener has brought the Pine Tree State faithful back to Cumberland.
Friday's (April 14) card features nine races on the program, with every event carrying a full field of either seven or eight horses with their noses on the Wes Brown starting gate. The co-featured events of the day are the fourth and seventh races, both $4,800 conditioned paces.
The fourth, for Fillies and Mares, pits Patajali N (Bruce Ranger, 5-2) against Electrocuted (Dan Deslandes, 2-1), who score from posts one and two respectively. Both mares earned nearly $55,000 last season with a combined win total of 37 lifetime.
Race seven sees the boys version of the non-winners of $2,500 last 5 back to the fairgrounds, with Lovethewayyoulie (Aaron Hall, 2-1) leading the charge with $33,921 earned in 2022. Second choice is Jo Pa's Sweet Lout (Wally Watson, 4-1) who was 1-2-3 in 14 of 32 outings last season.
Fans and punters that attend Friday's opener and buy a program on-track, will receive a free program for Saturday.
Saturday's (April 15) card welcomes two Winners Over $10,000 handicaps vying for $6,000 in purse money, one for each gait. The fifth race has an Ohio invader, McStoned Again (Kevin Switzer Jr., 8-5), making a significant class drop to be assigned the outside post position for the diagonally gaited set. For the pacers in race seven, Lexus Witha View A (Kevin Switzer Jr., 1-1) also emanated from the Buckeye State and will look to grab this one having found a much softer landing Down East.
Saturday's Card features ten races with post time for both days at 3:15 pm.
Horsemen are reminded to check the condition sheet for our two 'Spring Fling' late closing series, to be raced the weekend of April 21 & 22. The Track Master Rating conditioned events vie for an impressive $15,000 and $20,000 final purse respectively, the following weekend. A complete condition sheet for the upcoming series is available on our website: https://firsttrackscumberland.com/
First Track's Cumberland Spring/Summer meet will continue throughout the Spring and early Summer months with regular racing on Friday and Saturday each weekend. First post is slated for 3:15 pm (EDT) during the extended pari-mutuel meeting, which runs through August 5.