April 15, 2023, by Chris Tully, for First Tracks Cumberland (Stephanie Gray photo)
CUMBERLAND, ME – Driver Dan Deslandes and his father, trainer Jeff Deslandes, took Cumberland by storm and won four of the nine races on Friday's (April 14) opening day program at the iconic Southern Maine oval.
Looking back to last week, when the Deslandes Family loaded up their trailer for the initial qualifiers and shipped down east from the Bangor area, it was evident that their horses were ready to race. With twelve Standardbreds on board, they help fill the entry box, and in turn, won the first three out of four events. Truly a family affair, Dan's wife Kori is also on the team and helps get their large contingent of horses ready to race in the paddock.
Fast forward to opening day and it was like déjà vu all over again. Deslandes, Inc. had eight horses in to go, and once again, came to town ready to rumble.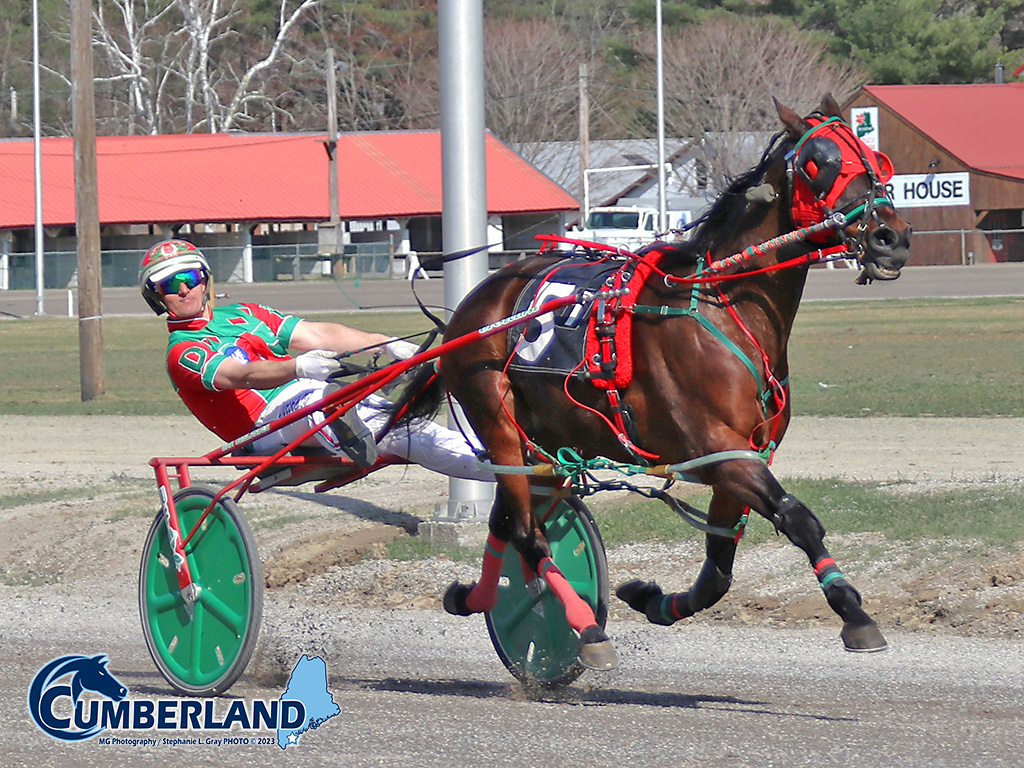 Driver Dan Deslandes wasted little time finding the Blue Seal Winners Circle, sending Pay Later right to the top from post five in race one, a place he is very comfortable. While setting the tempo, Deslandes didn't have an anxious moment until the wire where Perfect Force (Gary Mosher) tried to steal the show but fell short by a nose. Winning in 1:57.3, the 13-year-old son of Western Terror paid $8.20 to win. Owned by Moo Coo Inc., he is trained by Jeff Deslandes.
The Deslandes clan also scored in race five with SG Alexia ($4.40), and finished one-two in race six with Mighty American N (Dan Deslandes) and Scouts Report (Bruce Ranger). Scoring from pylon position, the 11-year-old son of American Ideal never had a horse in front of him and drew off to win by 3-3/4 lengths in 1:58. Owned by Ron Dinsmore, Mighty American N paid $7.20 to win.
Ten Beaches Later won the finale for the Deslandes Clan, holding on to win by a neck over P L Pasquale (Kevin Switzer Jr.) in 1:58.1. Also owned by Moo Coo Inc., he paid $3.00 to win. All told, the Deslandes' had four wins, a second, and a fourth place finish. Seven checks from eight starters, which is a pretty good day by any calculation.
When reach for comment about his 'Grand Slam Afternoon' Dan Deslandes stated, "Four wins makes for a fun day at work. But honestly, I'm just happy to be back racing and especially driving horses. As with everyone, it takes a team to get the horses ready. I'm just a small piece of the puzzle."
The all-source wagering handle hit $119,000 for Cumberland's opening day, which was up from $108,000 last year on the same date with 12 races programmed.
Saturday's (April 15) card welcomes two Winners Over $10,000 handicaps vying for $6,000 in purse money, one for each gait. The fifth race has an Ohio invader, McStoned Again (Kevin Switzer Jr., 8-5), making a significant class drop to be assigned the outside post position for the diagonally gaited set. For the pacers in race seven, Lexus Witha View A (Kevin Switzer Jr., 1-1) also emanated from the Buckeye State and will look to grab this one having found a much softer landing Down East.
Saturday's card features ten races with post time at 3:15 pm.
Horsemen are reminded to check the condition sheet for our two 'Spring Fling' late closing series, to be raced the weekend of April 21 & 22. The Track Master Rating conditioned events vie for an impressive $15,000 and $20,000 final purse respectively, the following weekend. A complete condition sheet for the upcoming series is available on our website: https://firsttrackscumberland.com/
First Track's Cumberland Spring/Summer meet will continue throughout the Spring and early Summer months with regular racing on Friday and Saturday each weekend. First post remains 3:15 pm (EDT) during the extended pari-mutuel meeting, which runs through August 5.