April 29, 2023, by Chris Tully, for First Tracks Cumberland (Stephanie Gray photos)
CUMBERLAND, ME – Driver Aaron Hall drove three winners on the Friday (April 28) program at Cumberland, but the day must have seemed a lot like a roller coaster ride from start to finish.
The 29-year-old Maine native began his hat trick by guiding his own charge Namesmuscle to a thrilling come-from-behind victory in the $5,500 conditioned trot. Sitting last at the three-quarter pole, Hall hustled the 11-year-old Muscle Mass gelding past the pack to score by two lengths in 2:01.1. Owned by Bill Phipps, Hall also trains Namesmuscle, who paid $6.20 to win.
Next up for Hall was the $15,000 final of the Spring Fling Late Closing Series No. 1, and things could have gone either way had the driver chosen a different path.
As the gate wings folded for the sixth race both wagering favorites, PBR Street Gang (Bruce Ranger, 8-5) and Alex Having Fun (Hall, 1-2), left swiftly while leaving the rest of the field in their wake. Ranger, with an inside post position advantage over Hall, held sway through the sharp opening panel of 27.3.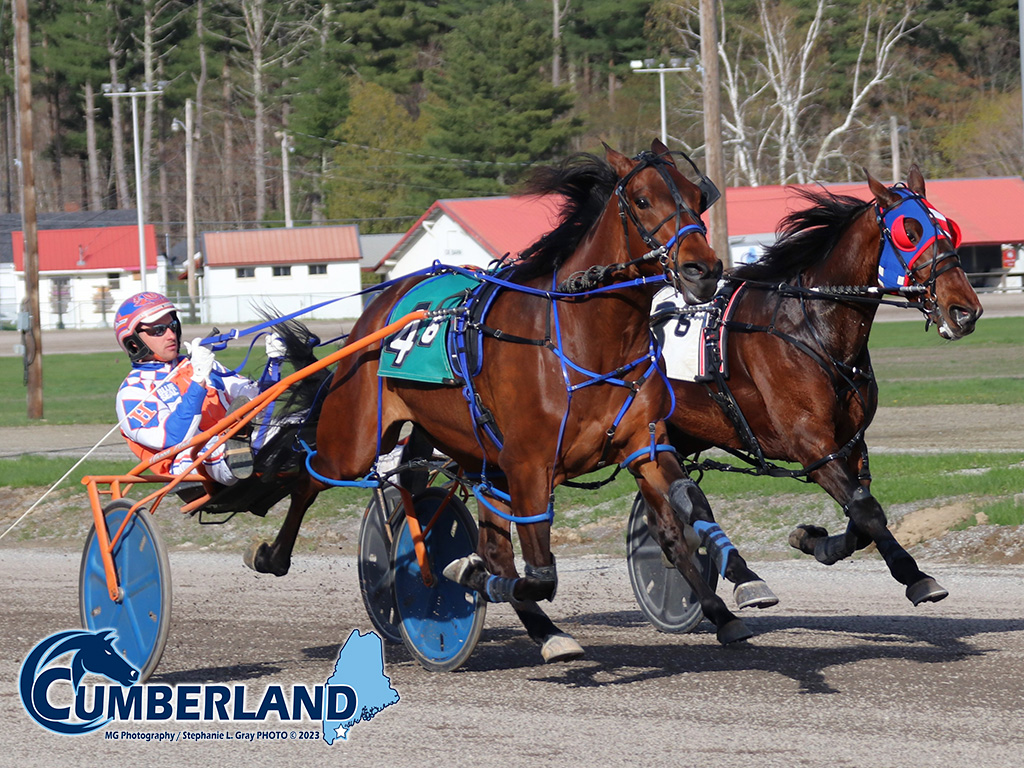 It was at that point that Hall made the winning move. Wisely, Hall realized that the veteran Ranger was not going to let him go, so he grabbed leather and took a seat. With the two leaders settled down, the half was a much more comfortable 58.3. That triggered the outer flow with Seeley Man (Drew Campbell) coming first over, followed by Oceanview Echo (Kevin Switzer Jr.). This put Hall and the favorite Alex Having Fun in a no-so-happy place: boxed-in with nowhere to go.
At the third panel Ranger let out a notch and pushed PBR Street Gang into a 1:26.3 split. Oceanview Echo stalled on the outside, which was all the racing room that Hall needed as he tipped the 6-year-old son of Rock N Roll Heaven around the final turn and collared the pacesetter. Barreling down the lane, Hall got up to score by a measured length in 1:55.3.
Owned and trained by Kimberly Vafiades, it was the second win in a row for Alex Having Fun, who paid $3.00 to win. PBR Street Gang was second, Ira Chief was eight lengths back for third. The race was sponsored by the Blue Seal Feed Stores of North Yarmouth and Windham.
Following the victory, Hall stated, "I am happy to see 'Alex' back in the Vafiades Stable, and back on the Maine Circuit. I am truly grateful that Kim and Steve gave me the opportunity to drive such a nice horse."
Hall continued: "Thank you to First Tracks Cumberland for holding the Spring Fling series, which helps contribute to the positive momentum that we are seeing grow in southern Maine."
However, the day was not over for Hall, who became unseated in race nine, but jumped right back up and onto his feet. Relatively unscathed, Hall then won the finale with Whatchagonnadoboo, which gave the driver his afternoon hat trick.
For trainer Eric Bickmore, the final race of the day also marked the 501st career victory for the conditioner, who had eclipsed the 500 training win threshold earlier in race five with Little Macabee. That win witnessed driver Drew Campbell sprint four-wide down the backside to pick up the third win in a row for the 9-year-old Chapter Seven gelding, and give Bickmore the thrilling victory benchmark.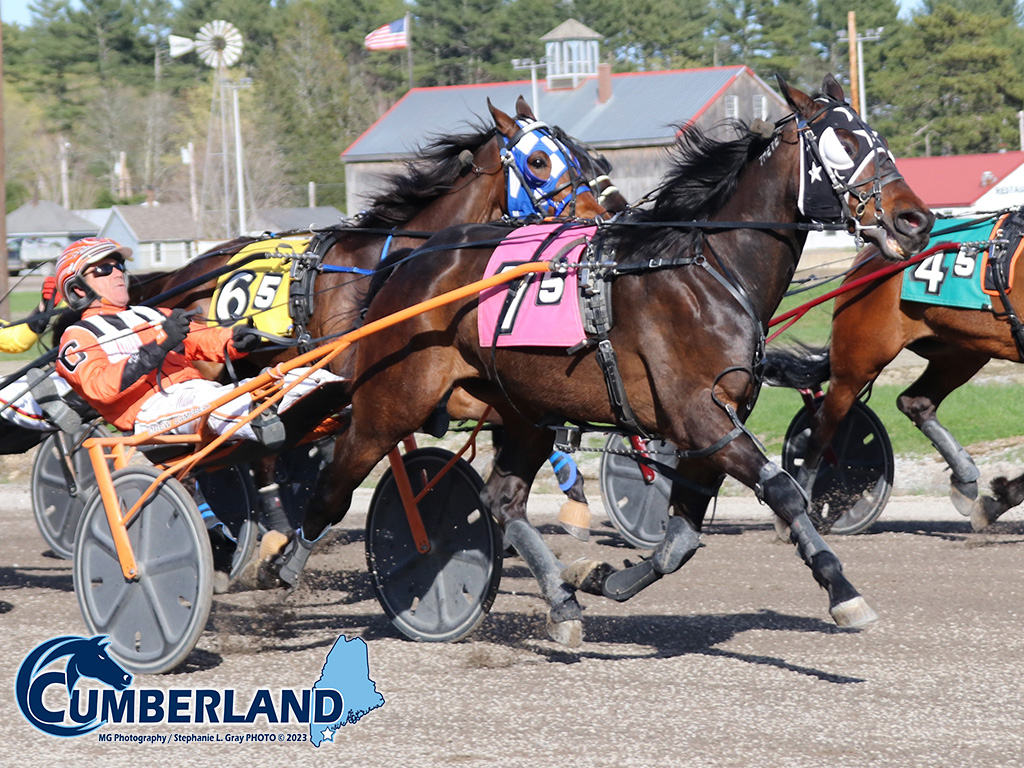 Campbell and Wally Watson both had driving doubles on the card, and bettors pushed $189,111 through the windows.
With regard to milestones, Bruce Ranger and Nick Graffam were exactly 9,000 wins apart coming into the Friday Cumberland card. Veteran pilot Ranger had 9,982 wins and Graffam sat at 982. Graffam won the $6,000 opener with his stable's 2022 Maine Sire Stakes champion Wolverina as the 'Ranger-Graffam' watch continues.
Racing resumes Saturday (April 29) with the $20,000 Spring Fling No. 2 final. The program carries twelve races, all but two with full fields, and includes the $6,000 winners over pace with post time slated for 3:15 pm.
Every race has a 50 cent trifecta, and the card also carries a host of 20 cent superfectas (races 4, 7 and 9), a 50 cent pick 4 (starts race 8) and the final race delivers our 20 cent pentafecta (super high five) many with a low 16% takeout.
Looking ahead to next week, the public can watch and wager at Cumberland Raceway on Friday (May 5) and Saturday (May 6) for the full cards of stakes-laden Thoroughbred racing action from Churchill Downs, Louisville, KY. The highly anticipated Kentucky Derby is next Saturday with programs, big screen television viewing and betting all available at the Fairgrounds, provided by First Tracks Cumberland.
Live harness racing continues at Cumberland throughout the spring and early summer months with regular racing on Friday and Saturday each weekend. First post is slated for 3:15 pm (EDT) during the extended pari-mutuel meeting, which runs through August 5.