May 12, 2023, by Chris Tully, for First Tracks Cumberland (Stephanie Gray photo)
CUMBERLAND, ME – While driver Kevin Switzer Jr. may have had the hot hands, winning three races on the Friday (May 12) program at Cumberland, all eyes were on Bruce Ranger after the seventh race as over forty of his fellow drivers, trainers, family, friends and local horse people surrounded the hometown hero in recognition of his recent 10,000 win milestone.
The Maine faithful were all too happy to congratulate the affable reinsman, who became just the nineteenth driver of all time to eclipse a five figure win total. Mike Cianchette of First Tracks Cumberland and Mike Cushing of the Maine Harness Horsemen's Association were just two of the throngs of well-wishers in an overflowing winner's circle presentation.
Ranger is member of both the New England and the Florida USHWA Halls of Fame, and cites Cumberland as his 'home track' having trained his first miles there as a youngster while growing up on his family's nearby Norton Farm.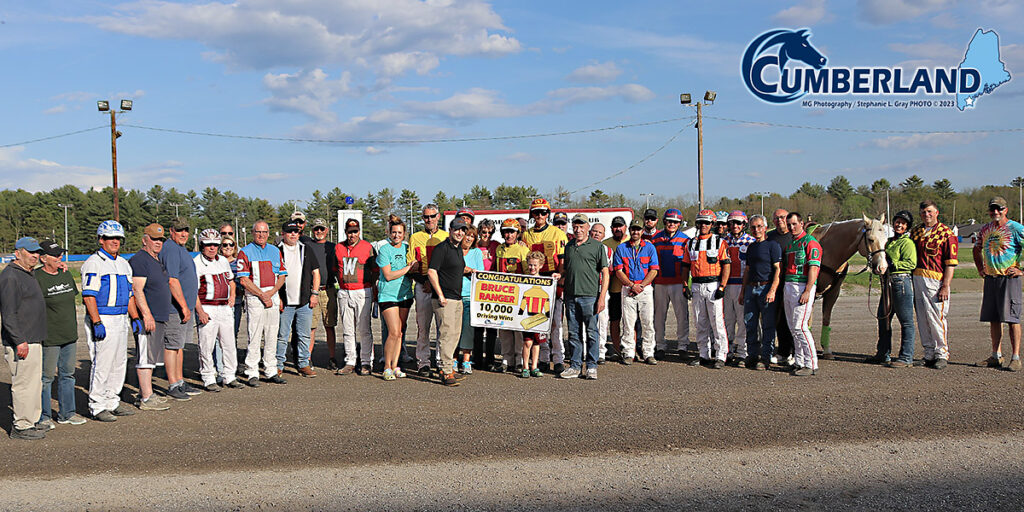 Because of Ranger's lifetime dedication to harness racing and his considerable accomplishments in the sport, First Tracks Cumberland and the Maine Harness Horsemen's Association are pleased to announce that May 26 & 27 will be known as 'Bruce Ranger Weekend' at the historic southern Maine oval. Giveaways, a special color program insert, interviews and autograph sessions featuring Bruce Ranger will highlight the holiday weekend's festivities.
Switzer Jr. got his hat trick aboard Easteriffic (2:00.1, $8.80); Mister Muscle (2:00, $6.40) and Paternity Suit A (1:56.1, $3.60) who is co-owned by Plainridge publicist Tim Bojarski.
Friday's $6,500 co-features were captured by Lydia's Liberty (1:54.4, $9.40, Dan Deslandes) which was just 2/5 off the track record for pacing mares, and Osprey Delta (2:01.2, $5.80, Mike Stevenson) taking the top trot.
Andrew Harrington picked up two wins on the program, both of which are trained by his wife Sara Harrington. Nick Graffam won the finale putting his lifetime dash win total at 996.
Racing continues with Saturday's (May 13) program, which carries ten races and includes the $6,500 winners over pace. The wagering menu always offers a 50 cent trifecta in every race and kicks off with a 50 cent pick 5. In addition, there is a pair of 20 cent superfectas (races 4 and 6), a 50 cent pick 4 (starts race 7) and the final race delivers our 20 cent pentafecta (super high five) with a low 16% takeout. Post time is 3:15 pm.
Looking ahead, the Preakness Stakes from Pimlico Race Course will be available on Saturday (May 20), with programs, big screen television viewing and betting all available at the Fairgrounds, provided by First Tracks Cumberland.
In addition to next week's regularly scheduled programming on Friday and Saturday (May 19 & 20), live harness racing continues at Cumberland next weekend with a special card on Sunday (May 21). First post remains 3:15 pm (EDT) during the extended pari-mutuel meeting, which runs through August 5.
Be sure to follow us on Facebook: https://www.facebook.com/FirstTracksCumberland/
For more information, check out our website: https://firsttrackscumberland.com/
–30–