May 14, 2023, by Chris Tully, for First Tracks Cumberland (Stephanie Gray photos)
CUMBERLAND, ME – Driver Kevin Switzer Jr. continued his hot streak for the second day in a row at Cumberland, winning four races on the 10-race Saturday (May 13) program, which started out with a track record-equaling performance.
'Switz' floated away into third position with Always A Good Time, while letting pacesetter Commemorative (Drew Campbell) take command in the race three $4,800 conditioned trot. Nick Graffam dropped in the two hole with Eternal Faith following a brief flurry of opening activity, and that's how the field stayed through early fractions of 29.2 and 1:00.4.
Going down the backside for the final time, Switzer Jr. was keenly aware that the leader was getting tired and steppy and pulled his mount to the outside while full of trot into a 1:29.4 third panel. As leader Commemorative finally broke at the seven-eighths pole, Always A Good Time trotted gamely through the last turn and past the fracas to draw off and win by 3-3/4 lengths. The final time of 2:00.2 equaled the track record for older trotting stallions.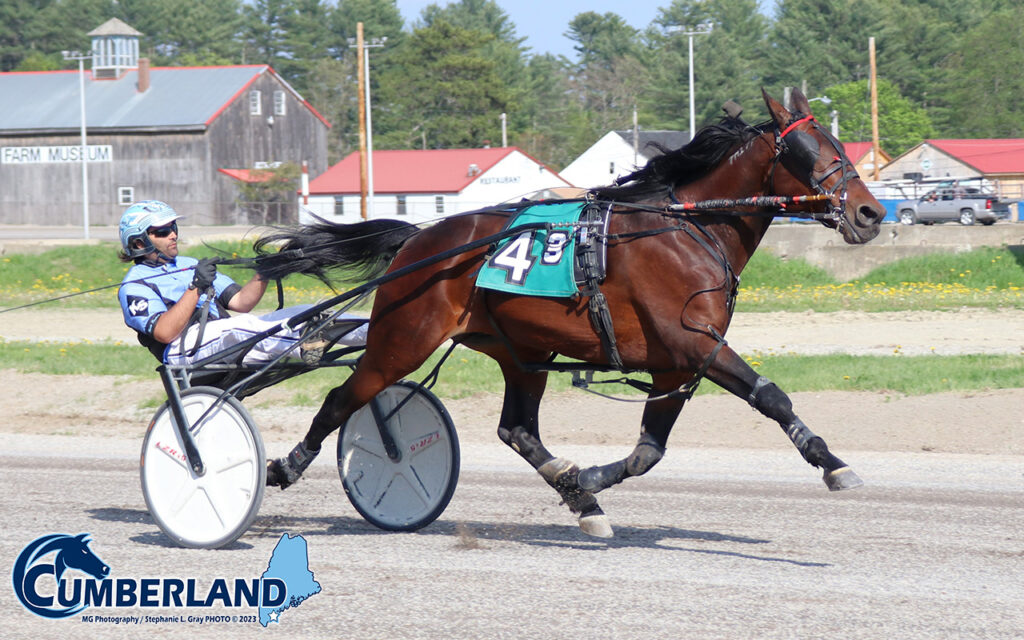 The 9-year-old stud by Triumphant Caviar is owned and trained by Jamie Gerard and paid $6.00 to win. Mackworth (Heath Campbell) went from last at the third panel to finish second with a burst of closing speed. Chav Hanover (John Beckwith) finished third.
Additional scores that rounded out Switzer Jr.'s grand slam were: race 5 with Mach Three (2:01.3, $12.80); featured $6,500 winners over pace in race 7 with Lexus With A View A (1:55, $5.80); and race eight with Oceanview Echo (1:58, $2.80).
The strong weekend for Switzer Jr. gave the driver 15 wins this season and created a three-way tie for bragging rights with Drew Campbell and Bruce Ranger amongst the talented reinsmen at the Cumberland oval. Trainer Jamie Gerard won two races on the program, which puts him at eight wins on the year, second to leading conditioner Chris Lefebvre with 11 seasonal victories.
'Like a bullet' said track announcer Scott Ehrlich, Led Scheppelin went for the lead in the second week of Maine Amateur Driving Club (MADC) action. Driven by Jason Bertolini, and feeling confident off his win with a different horse in last week's episode, the 26-year-old kept all the would-be spoilers at bay through perfectly rated fractions amidst early pocket-pullers, and a 'five-high' on the backside melee.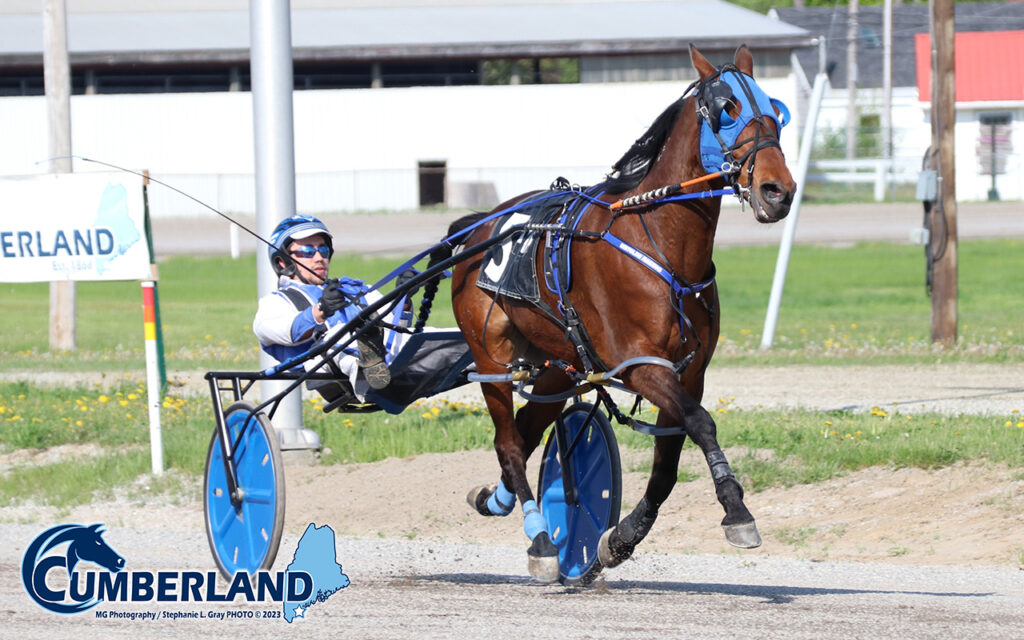 This week, the 'best side-show' in harness racing lived up to its moniker with owner/trainer/driver Bertolini scoring in 2:01.1 with his beloved Led Schneppelin, while paying a handsome $11.20 to his backers. Vel Scotty Boy (Todd Whitney) finished second; Rest Assured (David Zuckerman) was third. MADC events are proudly sponsored by the Blue Seal Feed Stores of North Yarmouth and Windham, Maine.
Next week, First Tracks Cumberland is proud to provide fans with the opportunity to watch and wager on the 148th Preakness Stakes from Pimlico Race Course. Saturday (May 20) the track will have programs, big screen television viewing and betting on the day's Thoroughbred card available at the Fairgrounds. Deb Patterson, the Executive Director of the Maine Harness Horsemen's Association has planted a host of Black-Eyed Susans on the apron in honor of the occasion.
Coming up is a 'three-day weekend' at Cumberland. In addition to next week's regularly scheduled programming on Friday and Saturday (May 19 & 20), live harness racing continues at Cumberland with a special card on Sunday (May 21). First post remains 3:15 pm (EDT) during the extended pari-mutuel meeting, which runs through August 5.
Be sure to follow us on Facebook: https://www.facebook.com/FirstTracksCumberland/