May 7, 2023, by Chris Tully, for First Tracks Cumberland (Stephanie Gray photos)
CUMBERLAND, ME – The impatience of youth is not lost on Jason Bertolini, as the 26-year-old reinsman took the overland route to capture the season's first Maine Amateur Driving Club (MADC) Race at Cumberland on Saturday (May 6) with Bailey's Legacy.
As the seven horse field entered the first turn, Bertolini got away third, while veteran pacer Putnam's Storm (age 14) set the pace from pylon position, who was driven by Bob Nadeau (85). Getting away second and gapping that cover was Rest Assured (David Zuckerman). The opening panel was in 29.4, and Bertolini noticed the loose lead carried by the leader. The pair wasted little time getting into action, as Bertolini pulled Bailey's Legacy first over at the three-eighths marker.
While the half was in a dramatically reduced 1:01.4, the pace hastened as Nadeau felt the pressure from his younger opponent and let out a notch to reach the three-quarters in 1:30.1 (28.2) and the pair were neck-and-neck heading into the final turn.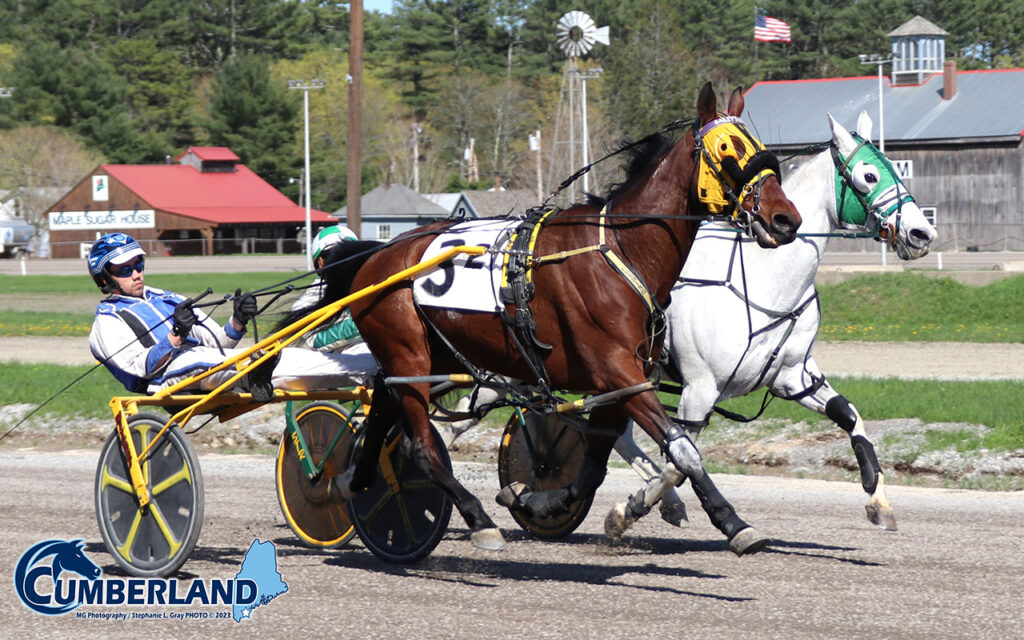 As the stretch opened up Bertolini was able to grind past the pacesetter and win by a tight half-length in 2:01.3. Putnam's Storm hung on gamely to be second; Rest Assured was along for the ride to be third.
Following the MADC's seasonal opener, Bertolini was his usual humble self, stating: "The trainer did a great job making sure he was ready to go. I just did my job and it all worked out. Putnams Storm raced great too, especially going 28.2 down the back side."
Owned and bred by Bruce Inch, the 6-year-old Maine-sired son of Western Maverick is trained by Charlene 'Sherry' Cushing. Bailey's Legacy paid $8.00 to win.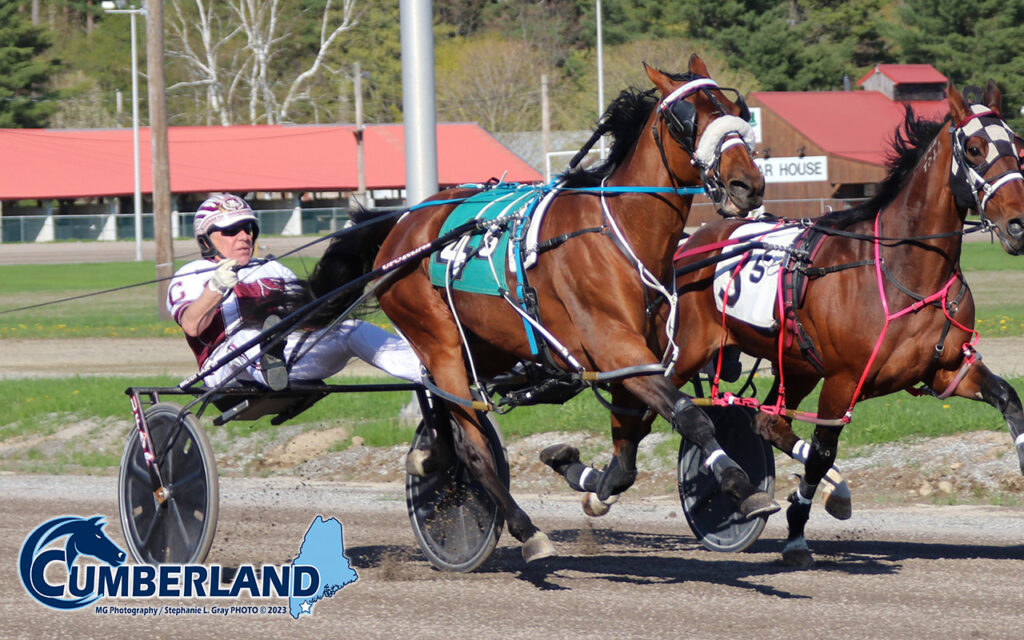 In other news, Walter Case Jr. picked up a natural hat trick, winning the fourth, fifth and sixth races on the Derby Day program. The first was with Virtual Success (1:58.3, $6.00), then the co-featured $6,500 winners over pace with Adriano Hanover (1:54.4, $9.60) who is the current all-age track record holder. Finally, Moonshinecharleigh (1:59, $7.60) gave the winner of 11,235 races lifetime his three-sweep.
Bruce Ranger took the $6,500 winners over trot with Inukchuck Chuck (1:59.4, $11.60) and is now at 9,994 lifetime victories. The veteran pilot is just six wins away from the 10,000 win benchmark, as the 'Ranger-10k-Watch' continues.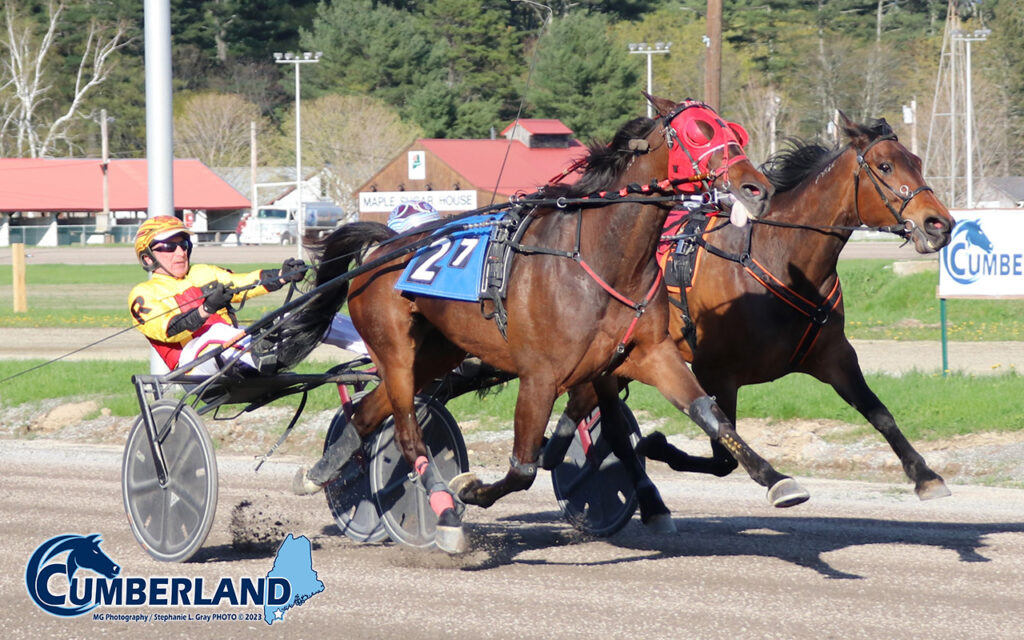 Drew Campbell won two races on the afternoon program, and Nick Graffam picked up another to put his current tally at 994. Graffam is also six scores shy from reaching his personal plateau, the 1,000th victory of his career.
With Drew Campbell's deuce the reinsman ascended into first place with 14 seasonal victories at Cumberland, Ranger is second with 13, and Graffam is third with 12. Chris Lefebvre also had a pair of victories, and continues to lead all trainers with ten wins.
Live harness racing continues at Cumberland throughout the Spring and early Summer months with regular racing on Friday and Saturday each weekend. First post is slated for 3:15 pm (EDT) during the extended pari-mutuel meeting, which runs through August 5.
Be sure to follow us on Facebook: https://www.facebook.com/FirstTracksCumberland/