May 11, 2023, by Chris Tully, for First Tracks Cumberland
CUMBERLAND, ME – Several weeks ago Bruce Ranger was asked when he may reach his historic 10,000 harness racing wins plateau. Like a wise soothsayer he replied, "It will probably happen at Plainridge." While sitting at 9,997 and with a full dance card on Tuesday (May 9) at the Bay State oval, Ranger went to work. Sure enough, the Maine-native reinsman took matters into his own hands, literally, and won the second, fourth and sixth races at Plainridge to become just the nineteenth driver in the storied history of the sport to reach a five figure dash win total.
"You can't really plan when it will happen," Ranger stated after the fact. "In all honesty you just have to take it a race at a time."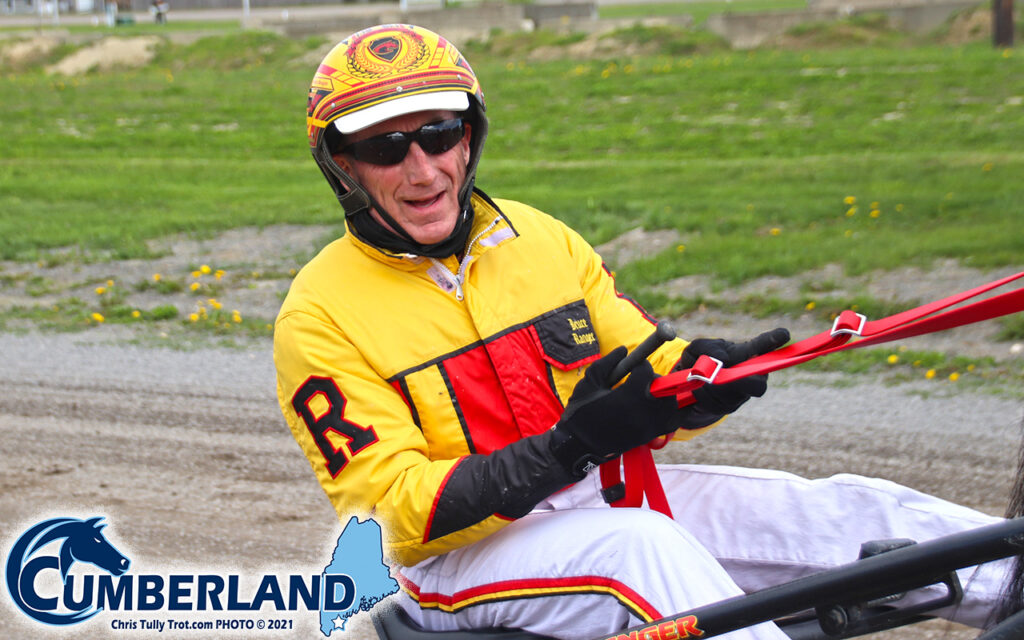 The popular 63-year-old pilot recognizes that it all comes down to good mounts.
"I got into a good rhythm with some good horses and things just seemed to go my way," Ranger recalled about his day in the spotlight. "We can't plan these things. Sometimes you get a cold spell or get pushing too hard, and it doesn't work out. That day I was just on a roll."
On a roll indeed, following his milestone in the sixth race, Ranger came right back to win number 10,001 in the seventh. And such is the life of much sought-after catch driver. A member of both the New England and the Florida USHWA Halls of Fame, Ranger shows no signs of slowing down as he has eight drives on Friday (May 12) at Cumberland.
Following the seventh race on Friday, Ranger will be recognized for his recent milestone by both First Tracks Cumberland and the Maine Harness Horsemen's Association in a winner's circle presentation, while surrounded by his fellow New England reinsmen.
In addition, First Tracks Cumberland and the Maine Harness Horsemen's Association are pleased to announce that Friday (May 26) and Saturday (May 27) will be known as Bruce Ranger Weekend at the historic southern Maine oval. Giveaways, a special color program insert, interviews and autograph sessions featuring Bruce Ranger will highlight the holiday weekend's festivities. Stay tuned for additional information.
This Friday's (May 12) 11 race program includes three races with purses of $6,000 or higher, and includes a 50 cent trifecta in every race and kicks off with a 50 cent pick 5. In addition, there is a pair of 20 cent superfectas (races 4 and 7), a 50 cent pick 4 (starts race 8) and the final race delivers our 20 cent pentafecta (super high five) with a low 16% takeout.
Saturday's (May 13) program carries ten races, and includes the featured $6,500 winners over pace, with post time for both days set at 3:15 pm.
Speaking of milestones, Nick Graffam is just 5 victories away from reaching his 1,000 career victory plateau, and has many mounts this weekend.
Looking ahead, the Preakness Stakes is back on Saturday (May 20), with programs, big screen television viewing and betting all available at the Fairgrounds, provided by First Tracks Cumberland.
Live harness racing continues at Cumberland throughout the Spring and early Summer months with regular racing on Friday and Saturday each weekend. First post is slated for 3:15 pm (EDT) during the extended pari-mutuel meeting, which runs through August 5.
Be sure to follow us on Facebook: https://www.facebook.com/FirstTracksCumberland/
For more information, check out our website: https://firsttrackscumberland.com/