May 20, 2023, by Chris Tully, for First Tracks Cumberland (Stephanie Gray photos)
CUMBERLAND, ME – Homegrown reinsman Nick Graffam started Saturday's (May 20) Cumberland program needing just one victory to push him over the edge to the 1,000 lifetime win threshold. That moment finally arrived in the eighth race, where a horse named Four Finger Floyd put the Maine-native into the four-figure win category.
"I am grateful for every opportunity I've had, everywhere I race. But I am glad [the 1,000th win] was at my home track," stated the lanky 32-year-old.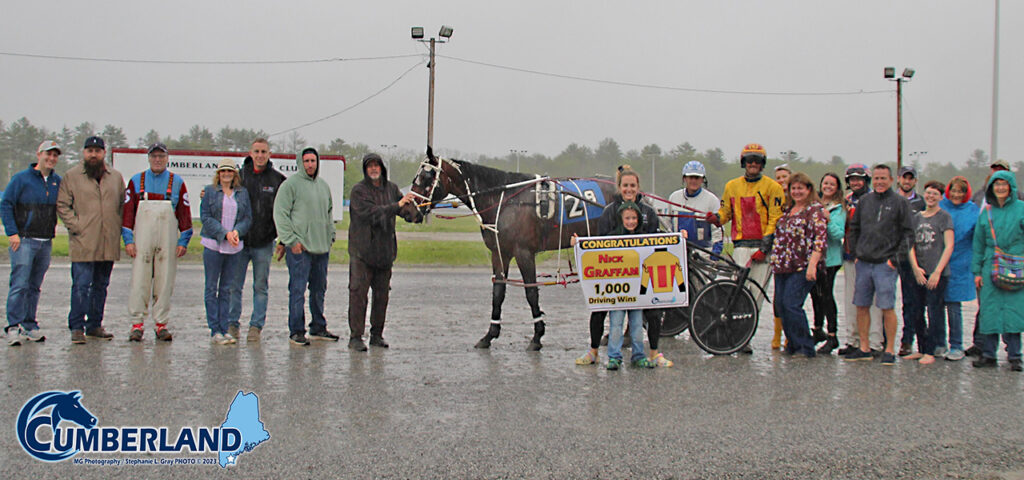 Born and raised just down the road at the historic Norton Farm, Graffam works with his parents Mike and Lori and sister Bethany at the family's iconic local stable and training center. He and his fiancé Natalie live in a house right next to the farm.
Graffam continued, "Growing up on the farm meant a lot of long days and hard work. But days like today feel really great when all that time and effort pays off."
And it took some time and effort to get to the winners circle today, as Graffam had driven in four races prior to hitting pay dirt. In that mile Graffam sat a perfect pocket trip to draw off and win by two lengths in 1:57.2 with Four Finger Floyd. Trained by Karl Butterfield and owned by Jose Cerventes, the 5-year-old son of Sportswriter paid $6.60 to win.
One race later, Graffam came right back to get win number 1,001 with Black Hawk Down. A wire-to-wire score in 2:01.3. The favored 5-year-old Kadabra trotting gelding was trained by Sara Harrington and owned by Robert and Beth Gibbs. He paid $3.60 to win.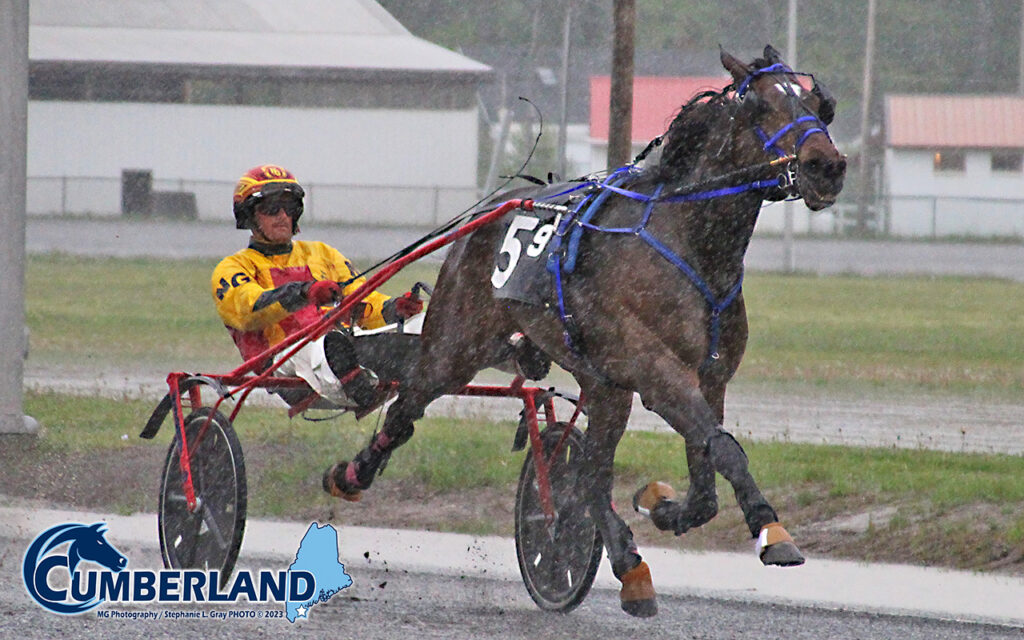 The featured $6,500 FM winners over pace was captured by Newsy N for driver and co-owner Ron Cushing (with Kevin Sywyk) and trainer Heidi Gibbs. Scoring in the opener in 1:55.3, it was the fourth seasonal victory for the 6-year-old daughter of Bettor's Delight. She paid $3.40 to win. Lydia's Liberty (Dan Deslandes) finished second; Ry's Red Rocket (Mark Athearn) was third.
In Maine Amateur Driving Club (MADC) action, Jason Bertolini continued his reign of terror, winning the $4,400 event for the third straight week. Back behind Bailey's Legacy, the horse he won with two weeks ago, Bertolini drove a tactically savvy race, allowing his fellow competitors to tussle on the front end before pouncing down the backside for the final time.
Bailey's Legacy scored in 2:00, a new seasonal mark, for trainer Sherry Cushing and owner/breeder Bruce Inch. A 6-year-old son of Western Maverick, he paid $5.40 to win. Jaxson R Brown (Dalton Lee) finished second; A List (Benson Merrill) was third. The MADC is faithfully sponsored by the Blue Seal Feed Stores of North Yarmouth and Windham.
Dan Deslandes and Kevin Switzer Jr. both had driving doubles on the program, with the latter moving to the top of drivers' standings with 18 trips to the winner's circle, one more than Bruce Ranger who has 17. Taking the finale with Uptown Lover (2:01.3, $10.60), Aaron Hall moved to within one win of his 500th career victory.
Racing resumes Sunday (May 21) and features the $6,500 NW $5000 Trot, with post time set at 3:15 pm.
Looking ahead to Friday (May 26) and Saturday (May 27), First Tracks Cumberland and the Maine Harness Horsemen's Association will present 'Bruce Ranger Weekend' at the fairgrounds. A special color cover program wrap will be filled with seven pages of old and recent photos of one of Maine's favorite sons, along with interviews and autograph sessions with Bruce Ranger. Fans will not want to miss this opportunity to share in the Norton Farm driver's special ceremonies, which will honor his racing accomplishments, including his recent 10,000th career victory. In honor of 'Bruce Ranger Weekend,' First Tracks Cumberland will offer a Free For All Pace, with a lofty purse of $10,000. Horses that have made a purse start in the state of Maine this season will be given preference, with many of the aforementioned pacers likely to participate. See race secretary Rob Pennington's condition sheet for further details.
Live harness racing continues at Cumberland throughout the Spring and early Summer months with regular racing on Friday and Saturday each weekend. First post is slated for 3:15 pm (EDT) during the extended pari-mutuel meeting, which runs through August 5.