May 22, 2023, by Chris Tully, for First Tracks Cumberland (Stephanie Gray photos)
Heath Campbell set a track record in the $5,000 opener with Pembroke Ideal BJ while his older brother Drew Campbell finished second in that mile. Later in the day, Drew Campbell captured the $6,500 featured trot with Little Macabee, to give the orange-clad products of the Canadian Maritimes bookend victories on Sunday (May 21) at Cumberland.
Heath Campbell got away third in the opener and gave the lightly raced 4-year-old daughter of American Ideal a patient, but effective steer in the $5,000 conditioned pace. The pacesetting Hired Hand (Bruce Ranger) trail-blazed opening fractions of 27.4, 57.2, and then posted an eye-popping 1:24.4 third panel. Down the stretch, the younger Campbell fed the mare racetrack and she got up to win by a quarter length over Perfect Force and the elder Drew Campbell to set a new benchmark for 4-year-old pacing mares of 1:55.3.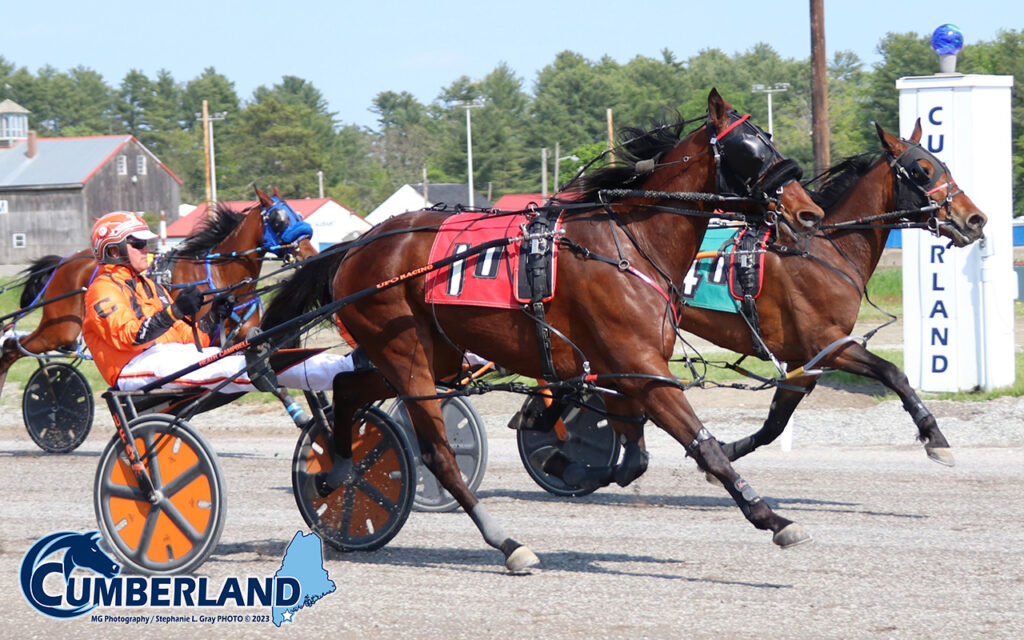 Owned by Bill Varney and trained by Campbell's partner Valerie Grondin, it was the fifth lifetime victory for the wagering favorite, who paid $5.40 to win the fastest race of the afternoon and take new lifetime mark. Perfect Force (Drew Campbell) followed that fast two-hole trip for second money; Hired Hand was third.
Fast forward to the $6,500 featured finale and Winston 'Drew' Campbell had his eyes on the prize as he blasted Little Macabee from post 7 into the third position behind rail sitting pacesetter Mister Muscle (Kevin Switzer Jr.). As the leader set hasty fractions of 29.1 and 1:00.2 in the initial half, Campbell was not content to sit and allow things to unfold.
Pulling first up heading into the third turn, Little Macabee challenged for the lead into a 1:29.3 third stanza. As the trotters were head and head around the final turn it was a 'tooth and nail battle' according to track announcer Scott Ehrlich. As the field was poised for the final stretch duel, Campbell shifted his 9-year-old son of Chapter Seven into another gear and gained some separation from Switzer Jr. and Mister Muscle. But the race was not won as of yet. Following a three-wide bid around the final turn, McStoned Again (Nick Graffam) was gaining ground on the new leader, and getting closer with every stride.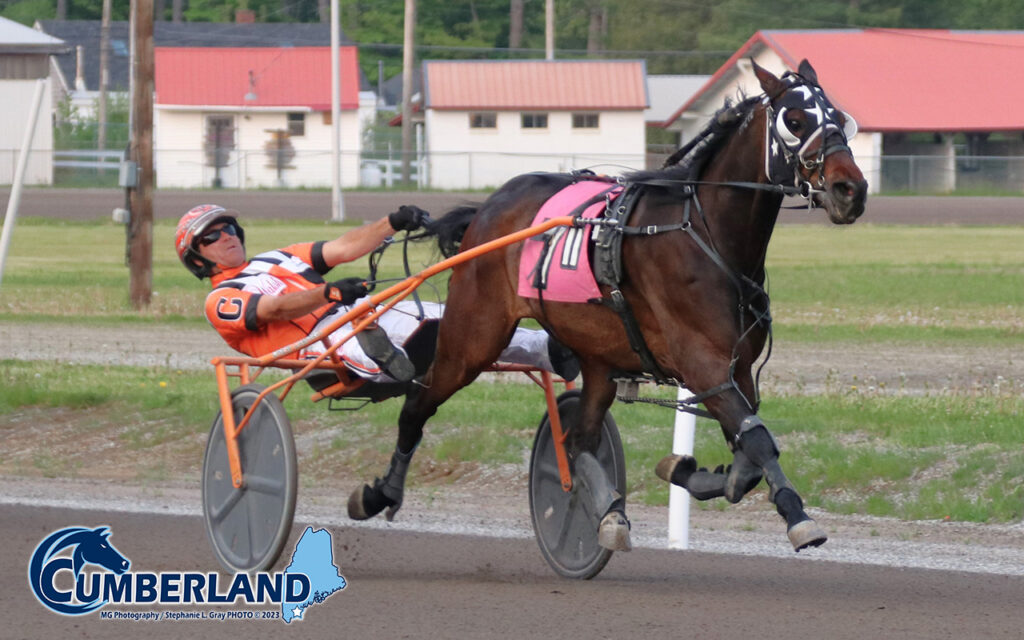 The wire arrived just in time for Drew Campbell and Little Macabee, as the pair prevailed by a nose to stop the timer in 2:00. Owned by Maryann Tompkins and trained by Erik Bickmore, it was the fifth seasonal victory for the ultra-consistent trotter, who paid $8.80 to win by a whisker over McStoned Again. Broadway Giant (Ranger) was third.
Bruce Ranger copped a three-bagger and Dan Deslandes had a driving double on the program, with the former moving back to the top of drivers' standings with 20 trips to the winner's circle, over Kevin Switzer Jr. who has 19. Ranger scored in three of four races in a row, including: American Fighter (2:01.2, $13.60), Shaw Town (1:59.2, $5.20), and his own PBR Street Gang (1:57.3, $2.60).
Jeff Deslandes and Chris Lefebvre are tied at 12 wins apiece in the Cumberland trainers' standings after 13 racing programs with a total of 138 races contested. 28 winners have come from post position five, followed by post four with 24 and pylon position with 23, since the meet began on April 14.
Racing resumes Friday (May 26) and Saturday (May 27), where First Tracks Cumberland and the Maine Harness Horsemen's Association are proud to present 'Bruce Ranger Weekend' at the fairgrounds.
To commemorate the special weekend, a collectable color cover program wrap will be filled with seven pages of old and recent photos of one of Maine's favorite sons. This, coupled with interviews and autograph sessions with leading reinsman Bruce Ranger, is a rare event that fans will not want to miss.
In honor of the occasion, First Tracks Cumberland will offer the Bruce Ranger Open Pace $10,000 for 10,000. Horses that have made a purse start in the state of Maine this season will be given preference. Horsemen should note that the box now closes an hour later at 10 am on Tuesday (May 23) for the double draw.
Live harness racing continues at Cumberland throughout the Spring and early Summer months with regular racing on Friday and Saturday each weekend. First post is slated for 3:15 pm (EDT) during the extended pari-mutuel meeting, which runs through August 5.