May 19, 2023, by Chris Tully, for First Tracks Cumberland
CUMBERLAND, ME – The Maine faithful may trade crab cakes for 'Lobstah' rolls, but that won't stop fans and bettors from enjoying the Preakness Stakes simulcast on Saturday (May 20) at Cumberland Raceway.
With a three-day weekend on tap, the 148th running of the $1,500,000 Grade 1 Triple Crown race is the centerpiece of the Southern Maine oval's trifecta of offerings. Sandwiched into a Friday-Saturday-Sunday (May 19-21) run of live harness racing action, the track will have Pimlico programs, big screen television viewing and betting all available at the Fairgrounds, provided by First Tracks Cumberland.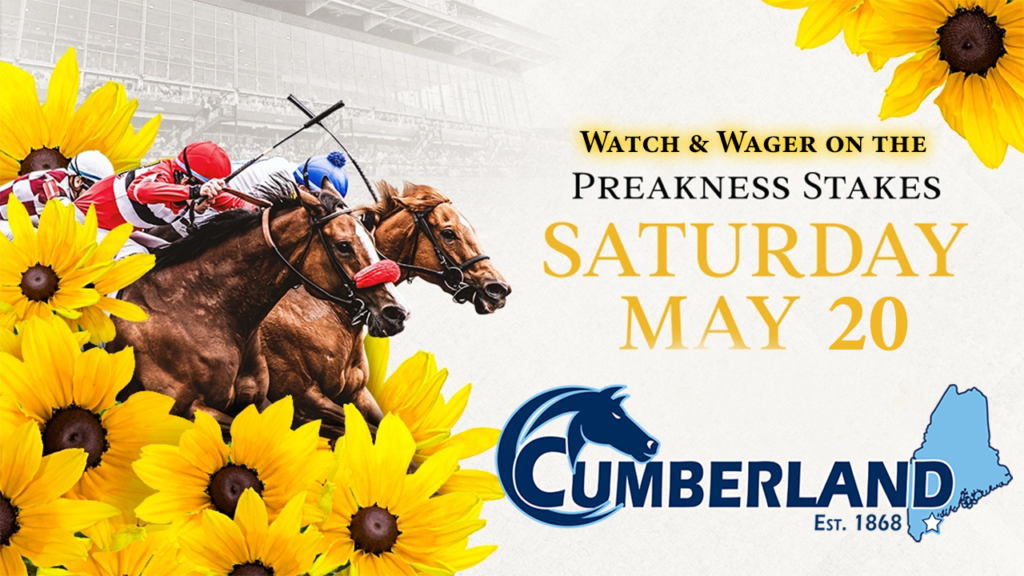 This Friday's (May 19) 11 race program features the $6,500 Winners Over $10,000 Lifetime Handicap Pace, and includes a 50 cent trifecta in every race and kicks off with a 50 cent pick 5. In addition, three 20 cent superfectas (races 4, 7 & 9), a 50 cent pick 4 (starts race 8) and the final race delivers our 20 cent pentafecta (super high five) with a low 16% takeout.
Saturday's (May 20) Preakness Day program also carries eleven races, and kicks off with the $6,500 Fillies and Mares Winners Over $10,000 Lifetime Handicap Pace. The popular Maine Amateur Driving Club goes postward in the second race, is now in its third week, and is sponsored by Blue Seal Feed Stores of North Yarmouth and Windham.
The featured race for Sunday (May 21) is the $6,500 NW $5000 Trot, with post time for all three days set at 3:15 pm. There is currently a three-way tie for leading reinsman at Cumberland, with Drew Campbell, Bruce Ranger and Kevin Switzer Jr. all at 15 wins apiece.
Looking ahead to Friday (May 26) and Saturday (May 27), First Tracks Cumberland and the Maine Harness Horsemen's Association will present 'Bruce Ranger Weekend' at the fairgrounds. A special color cover program wrap will be filled with six pages of old and recent photos of one of Maine's favorite sons, along with interviews and autograph sessions with Bruce Ranger. Fans will not want to miss this opportunity to share in the Norton Farm driver's special ceremonies, which will honor his racing accomplishments, including his recent 10,000th career victory.
Also of Norton Farm fame, and having picked up win number 998 on Thursday (May 18) at Plainridge, Nick Graffam is just 2 victories away from reaching his 1,000 career win milestone.
Live harness racing continues at Cumberland throughout the Spring and early Summer months with regular racing on Friday and Saturday each weekend. First post is slated for 3:15 pm (EDT) during the extended pari-mutuel meeting, which runs through August 5.
Be sure to follow us on Facebook: https://www.facebook.com/FirstTracksCumberland/