July 23, 2022, by Chris Tully for First Tracks Cumberland (Stephanie Gray photos)
CUMBERLAND, ME – While temperatures soared across the country this weekend, the tempo was hot on Saturday's (July 23) final day of the Spring-Summer meet at First Tracks Cumberland with leading driver Bruce Ranger steering Vesuvio Bi to back-to-back Open Trot victories, and breaking a track record in the process.
When the starter said 'Go' for the $6,000 Open Trot 2-3, Ranger catapulted Vesuvio Bi three-wide into the first turn while forcing a breathtaking 27-second opening panel. The speedy tempo stretched out the field and Ranger had the 8-year-old son of Manofmanymissions out in front by open lengths and hit the half all alone in 56.2.
And if that wasn't hot enough, the tempo-setting pair scorched the field going down the backside in an unheard of 1:25.2 third stanza. On top by six in what may have been the fastest third quarter posted in a trotting race in the history of the Cumberland Fairgrounds, Ranger and Vesuvio Bi had distanced themselves enough to coast home a somewhat leg-weary winner by 3-1/2 lengths.
Vesuvio Bi paid $3.60 to win, with the 1:57.1 final time being the fastest mile ever trotted by an aged gelding at Cumberland. Little Macabee (Aaron Hall) finished second; Caulfield (Kevin Switzer Jr.) was third.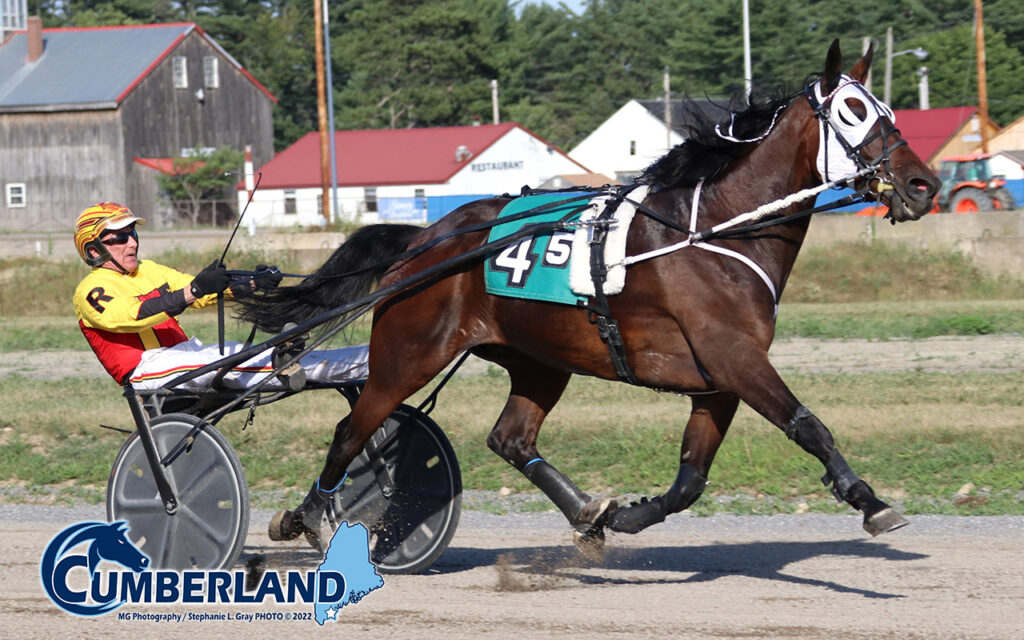 It was the 29th career victory for Vesuvio Bi, who is trained by Joseph Nelson for owners Michele Nelson and Eric Everett.
In Maine Amateur Driving Club (MADC) action, Zack 'The Sherriff' Gray took matters into his own hands and posted a big victory on the closing weekend at Cumberland.
Scoring from post four, Zack Gray got away fourth with Lightupbullville, while Alex Richardson driving favorite Our Royal Majesty grabbed the lead from post two.
Going to the half Gray pulled the 11-year-old son of Bettor's Delight to be first over and fought valiantly for the lead through the following two furlongs and ultimately drew off by 5-3/4 lengths for the win in 1:59.3.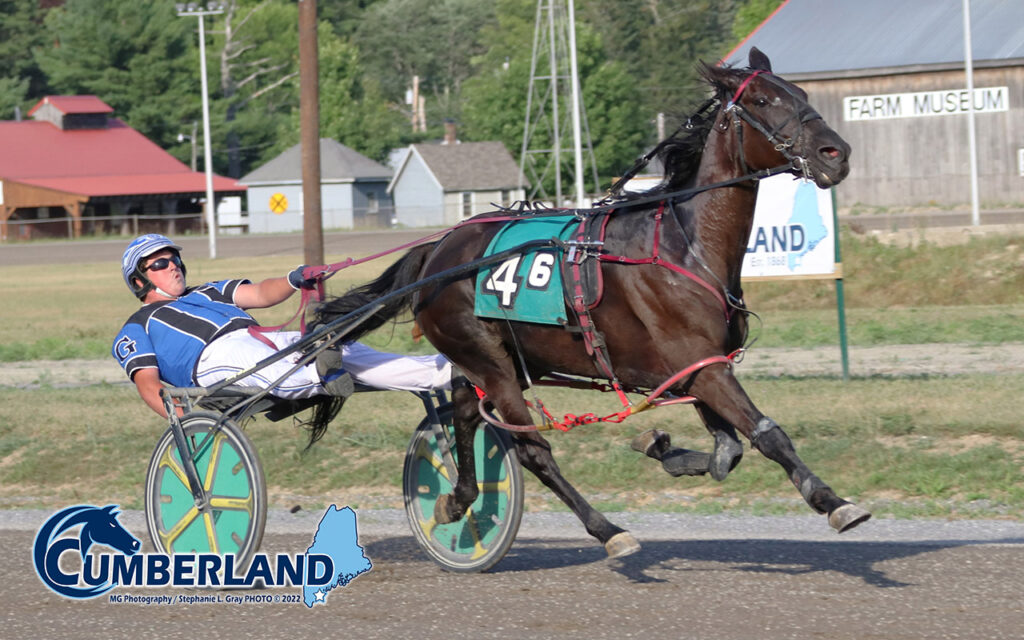 Trained by Fred Ward, and owned by Sharon Ward, Lightupbullville paid $7.40 to win for the 27th time in his life. Tricia Star (Ryan Hall) finished second; Our Royal Mattjesty (Richardson) hung on for third.
Jason Bertolini maintained his MADC point advantage and finished the Cumberland Spring-Summer season on top with 69 points. Alex Richardson finished in second with 59; Benson Merrill was third with 50.
The Maine Amateur Driving Club is sponsored by the North Yarmouth Blue Seal Feed Store and the Windham Blue Seal Feed Store, with leadership and support from Aimee Nichols, their dedicated territory sales manager.
There were two Maine Breeders Stakes (MSBS) held before the regular program. The two $11,000-plus MSBS races were for 2-year-old pacing colts and geldings. The first non-bettor was won by Luke McGook in a wire-to-wire cruise in 2:02. Kevin Switzer Jr. drove the son of Rock N' Roll World for trainer Marc Tardiff and owner Leighton Property. Luke McGook was bred in Maine by Erica Saucier and is now 4-for-4 on the season.
Rockaroundsam (Walter Case Jr., Marc Tardif) finished second; Two Towns Over (Heath Campbell, Valerie Grondin) was third.
The second non-wagering event saw Twice The Ice (Walter Case Jr.), a son of Deuce Seelster, equal his mark from last week, scoring in 2:01.4. Twice The Ice is owned and trained by Marc Tardif, was bred by Gary and Kristina Hall.
Mattuci (Heath Campbell, Valerie Grondin) finished second; Anithingforyoudear (Mike Stevenson, Marc Tardif) was third.
Walter Case Jr. and Mark Athearn made two trips to the Blue Seal Feeds Winners Circle.
Harness Racing at the Cumberland Fairgrounds returns during the Maine Fair Circuit from September 25 through October 2. First Tracks Cumberland winter festival reconvenes on November 11 and races through New Year's Eve.
More information can be found on our website: https://firsttrackscumberland.com and on our Facebook page: First Tracks Cumberland.