July 1, 2022, by Chris Tully for First Tracks Cumberland (Stephanie Gray photos)
CUMBERLAND, ME – Bruce Ranger avoided traffic trouble in the first turn to capture Friday's (July 1) featured overnight event at First Tracks Cumberland and gave Roll With Dom his fifth victory of the season.
As the $6,000 Open 3 Pace field hit the first turn Lindas In Heaven (Drew Campbell) got rough gaited and forced Roll With Dom to go wide at the eighth pole to gain control of the tempo. As the field passed the opening panel in 28.1, Ranger showed the way with Lindas In Heaven gaining her composure and drafting in the two hole, with Ry's Red Rocket (Matt Athearn) sitting third.
Approaching the half, Nagle (Dan Deslandes) was the first to start the outer flow, with Call Me Maverick (Mike Stevenson) gaining cover second over. Roll With Dom got a 58 half breather, but started to roll up the backside as the rest of the field gave chase into a 1:26 third stanza.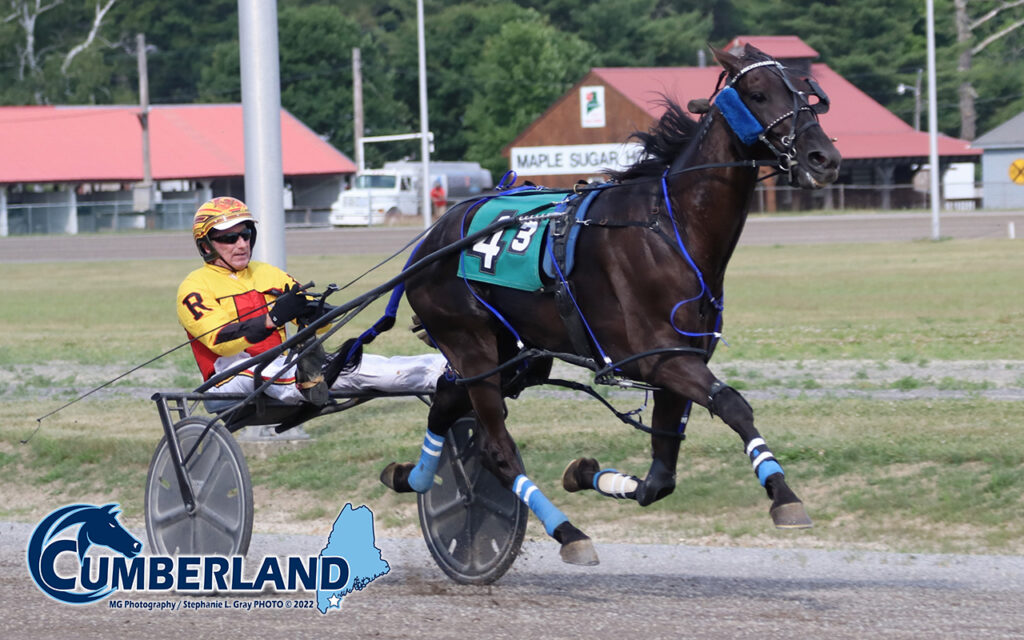 Turning for home it was a race for second as Ranger had the 5-year-old son of Roll With Joe in full flight and was in no danger of being caught as he crossed the wire all alone in 1:55. Ry's Red Rocket made a late charge in the lane to be second by 1-3/4 lengths, Lindas In Heaven hung on to be third.
Roll With Dom is trained by Billy Dubois, owned by Robert Kluchevitz, and picked up his 15th career win.
In Maine Standardbred Breeders Stakes (MSBS) trotting action, the $11,986 filly division was captured by Maplewood Slugger in 2:02.3. Driven by Andy Harrington for trainer John Nason and owner/breeder Maxine Hadlock, the 3-year-old daughter of Pembroke Slugger picked up a new lifetime mark in the process. Trainer/driver John Nason finished second with Show No Tears. Pembroke Honcho (Drew Campbell/Valerie Grondin) was third in the early non-wagering race.
The opener was also captured by driver Andy Harrington, with the 3yo trotting colt Warriorofthevalley. Trained by Marc Tardif, the son of Pembroke Slugger is owned, and was bred by Leighton Property. Warriorofthevalley took a new lifetime mark of 2:01.2 winning the $11,739 MSBS. Katahdin Mark finished second (Gary Hall); Sammy's Venture (Mike Stevenson) was third.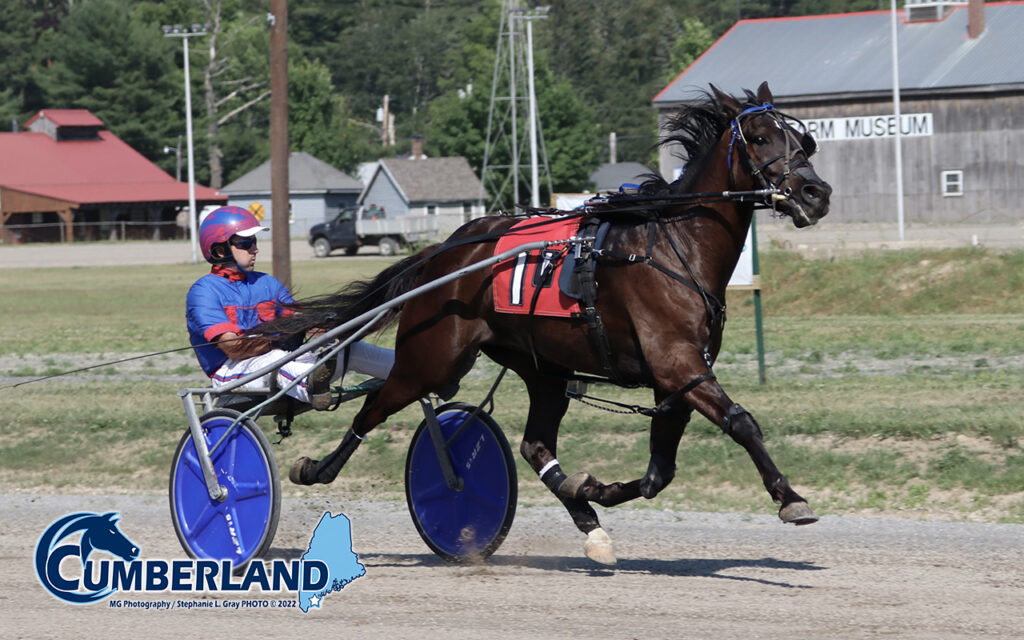 Bruce Ranger and Andy Harrington both enjoyed driving triples on the program.
Racing resumes Saturday (July 2) where First Tracks Cumberland will play host to the Family Fun and Value Day at the iconic Southern Maine oval. Fans can enjoy a meet and greet with their favorite harness drivers, specials on food and drink, as well as our inaugural Cumberland Derby where fans can enter to win $500 in total cash prizes based on their picks and the official order of finish in the designated race. Giveaways and a big day of harness racing will also be provided.
More information can be found on our website: https://firsttrackscumberland.com and on our Facebook page: First Tracks Cumberland.