July 17, 2022, by Chris Tully for First Tracks Cumberland (Stephanie Gray photos)
CUMBERLAND, ME – Swan Fine Lady showed the men who was boss as the trotting mare outstepped the field and won by a head to capture Saturday's (July 16) $6,500 Open Trot 2-3 at First Tracks Cumberland.
Scoring from post six, the 4-year-old mare by Swan For All took a seat in fifth when three horses dashed to the front to tussle for the top. Leading the charge into a 27.3 opening panel was Mister Muscle (Bruce Ranger), followed closely by Pembroke Regal (Heath Campbell) who was pushing the pace.
Cushing sent Swan Fine Lady to the outside first over and moved up to third place by the time the field hit the half-mile marker in 58.1. As the pack moved in a tight bunch around the paddock turn and onto the backstretch the final time, Bruce Ranger asked pacesetting Mister Muscle for all of the trot he could muster as they hit the third panel in 1:27.4. Swan Fine Lady was holding her ground first up and had moved closer into second place, with Pembroke Regal boxed in third.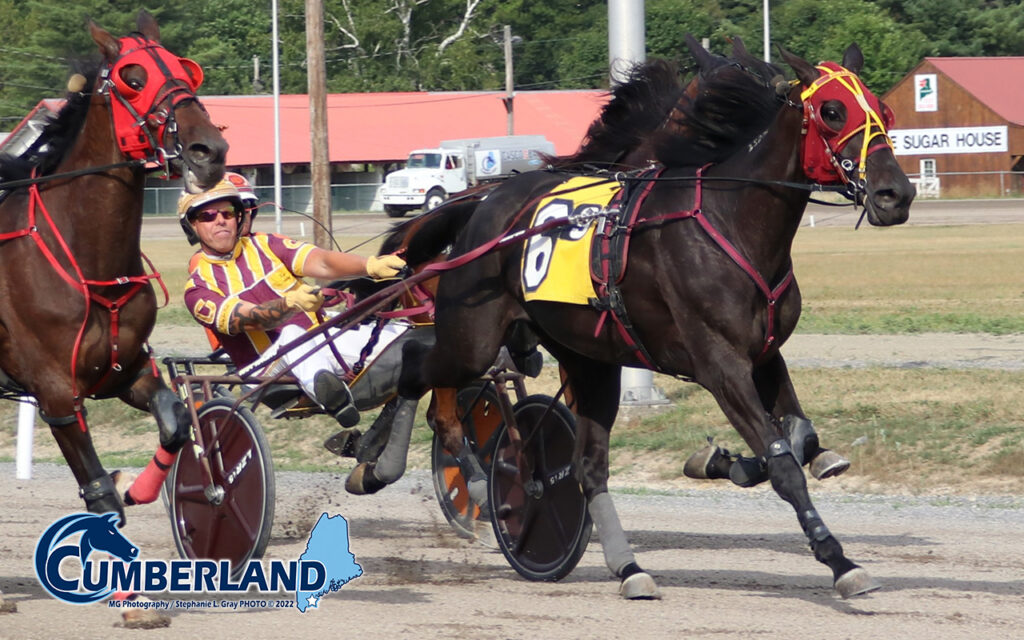 Rounding the turn for home Swan Fine Lady looked the leader in the eye and went right on by to win in 1:59.3. Matt Athearn shook loose with fresh horse Warrawee Preferred and charged down the lane to be second. Pembroke Regal hung on for third.
Owned by Ron Cushing, Kevin Sywyk and Lance Downs, she is trained by Heidi Gibbs.
Swan Fine Lady paid $7.00 to win for the 23rd time in her career.
In Maine Amateur Driving Club (MADC) action, Alex Richardson plied a textbook wire-to-wire rout with the Lisa Watson-trained Tail Hook in 1:59. The victory put Alex Richardson into second place in the MADC point standings going into the final week of the meet.
A 5-year-old son of Somebeachsomewhere, Tail Hook is owned by Fox Ridge Stable and paid $7.00 to win.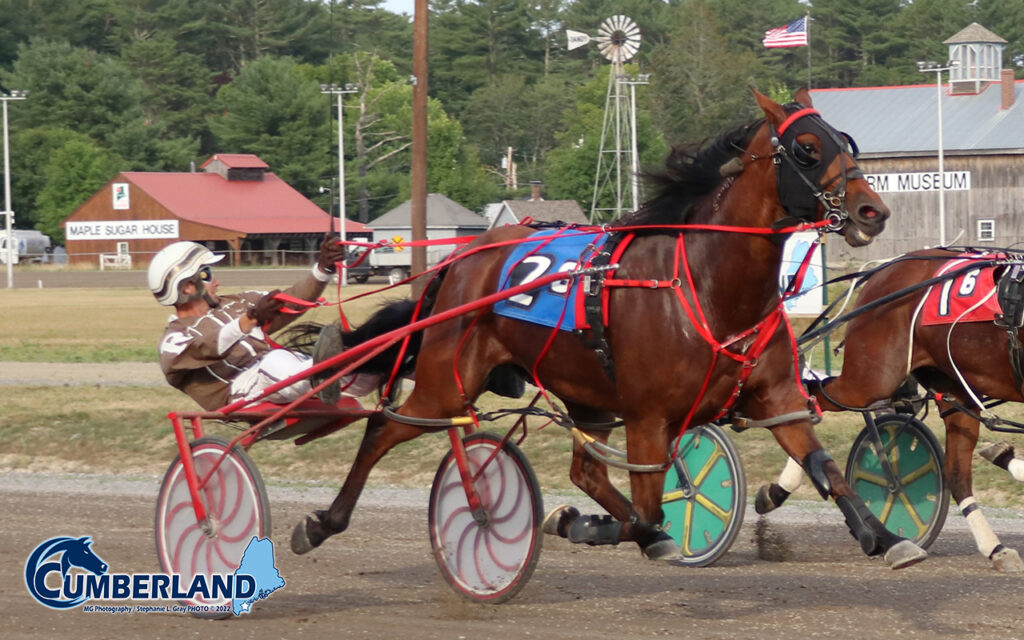 Ideal Rowan (Zack Gray) finished second; Rockintheniteaway (Derek Howes) was third. The Maine Amateur Driving Club is sponsored by the North Yarmouth Blue Seal Feed Store and the Windham Blue Seal Feed Store, with leadership and support from Aimee Nichols, their dedicated territory sales manager.
There were three Maine Breeders Stakes (MSBS) held before the regular program.
The first non-wagering race for 3-year-old pacing colts and geldings carried a purse of $12,479 and was captured by Ranaldi, a son of Western Maverick. Owned, bred and driven to victory by Ron Cushing, Ranaldi is trained by Heidi Gibbs.
Deal With It Roman (Kevin Switzer Jr. / Marc Tardif) finished second; Use Yah Blinkah (Drew Campbell / Valerie Grondin) was third.
The following two $11,000-plus MSBS races were for 2-year-old pacing colts and geldings. The second non-bettor was won by Luke McGook in a wire-to-wire cruise in 2:01 while lowering his mark. Kevin Switzer Jr. drove the son of Rock N' Roll World for trainer Marc Tardiff and owner Leighton Property. Luke McGook was bred in Maine by Erica Saucier and is now 3-for-3 on the season.
So Rock N' Roll (Walter Case Jr.) finished second; Facemaskrequired (Andy Harrington) was third. The top three finishers are all trained by Marc Tardif.
The third and final non-wagering event saw Twice The Ice, a son of Deuce Seelster, perform cool under wraps for driver Walter Case Jr., scoring coast-to-coast in 2:01.4. Twice The Ice is owned and trained by Marc Tardif, was bred by Gary and Kristina Hall, and also lowered his mark over the swift Cumberland surface.
Two Towns Over (Heath Campbell / Valerie Grondin) finished second; Rockaroundsam (Andy Harrington / Marc Tardif) was third.
Walter Case Jr. made three trips to the Blue Seal Feeds Winners Circle, while Ron Cushing had two victories. Marc Tardif and Lisa Watson both enjoyed training doubles.
Harness Racing at First Tracks Cumberland starts to wind down before Maine's pari-mutuel fair racing season begins, with the final weekend of the current meet going to post at 4 pm next Friday (July 22) and Saturday (July 23).