July 10, 2022, by Chris Tully for First Tracks Cumberland (Stephanie Gray photo)
CUMBERLAND, ME – Although US Trotting Association rules state that most horses cannot race past the age of fourteen, no one told Forward Bliss. The aged son of Blissfull Hall won his second Maine Amateur Driving Club event of the season for owner/trainer/driver Adam Gray on Saturday (July 9) at Cumberland. In fact, in his last nine starts Forward Bliss has three wins and has not missed a check.
Gray agrees that the horse is something special, "He just amazes us every week. 'Bliss' always give his best effort and we have grown very fond of him."
Having amassed 36 victories in 361 lifetime starts, Forward Bliss is kind of an elder statesman around the Cumberland Fairgrounds. Racing Secretary Mark Reynolds noted, "You would be hard pressed to find a horse with more starts on his card."
'Bliss' earned $150,804 lifetime, and has been 1-2-3 in 153 starts, which is an on-the-board rate of 42%. But Gray doesn't concern himself with statistics; he just wants to keep racing the horse as long as he can.
"He will let us know when he is ready to retire," Gray noted. "But every morning he is ready to put his pants on and go to work!"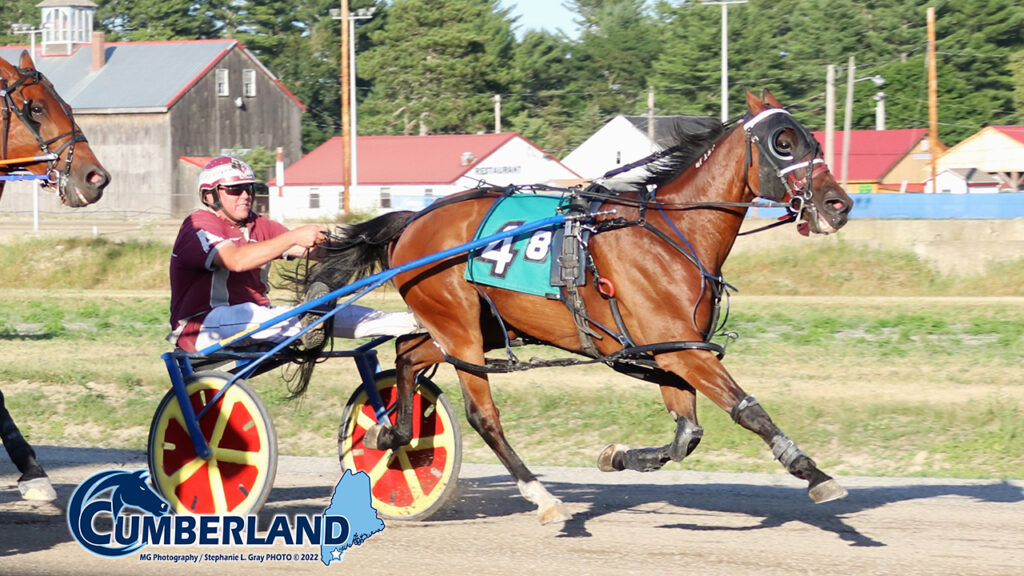 Adam Gray is the eighth owner of Forward Bliss, a horse so well-traveled that his 3-year-old record of 1:53.2z denotes the timeworn Virginia Standardbred facility Colonial Downs, which is a 1-1/4 mile track that closed to harness in 2014.
Forward Bliss paid $16.20 to win. Lightupbullville (Zack 'the Sherriff' Gray) finished second; Led Schneppelin (Jason Bertolini) was third. The Maine Amateur Driving Club is sponsored by the local Blue Seal Feed Stores of North Yarmouth and Windham, Maine.
Two Maine Standardbred Breeders Stakes (MSBS) were contested, with the first $10,959 2-year-old trotting filly event held before the regular card. Another Adventure stayed flat and took home the lion's share for trainer Marc Tardif and owner Leighton Property. She was capably driven by Kevin Switzer Jr.
The first pari-mutuel $11,289 MSBS race was captured by Stealin Money, a 2yo trotting son of Pembroke Slugger, bred, co-owned and trained by Mike Graffam and driven by Nick Graffam. Stealin Money gave some to his backers, paying $29.20 to win following miscues by several wagering favorites.
The $6,500 Open 2-3 Trot finished with a dead heat for win between Mister Muscle (Bruce Ranger, $4.00) and Caulfield (Kevin Switzer Jr., $8.60) in 1:58.1, the fastest dead heat trotting race in the history of Cumberland harness racing.
Bruce Ranger won three races on the program. Aaron Hall, Kevin Switzer Jr. and Nick Graffam all enjoyed driving doubles. Bruce Ranger leads the drivers' colony with 35 victories. There are two more weeks (4 cards) of racing for Drew Campbell (31), Kevin Switzer Jr. (30) and Matt Athearn (29) to take a shot at the title.
Racing resumes Friday (July 15), post time 4 pm.
More information can be found on our website: https://firsttrackscumberland.com and on our Facebook page: First Tracks Cumberland.