July 15, 2022, by Chris Tully for First Tracks Cumberland (Stephanie Gray photos)
CUMBERLAND, ME – Three geldings and a stud horse could not match strides with the pride of the Cumberland Fairgrounds, Ry's Red Rocket, as the 5-year-old Sunshine Beach mare shifted into turbo power and blasted away from the 4- & 5-year-old Open Pace field, taking home the lion's share of the $6,000 purse.
Driver Matty "Ice" Athearn sent the Donnie Richards-trained lass right to the front from post five, hitting the quarter in 27.2. The mare relaxed a bit setting a 57.2 second-panel, with Call Me Maverick (Mike Stevenson) sitting comfortably in the two-hole. Captain's Reign (Walter Case Jr.) started the outer flow from the back of the pack, followed by Lindas In Heaven (Drew Campbell) second over.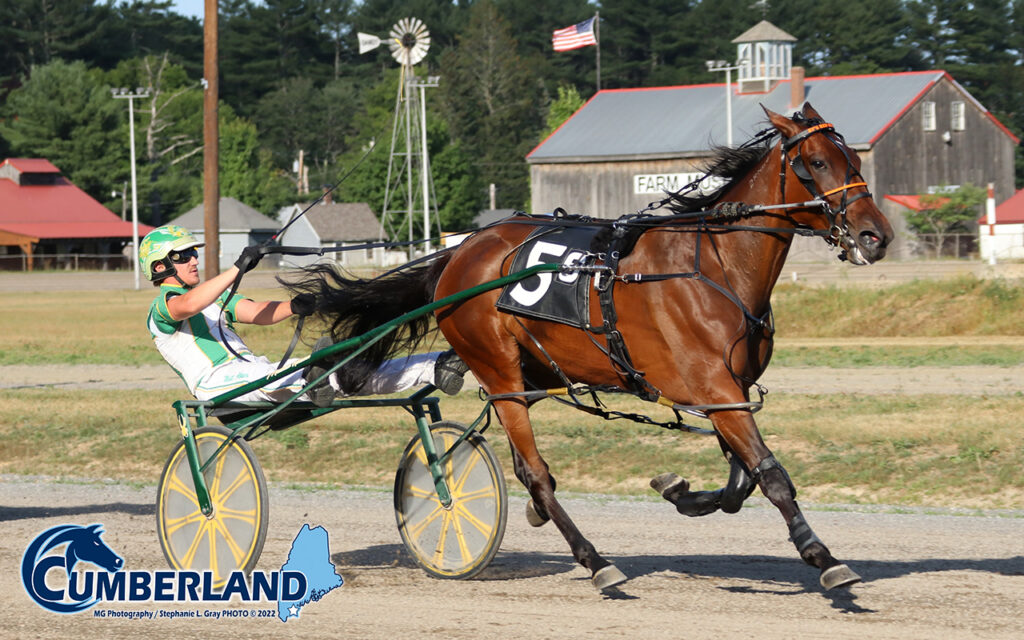 As the field bunched up down the backside following a 1:26.1 third-quarter, Athearn pressed the accelerator on Ry's Red Rocket and the mare responded with a powerful thrust to gain some separation on the field as they turned for home.
Ry's Red Rocket coasted home a three-length winner in 1:56. Call Me Maverick maintained his position behind the leader down the stretch and to the wire. With the first over move by Captain's Reign ineffective, Drew Campbell moved Lindas In Heaven to the center of the racetrack to make a play for the show dough.
Owned and trained by Donnie Richards, it was the fourth seasonal victory for Ry's Red Rocket, who paid $5.80 to win.
In the two $11,000-plus divisions of the Maine Breeders Stakes for 3-year-old pacing fillies, Pembroke Legacy captured her fourth consecutive stakes race for driver Heath Campbell, trainer Valerie Grondin and owner/breeder Bill Varney. Pembroke Legacy paid $2.20 to win in 1:59.1.
In the second division Wolverina grabbed her second Maine-sired event, taking a new seasonal mark of 1:59.1 for driver Nick Graffam and trainer/co-owner Mike Graffam with Bill Arnold. Wolverina paid $4.60 to win.
In other Maine racing action, Cumberland's outrider Charlene "Sherry" Cushing jumped out of the saddle and into the racebike to win with trotter Majestic Brayden in 2:02.4, a new seasonal mark.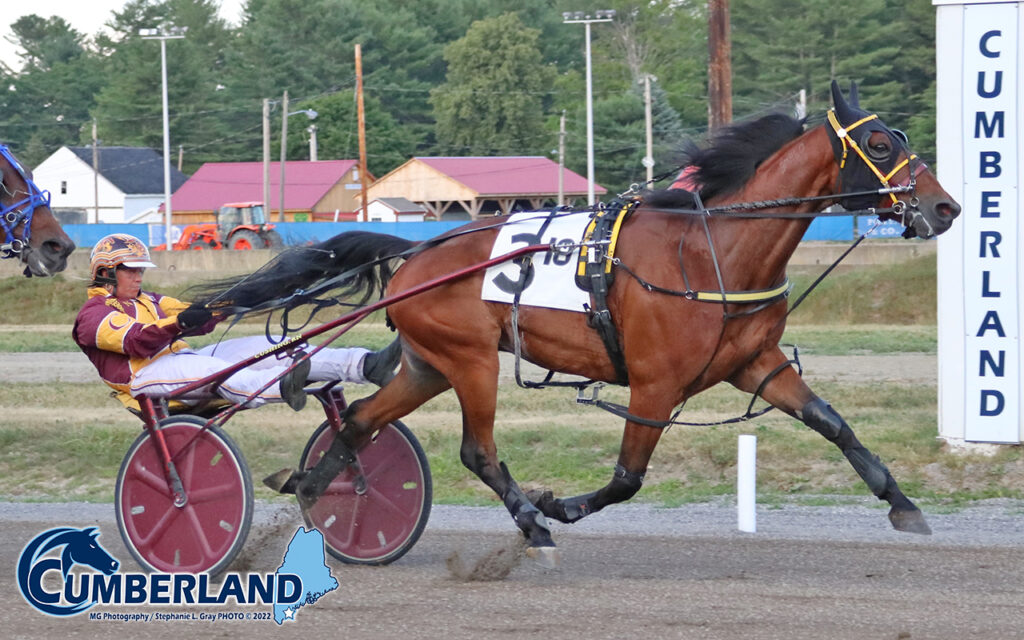 Cushing also trains the 8-year-old son of Majestic Son, who picked up his 25th career victory. Owned by Mike Graham, Majestic Brayden paid $4.80 to win.
Bruce Ranger snagged a driving double on the day's program.
Racing resumes Saturday (July 16) at 4 p.m., with the 30th racing date of the Spring-Summer season. Another round of Maine Amateur Driving Club action is on tap, sponsored by Blue Seal Feeds, along with several Open Pacing events and a $5,500 Open Trot.
Harness Racing at First Tracks Cumberland starts to wind down before Maine's pari-mutuel fair racing season begins, with the final weekend of the current meet going to post at 4 pm next Friday (July 22) and Saturday (July 23).
The final race on both Friday and Saturday features our 20 cent Hi-Five (Pentafecta), with a low takeout of 16%.