June 25, 2022, by Chris Tully for First Tracks Cumberland (Stephanie Gray photos)
CUMBERLAND, ME – Amateur driver and full-time trainer/owner Adam Gray slayed the dragon in a thrilling upset to capture Saturday's (June 25) Maine Amateur Driving Club (MADC) race at Cumberland with his own 14-year-old veteran pacer Forward Bliss.
Gray had the advantage of pylon position at the start, and as is often the case in amateur races, there was a lot of action early. Benson Merrill driving his own Road Untraveled fought off the other leavers to assert himself on the front end. This move was not without opportunity cost, however, as Gray pushed the pace and forced Merrill into a 27.2 opening quarter.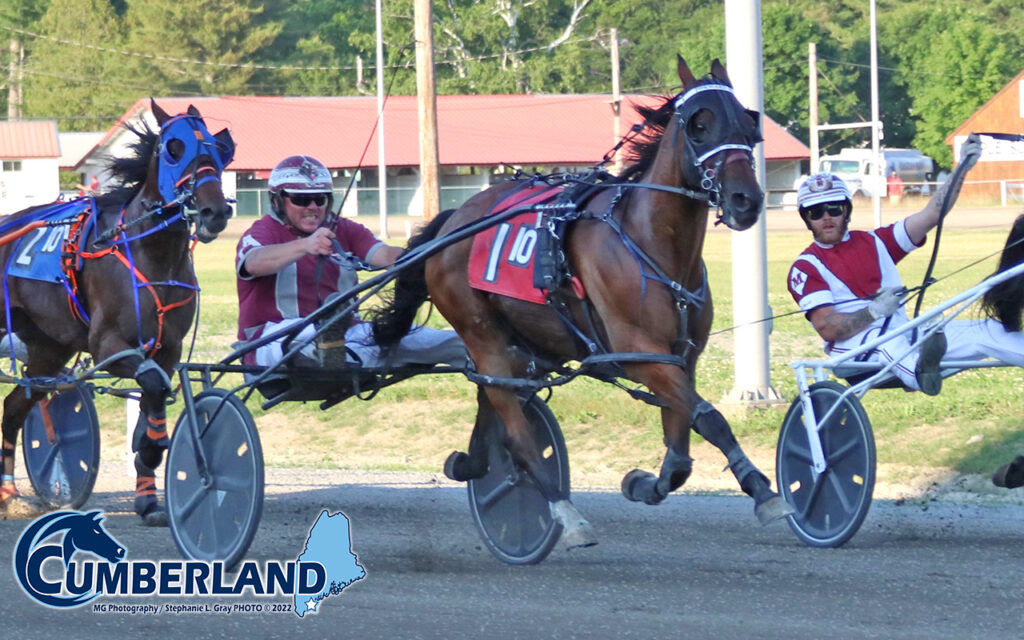 As the field straightened out going to the half, Hollywood Deemon (Mike Girouard) was the first to enter the outer flow, and was followed immediately by wagering favorite Eternal Ring (Dalton Lee) second over. The half was in a milder 58.1 with pacesetter Forward Bliss getting a much needed breather while Gray and Forward Bliss tracked in the pocket second.
With Eternal Ring's outside cover stalling, Lee was forced to move three wide down the backside into a 1:27.1 third panel. Nearing the 7/8's marker, Gray had sat in the two-hole long enough and tipped Forward Bliss out to challenge for the lead. As the pacers battled down the stretch, Gray prompted his horse with one last surge at the wire and prevailed by a quarter-length to win in 1:58.1.
Following the winning effort, trainer/driver/owner Adam Gray was very pleased with his own, and his horse's, performance.
"It's nice to drive and win with one of your own at your home track," Gray said. "`Bliss' is the family horse and I drove him the way my father always tells me I should."
It was a new seasonal mark and the 35th victory in 359 lifetime starts for the 14-year-old son of Blissfull Hall, who is nearing $150,000 in career earnings.
"We're really excited that at age 14 he is still a very game and sound racehorse," Gray added. Forward Bliss paid $24.80 to win. Road Untraveled finished second; Eternal Ring was third.
The Maine Amateur Driving Club is sponsored by the North Yarmouth Blue Seal Feed Store and the Windham Blue Seal Feed Store, with leadership and support from Aimee Nichols, their dedicated territory sales manager.
The feature of the day, a $5,500 Open III Trot, was captured by Mister Muscle in a wire-to-wire score in a 1:58.1 seasonal best. Trained by Jamie Gerard and driven to victory by Bruce Ranger, the 8-year-old son of Muscle Mass is owned by Mark Beckwith.
It was the third score in four starts for Mister Muscle, who paid $7.80 to win. Caulfield finished second; Warrawee Preferred was third.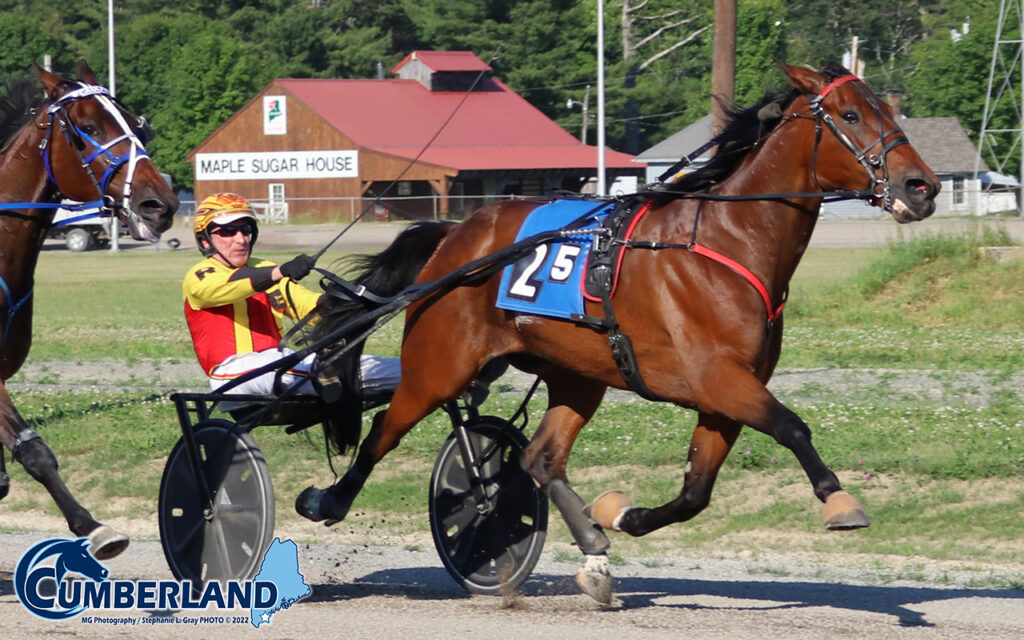 Matt Athearn led all drivers on the program with three trips to victory lane, while his father Mark Athearn had two winners. In addition, Bruce Ranger and Drew Campbell both had driving doubles and are now tied for first place in the drivers' standings with 28 wins apiece. There is a three-way tie for third place with Matt Athearn, Dan Deslandes and Kevin Switzer Jr all posting 25 wins each. Walter Case Jr. is next on the win totals list with 23.
Racing resumes Friday (July 1) at First Tracks Cumberland at 4 pm. Cumberland's extended pari-mutuel meet races through July 23.
A week from Saturday First Tracks Cumberland will host Family Fun and Value Day at the iconic Southern Maine oval. On Saturday (July 2) fans can enjoy a meet and greet with their favorite harness drivers, specials on food and drink, as well as our inaugural Cumberland Derby where fans can enter to win $500 in total cash prizes based on their picks and the official order of finish in the designated race. Giveaways and a big day of harness racing will also be provided.
More information can be found on our website: https://firsttrackscumberland.com and on our Facebook page: First Tracks Cumberland.