June 5, 2022, by Chris Tully for First Tracks Cumberland (Stephanie Gray photos)
CUMBERLAND, ME – Marc Tardif, a fixture around the Maine Standardbred Breeders Stakes, started the year off with a bang as a pair of his 3-year-old pacing geldings finished first and second in the $5,000 Sneak Peek event for Pine Tree State eligibles at Cumberland on Saturday (June 4).
Kevin Switzer hustled Deal With It Roman to the top from post four in the opener, posting comfortable opening fractions of 29.2 and 1:00.1. His stablemate Stormin Maverick (Andy Harrington) was content to sit in the catbird seat and draft off of the pacesetter.
Switzer Jr. turned up the heat into at 1:29.1 third quarter, resulting in no movement from the other contenders, which allowed Deal With It Roman to coast home in 1:58.3 by two lengths.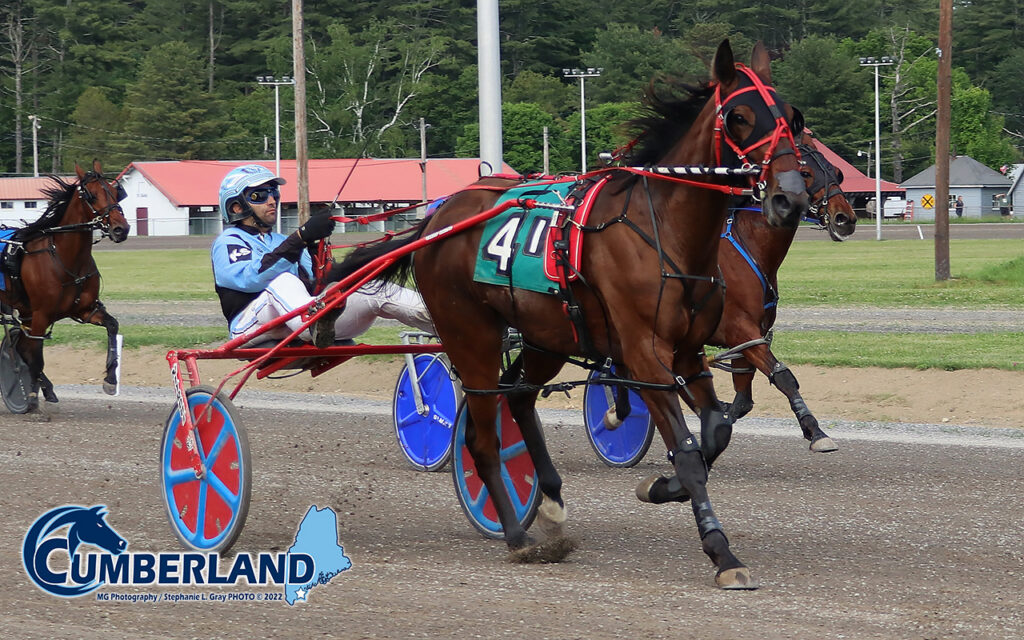 The son of Western Maverick established a new lifetime mark for owner/trainer/breeder Marc Tardif, and paid $4.40 to win. Tardif also trains Stormin Maverick, another son of Western Maverick who finished second, for owner/breeder Leighton Property/Victoria Leighton. CBF Squirt Gun finished third.
The third leg of the glamour boys (3yo male pacers) division of the Maine Sire Stakes visits First Tracks Cumberland on July 2, in conjunction with our inaugural Cumberland Derby where fans can win cash prizes for picking the correct winning horses. There will also be a harness driver meet and greet with autograph sessions and giveaways.
The swiftest heat of the day was captured by Flight Deck N in 1:56.3. It was the second win in a row for the 12-year-old son of Jereme's Jet, who was piloted by his trainer Dan Deslandes, who also co-owns with Danny King and Jeff Deslandes. Flight Deck N paid $9.40 to win. It was the second trip to the Blue Seal Feeds winners circle for Deslandes, who now sits in second place in the drivers' standings with 20 wins, just behind Drew Campbell who has amassed 23 victories. Aaron Hall also steered two winners on the day.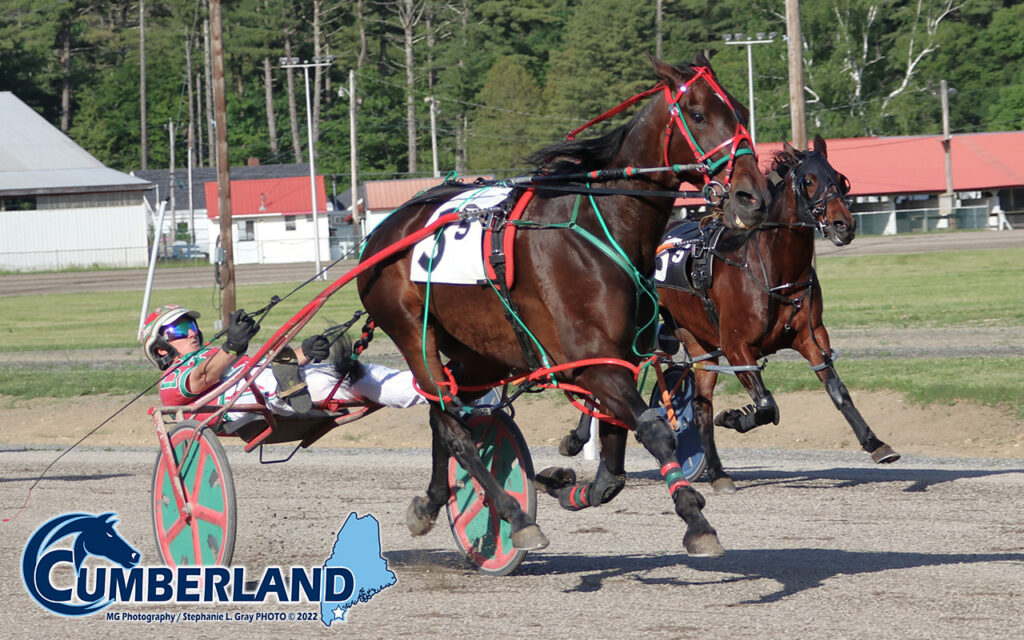 In Maine Amateur Driving Club (MADC) action, Jason Bertolini drove his own Led Schneppelin to a wire-to-wire score in 2:004, besting Forward Bliss (Adam Gray) by half a length.
Bertolini owns and trains the 11-year-old son of Memphis Flash, and the victory put the 25-year-old reinsmen into first place in the "Greatest Side-Show in Maine Harness Racing," usurping perennial leader Benson Merrill.
Racing resumes Friday (June 10) at 4 p.m., with the extended pari-mutuel meeting active each weekend through July 23.
Racing fans and bettors will be able to watch and wager on next Saturday's (June 11) Belmont Stakes, the 154th renewal of the final jewel of the Triple Crown from Belmont Park, Elmont, New York.
Full Belmont Stakes programs will be available and betting windows will be open for the first post at 11:20 am, which will be broadcast live. There will be TV monitors covering all the Thoroughbred action, and the Trackside Pub concession stand will also be open in the Fairgrounds grandstand.
The final race on both Friday and Saturday features our 20 cent Hi-Five (Pentafecta), with a low takeout of 16%.