June 17, 2022, by Chris Tully for First Tracks Cumberland (Stephanie Gray photos)
CUMBERLAND, ME – Aussie expat Hespoisedtopounce A grabbed victory and a new track record at Cumberland on Friday (June 17), defeating some of the best pacers on the grounds in the featured $6,500 Open II Pace.
Scoring from post five, driver Kevin Switzer Jr. sent Hespoisedtopounce A charging to the front and took command by a two length margin by the time the 28 second first-quarter flashed. Moving to the half, Switzer put on the brakes and enjoyed a brief respite in 57.3 as the outer flow started to add pressure. Nagle (Dan Deslandes) flushed the cover of Airspinder (Drew Campell forcing Switzer to let out a notch on Hespoisedtopounce A as the field moved to the five-eighths pole.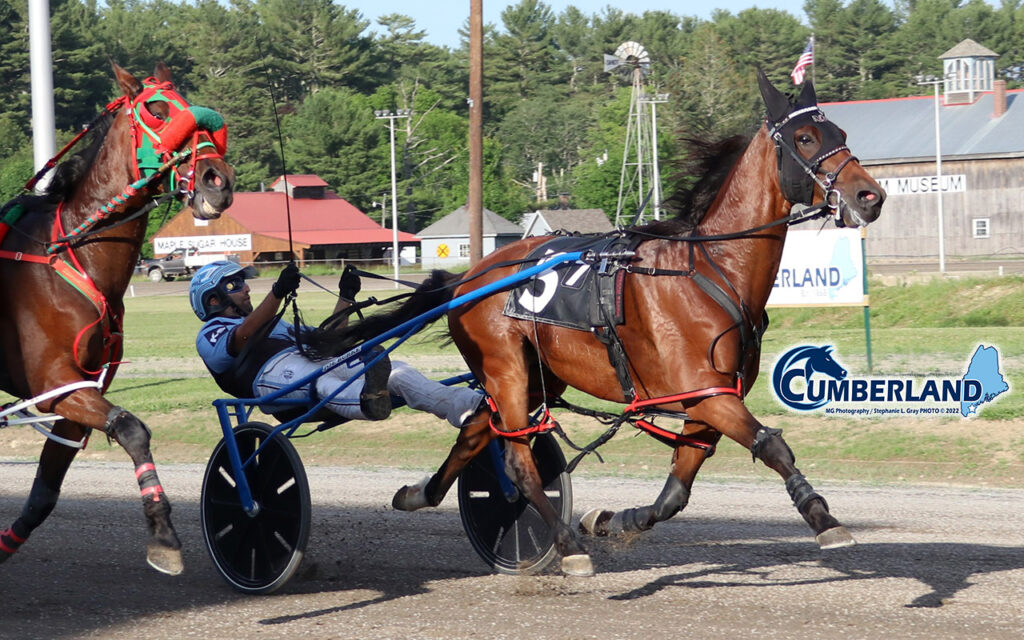 While the challengers were stacked three high on the backside, the leader tripped the three-quarter timer in 1:25.1, and it was clear that no one was backing down. Only Nagle (Deslandes) could withstand the torrid pace as Switzer held Hespoisedtopounce A to his 'A' game and maintained a half-length advantage over his nearest rival at the wire.
The 1:54.2 winning time was the fastest mile ever at Cumberland for a 5-year-old and older pacing gelding, erasing a mark that was shared with three horses, one of which was Rocksapatriot (who finished third).
A 6-year-old Australian-bred son of Bettor's Delight, Hespoisedtopounce A is trained by Jimmy Nickerson for owners Anthony Gruppo and Tim Bojarski. 'Pounce' paid $9.40 to win.
Driver Kevin Switzer Jr. enjoyed two victories on the regular program, and also steered two winners in the early Learn and Earn non-wagering races. Walter Case Jr. won the other two events. All four winners were trained by Marc Tardif and owned by Leighton Property (Lesley and Victoria Leighton).
Cumberland holds its next round of baby races on Friday (June 24), with the first post at 2 pm.
Racing resumes on Saturday (June 18), the card features 11 races and the return of the Maine Amateur Driving Club sponsored by Blue Seal Feeds, along with a $6,000 Open II Trot with three horses all coming off of winning efforts.
In two weeks First Tracks Cumberland will host Family Fun and Value Day at the iconic Southern Maine oval. On Saturday (July 2) fans can enjoy a meet and greet with their favorite harness drivers, specials on food and drink, as well as our inaugural Cumberland Derby where fans can enter to win $500 in total cash prizes based on their picks and the official order of finish in the designated race. Giveaways and a big day of harness racing will also be provided.
The final race on both Friday and Saturday features our 20 cent Hi-Five (Pentafecta), with a low takeout of 16%.
More information can be found on our website: https://firsttrackscumberland.com and on our Facebook page: First Tracks Cumberland.