May 22, 2022, by Chris Tully for First Tracks Cumberland (Stephanie Gray photo)
CUMBERLAND, ME – Dan Deslandes won the opener on Saturday (May 21), a $5,200 featured pace with Bo Master in 1:57. While this was enough to keep Deslandes in first place, a final tally of the day's events resulted in a three-way tie for the top position with Matt Athearn and Drew Campbell.
Scoring from post four, Deslandes moved Bo Master right to the front, a place where he is very comfortable, and pushed through fractions of 28.4, 58.4, 1:27.2 to hold on for a half-length victory over Ry's Red Rocket (Matt Athearn).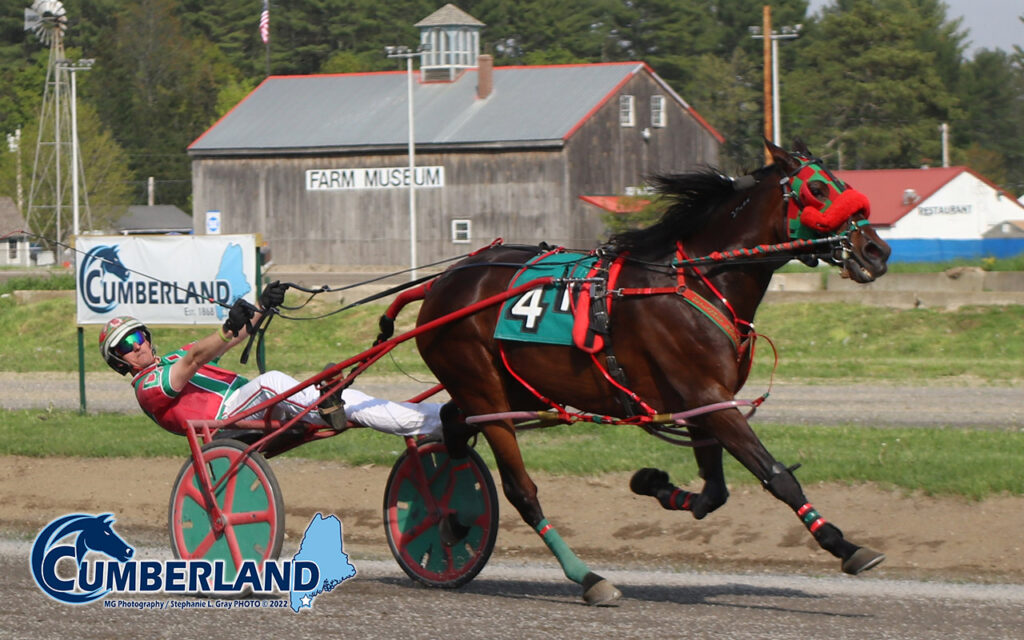 The 8-year-old son of Sportsmaster is also trained by Deslandes for owner Reggie Duguay. Bo Master paid $3.80 to win. Velocity Sub Z finished third.
From that point in the day it was anyone's guess as to who may emerge at the top of the talented Cumberland drivers' colony. The day before, four drivers had moved to within one victory of first place, which was held by Deslandes at 16, who now had 17 by winning the opener. Matt Athearn, Drew Campbell, Bruce Ranger and Kevin Switzer Jr were all tied for second place with 15 wins a piece.
As luck would have it Matt Athearn won the second race with his own horse Beammeupscottie, and paid $3.80. The trainer is listed as Matt's mother Gretchen Athearn.
The next two races were won by driver Nick Graffam steering Ira Chief ($13.20) and Sixby Hanover ($5.40), and both were trained by Mike Graffam, Nick's father.
Then Drew Campbell got into the mix, scoring with Canbec Kingkazimir in 1:56.1. Trained by Chris Lefebvre, the 12-year-old son of Jereme's Jet paid $4.40 to win for owner Michelle Lefebvre. Campbell came back to win the ninth race with Rock N Blue by a neck for trainer Chris Lefebvre. He paid $5.20 to win for owner Ralph Silvestri III.
Sensing an opportunity, the finale was captured by Matt Athearn and Dancin Hill. Owned and trained by Ryan Berry with Todd Whitney, the 11-year-old son of Rocknroll Hanover paid $4.20 to win.
The final outcome led to Athearn, Campbell and Deslandes finishing the weekend with 17 victories each, sharing the top of the heap. Bruce Ranger and Kevin Switzer Jr. are tied for fourth with 15 wins a piece.
Racing resumes on Friday (May 27) at Cumberland. Post time for the Spring/Summer meet is 4 p.m. on both Fridays and Saturdays, with the extended pari-mutuel meeting racing each weekend through July 23.
More information can be found on our website: https://firsttrackscumberland.com and on our Facebook page: First Tracks Cumberland.