May 1, 2022, by Chris Tully for First Tracks Cumberland (Stephanie Gray photos)
CUMBERLAND, ME – Provisional driver Jason Bertolini drove Sherry Cushing's Air Force Grad like a seasoned pro in one of Saturday's (April 30) Maine Amateur Driving Club (MADC) races, and lit up the tote board in victory at 18-1.
Scoring from post three, Air Force Grad (post 3, Bertolini) took a seat fourth on the pylons and waited patiently while the other teamsters jockeyed for position. Three Day Forecast (post 1, Todd Whitney) cut the opening fractions of 28.2 and 59.2 while Putnams Storm (post 2, Bob Nadeau) gave no quarter to a parked out Bettor Reason N (post 6, Zack Gray).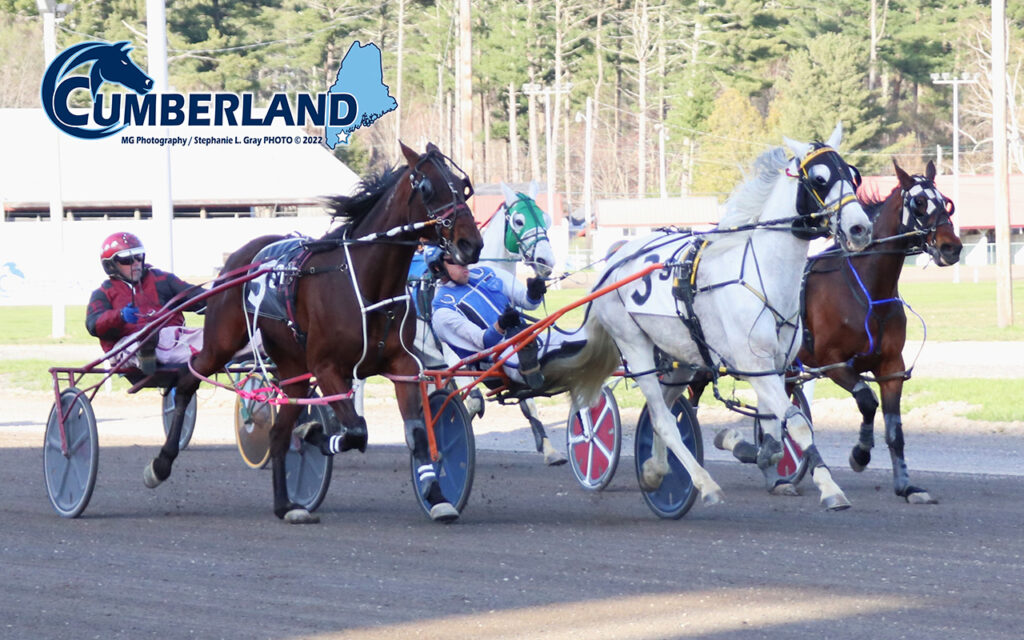 As the field passed the stands going to the half Baywood Shadow (post 7, Derek Howes) enjoyed the second over cover while Gucciriffic (post 5, Karl Butterfield) was also out and moving third over. With three in and three out, and foreseeing tiring cover, Howes moved Baywood Shadow three-wide down the backside into a 1:29.2 third quarter. This caused Butterfield to swing four deep with Gucciriffic, which gave Bertolini cover and racing room to follow Howes through the turn and blast past the tiring leader and win by three-quarters of a length in 2:01.3.
The 11-year-old son of The Panderosa is owned and trained by Charlene 'Sherry' Cushing and paid a whopping $39.60 to win for the 25th time in his career. Gucciriffic finished a fast closing second; Baywood Shadow was third in the $3,800 MADC group C.
In the $4,200 MADC group B, Benson Merrill guided Zampara to a wire-to-wire victory in 2:01.3, scoring by 3-1/2 lengths.
The 8-year-old son of American Ideal is also trained by Benson Merrill and is owned by Mo Coo Inc. Led Schneppelin finished second; Imageofarocker was third.
The featured race of the day was a $5,200 conditioned pace, and was captured by Aaron Hall's gutsy veteran pacer Lucan Hanover in 1:58.1. Scoring from post 5, Hall got the 12-year-old son of Western Ideal away third, came first over at the half and sprinted off to win by 1-3/4 lengths.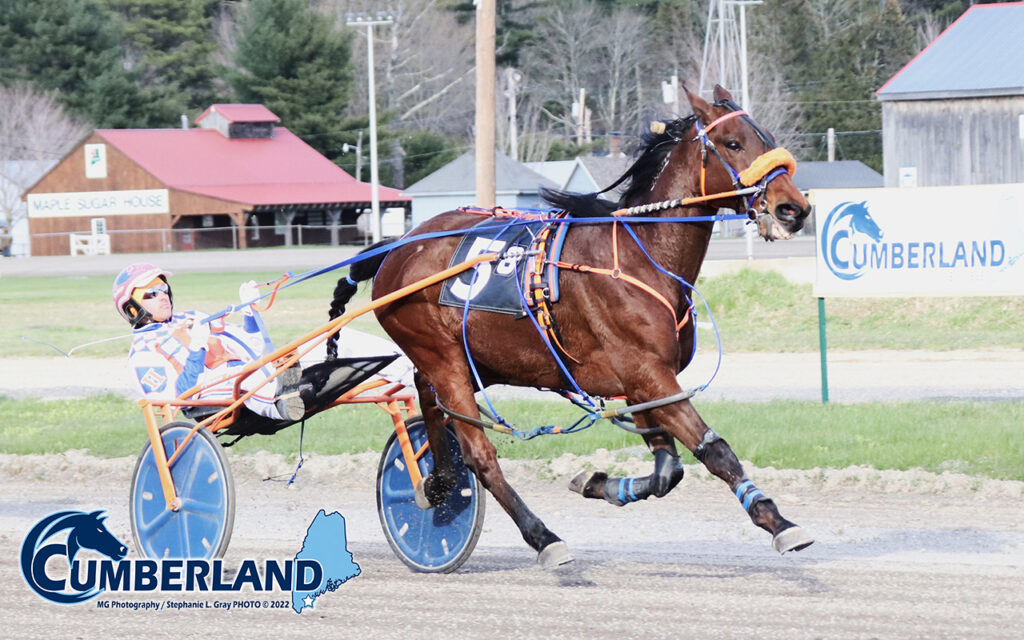 Lucan Hanover is owned, trained and was driven by Aaron Hall and paid $4.80 to win. Entering the race with $1,330,331 in lifetime earnings, it was the 58th win of his career. Miss U Big Mike finished second; King Royalty was third.
'Double-Digit' Dave Ingraham lived up to his Pompano nick name, scoring in his first start back at Cumberland with Arsenal. Owned and trained by Kelly Case, the 14-year-old son of Artiscape paid $57.20 to win for the 51st time in 410 lifetime starts.
Wally Watson drove two winners for his wife Lisa Watson, who trained both victors. After four weeks with eight racing programs Kevin Switzer Jr. leads the drivers' standings and Benson Merrill is the top conditioner, both ahead by just one win.
First Tracks Cumberland is pleased to announce that racing fans and bettors will be able to watch and wager on next weekend's iconic programs from Churchill Downs. Each card starts at 10:30 am and features the Kentucky Oaks on Friday (May 6) and the 148th running of the Kentucky Derby on Saturday (May 7). Programs, betting windows, monitors and concessions will be available in the Fairgrounds grandstand.
Beginning Friday (May 6), post time for the Spring/Summer meet has been moved to 4 p.m. (EDT) for both the Friday and Saturday programs. Cumberland's extended pari-mutuel meeting races each weekend through July 23.
Condition sheets for next week can be found on the US Trotting's Online Entry System: http://horsemen.ustrotting.com/conditions/index.cfm
The draw for next week is as follows:
Race Friday (May 6), post time 4 pm, Draw date Tuesday (May 3), box closes 9 am; Race Saturday (May 7), post time 4 pm, Draw date Wednesday (May 4), box closes 9 am.