May 8, 2022, by Chris Tully for First Tracks Cumberland (Stephanie Gray photos)
CUMBERLAND, ME – Mike Girouard gave Rockin Ellie a textbook steer to victory in the $3,800 Maine Amateur Driving Club (MADC) Group C event on Saturday (May 7) at Cumberland.
Leaving from pylon position, Girouard let the fast-leaving Led Schneppelin (Jason Bertolini) take command, but not before forcing a stinging :28.1 first quarter. As Bertolini attempted to reduce the pace, Girouard was happy in the catbird seat, while the rest of the field played catch up.
Wagering favorite Road Untraveled (Benson Merrill) moved first over at the half and subsequently stalled, which allowed Girouard and Rockin Ellie to thread the needle going into the final turn and look the leader in the eye. A stretch battle ensued with Rockin Ellie prevailing by three parts of a length in 2:01.1. The 6-year-old daughter of Rockincam is also trained by Girouard, and is owned by Just Enough LLC (Ted Suleski).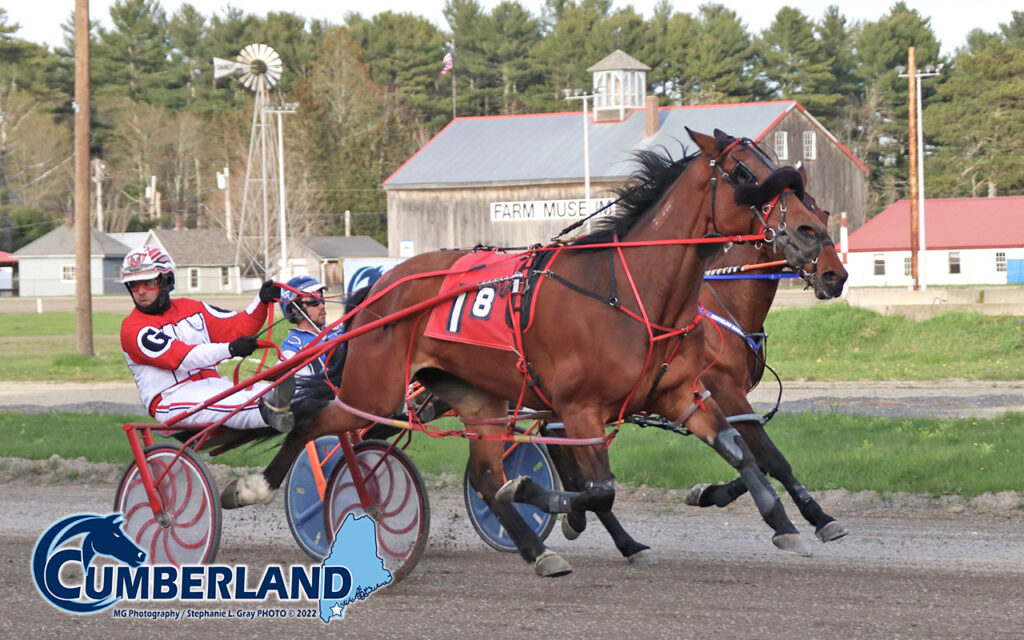 Rockin Ellie paid $8.60 to win her second outing in her last three starts. Led Schneppelin finished second, Baywood Shadow was third.
In the $5,200 featured cond. pace, Matt Athearn scored from off the pace with Obscene Blue Chip. Coming from seven lengths back at the half, Athearn unleashed an explicit first-over drive to the front, passing five horses to win by three-quarters of a length in 1:58. The 8-year-old son of Western Ideal is owned by Cris Wescott and trained by Ken Secord.
Obscene Blue Chip paid $14.20 to win his third outing in four most recent starts at Cumberland this year. Miss U Big Mike finished second, Rockin' Cougar was third in a tight finish.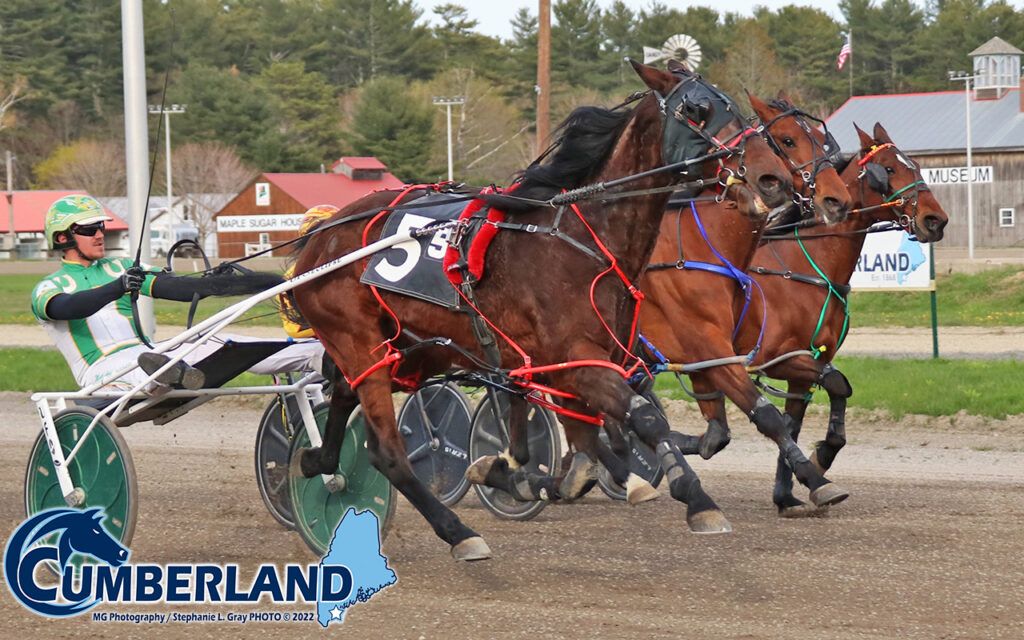 "Double Digit" Dave Ingraham strikes again with Kelly Case's Arsenal, winning his second in a row at Cumberland. The 14-year-old son of Artiscape paid $17.20 to his backers.
Dan Deslandes enjoyed a driving double and has tied Kevin Switzer Jr. at 14 for the most dash wins by a driver at Cumberland after 10 seasonal programs. Matt Athearn is third with 11 victories to his credit. Benson Merrill (9) has a one win lead over Chris Lefebvre (8) in the training ranks.
Post time is 4 p.m. (EDT) for both the Friday and Saturday programs on May 13 & 14. Cumberland's extended pari-mutuel meeting races each weekend through July 23.