May 27, 2022, by Chris Tully for First Tracks Cumberland (Stephanie Gray photo)
CUMBERLAND, ME – Matty "Ice" Athearn gave Warrawee Preferred another gutsy drive on Friday (May 27) to win the $6,000 Open II Trot and move to top of the tough Cumberland drivers colony.
Scoring from the outside post five, Athearn left alertly with the 11-year-old son of Federal Flex, only to be thwarted by a determined Majestic Braden and Sherry Cushing who refused to relinquish the front end.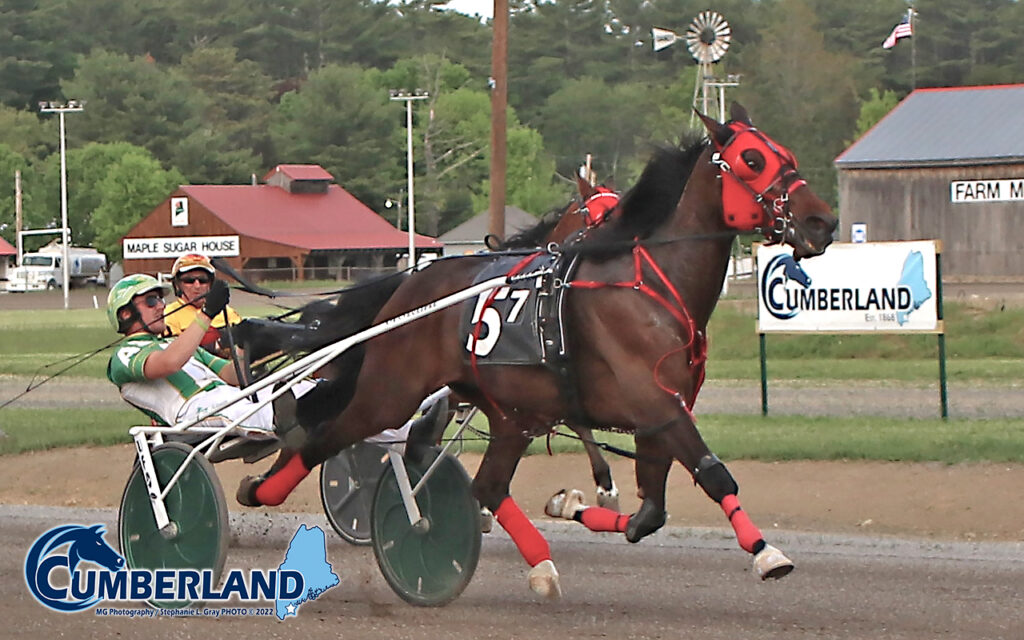 As the two trotters and dueling teamsters slugged it out past the eighth pole, Athearn ducked into a wide-open two hole with an opening panel in 29.2. Barely a breather was realized when Athearn tipped back out at the three-eighths marker and moved up alongside the leader into a 1:00.3 half mile.
After getting an ample supply of that good Maine air into a 1:30 three-quarter stanza, and while maintaining a stranglehold on the headstrong Warrawee Preferred, Athearn poked a nose in front heading into the final turn. Although the pacesetter had called it a day, Athearn was then forced to contend with the late charges of Little Macabee (Aaron Hall) and Kyrie Deo (Mark Athearn), who finished second and third respectively.
Owned and trained by Ryan Berry, Warrawee Preferred stopped the timer at exactly 2:00 flat and paid $8.20 to win by 1-1/2 lengths. It was the 60th victory of the horse's career, and ninth seasonal romp.
With the win, Matt Athearn moved into first place in the drivers' standings with 18 seasonal Cumberland victories. Dan Deslandes and Drew Campbell are tied for second with 17.
Walter Case Jr. and Andy Harrington both enjoyed driving doubles on the 10-race program.
Racing resumes Saturday (May 28) at 4 p.m., with the extended pari-mutuel meeting active each weekend through July 23.
The final race on both Friday and Saturday features our 20 cent Hi-Five (Pentafecta), with a low takeout of 16%.
More information can be found on our website: https://firsttrackscumberland.com and on our Facebook page: First Tracks Cumberland.