September 28, 2023, by Chris Tully for First Tracks Cumberland (Stephanie Gray photos)
CUMBERLAND, ME – Maine-sired sophomore trotters got their day in the spotlight on Wednesday (Sept. 27) at Cumberland Fair, with the diagonally gaited set giving fans and bettors some thrilling finishes to cheer about.
The Tardif Taskforce sent Outlawofthevalley into the $14,941 Maine Sire Stakes for 3-year-old trotting colts and geldings, with the underdog finally getting some bragging rights over his nemesis and wagering favorite Wabanaki (Ivan Davies).
Although it is a friendly rivalry, it has been a season-long battle between two of the best male sophomore trotters in the Pine Tree State, with Wabanaki holding a three win lead over Outlawofthevalley. However the latter reduced that margin to two as his regular pilot Kevin Switzer Jr. sent the son of Pembroke Slugger right out to the lead from post four, dashing to a :29.2 opening panel.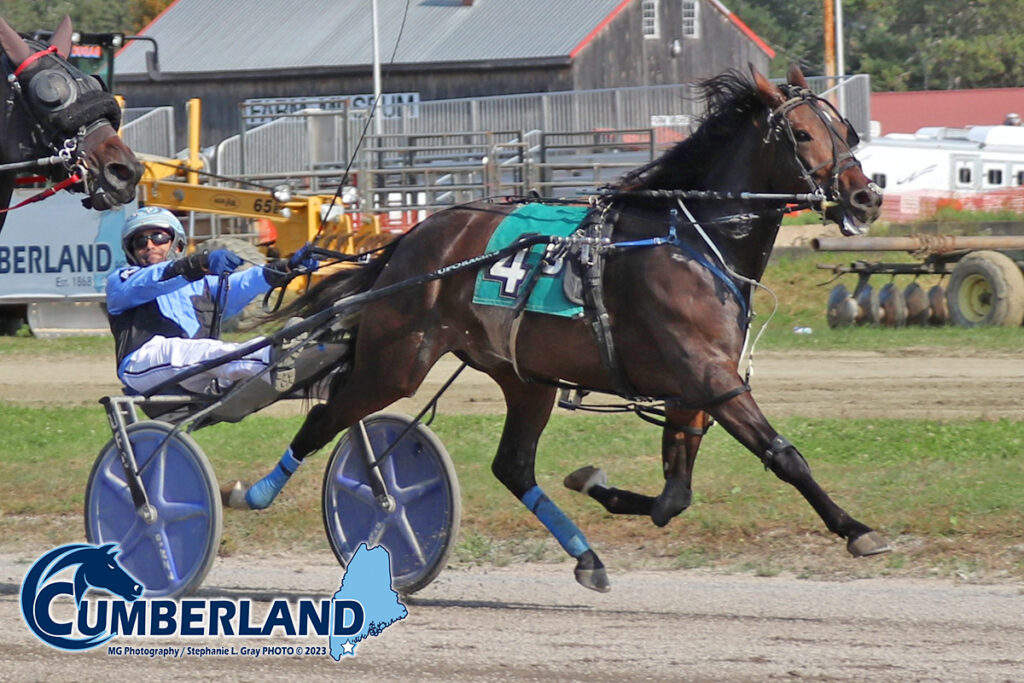 Following a 1:00.4 half-mile breather Outlawofthevalley was prompted to a 1:29.4 third stanza and put five lengths between himself and his pursuers, with Wabanaki leading the rest of the pack. At the head of the stretch Davies had Wabanaki with two spans of the pacesetter and continued to gain ground.
The wire came just in time for Outlawofthevalley who prevailed by a nose in 2:00, a new lifetime best.
Owned and bred by Leighton Property, it was his fourth seasonal victory and paid his backers $9.60 for the win.
Pembroke Traveler (Heath Campbell-Valerie Grondin) finished third.
In the $14,952 3-year-old filly trot, Ivan Davies had his star distaff Wild Ending in gear and on point and sent her out to a wire-to-wire romp in 2:02.3, winning by five open lengths.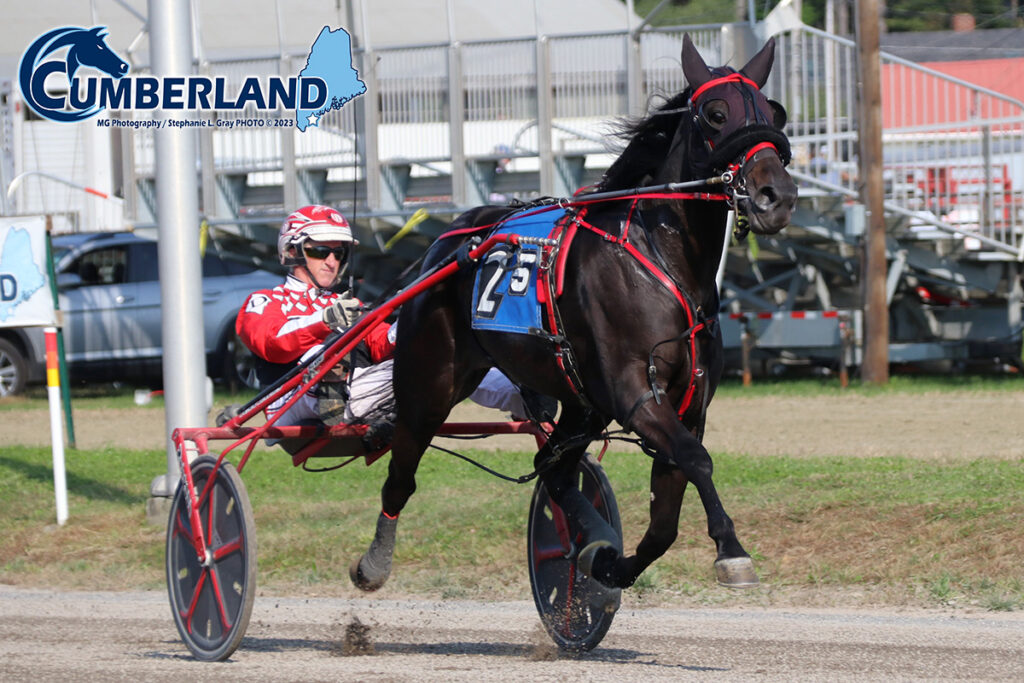 Owned by Anita 'Bunny' Anastosopoulos-Andrew, and bred by the late Mike Andrew, it was Wild Ending's seventh win of the season, where she paid $2.20 to win as the heavy favorite.
She'salilbitmouthy (Mike Cushing) finished second; Melania's Best (John Nason) was third.
'Double Digit' Dave Ingraham scored three times on the afternoon program, however none of those victories entered the double digit category.
Harness racing at Cumberland Fair continues at 1:30 pm on Friday (Sept. 29) with a special 11 am finale slated for Sunday (Oct. 1).
Maine Sire Stakes returns with the 3-year-old pacers on Friday (Sept. 29). The highlight of the week will be all four $50,000-plus divisional Maine Sire Stakes freshmen finals on Saturday (Sept. 30), with three of the divisions on the talent-packed 13-race card, and one early non-bettor at 1:10 pm.
First Tracks Cumberland's winter festival reconvenes on Sunday, November 5, abiding by a weekend racing schedule through Christmas Eve (Dec. 24). Winter post times will be 11 a.m.
More information can be found on our website: https://firsttrackscumberland.com and on our Facebook page: First Tracks Cumberland.