September 26, 2023, by Chris Tully for First Tracks Cumberland (Stephanie Gray photos)
CUMBERLAND, ME – Walter Case Jr. and Drew Campbell each won three races on Monday (Sept. 25) during the second day of racing at the Cumberland Fair, giving the veteran reinsmen victories in two-thirds of the racing card.
'Casey' started things off in the opener with Showme Some Muscle in a wire-to-wire romp for trainer Candace Brandstatter. He paid $4.60 to get his 17th lifetime score.
Two races later Case Jr. and Winter Asher-Stalbaum had a dead heat for win with Ranaldi and Lord Willoughby A, respectively, in 1:57.1. They both paid $2.40 to win as the betting co-favorites. Ranaldi is trained by Cain Mackenzie for owner Common Kings Stable, where Lord Willoughby A is owned by Winter and trained by his older sister Riley.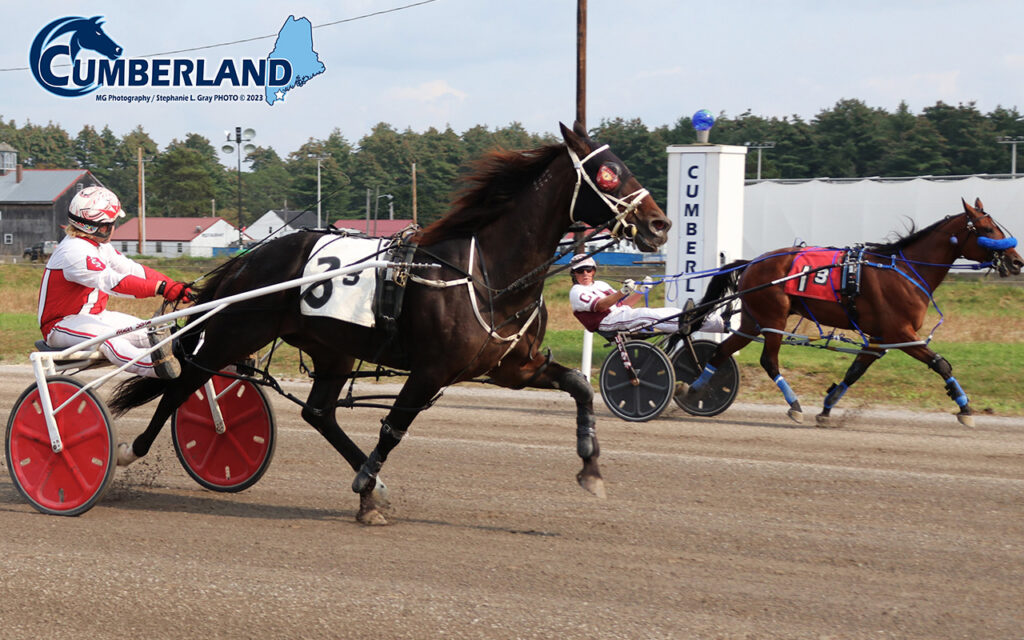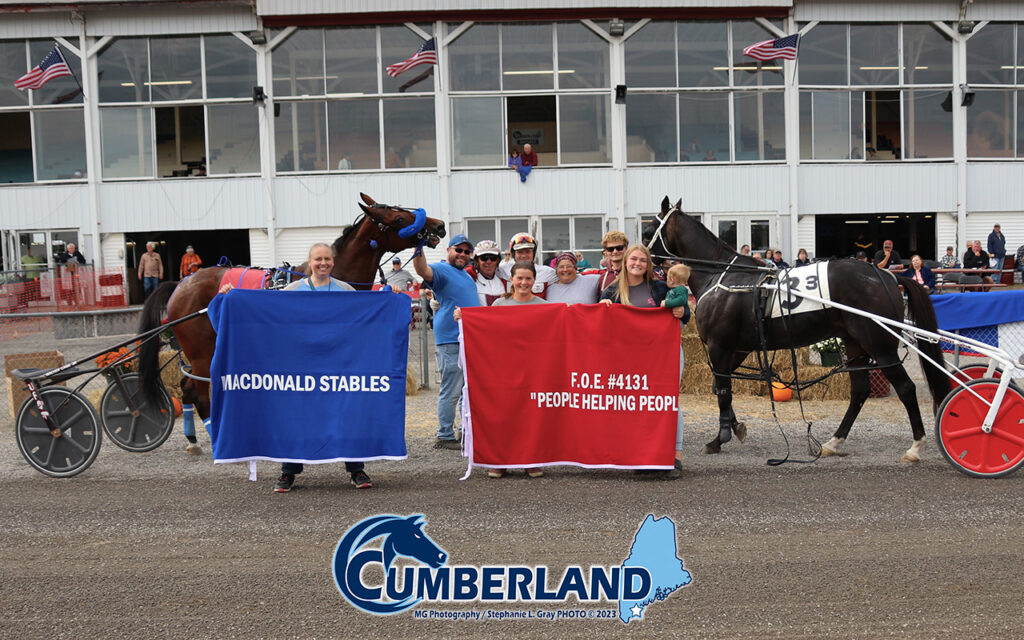 The next race was captured by Drew Campbell with American Fighter in 1:59.1. Trained by Mark Harris for owner Gayle Harris, the longshot paid a whopping $51.80 to grab the 32nd win of his life.
Case Jr. secured the next event with Your Momma in another coast-to-coast victory lap, cruising to a 1:59.4 score. Owned and trained by Eddie Fournier Jr., she paid $3.40 to win for the 14th time in her career.
Drew Campbell popped again with S R Willpower in 1:59. Blasting three-deep on the backside, the teamster rolled home to grab the win for trainer Wayne Smith and owners Courtney Pitts and Adalberto Silva. It was the 19th victory of his career, paying $9.40.
Campbell came right back to win by a neck with See You Friday for owner-trainer Michelle Lefebvre in 1:58, paying $4.00 for his 25th lifetime triumph.
John Nason enjoyed a driving-training double.
Harness racing at Cumberland Fair continues at 1:30 pm on Tuesday (Sept. 26) with full cards scheduled through Sunday (Oct. 1). A special post time of 11 am is slated for that final date. There is no racing on Thursday (Sept. 28).
There will be a live draw for the Freshmen Finals on Wednesday (Sept. 27) at 12:30 pm.
Looking ahead, the Maine Sire Stakes returns with 3-year-old trotters on Wednesday (Sept. 27), and then roll into the 3-year-old pacers on Friday (Sept. 29). The highlight of the week will be all four $40,000-plus divisional Maine Sire Stakes freshmen finals on Saturday (Sept. 30).
First Tracks Cumberland's winter festival reconvenes on Sunday, November 5, abiding by a weekend racing schedule through Christmas Eve (Dec. 24). Winter post times will be 11 a.m.
More information can be found on our website: https://firsttrackscumberland.com and on our Facebook page: First Tracks Cumberland.