September 27, 2023, by Chris Tully for First Tracks Cumberland (Stephanie Gray photo)
CUMBERLAND, ME – Up-and-coming reinsman Winter Asher-Stalbaum won the swiftest race of the day with Zack Vickerson's Beach Fire K in 1:55.1 on Tuesday (Sept. 26) at Cumberland Fair.
The 6-year-old son of Somebeachsomewhere, driven by the 19-year-old Asher Stalbaum, made every call a winning one. While setting fractions of :27, 56.2 and 1:24.4, the pair gained eight lengths on the rest of the field through the third panel. Down the stretch Make Some Waves (Walter Case Jr.) had shortened that margin down to a length before the wire arrived and the pacesetter prevailed.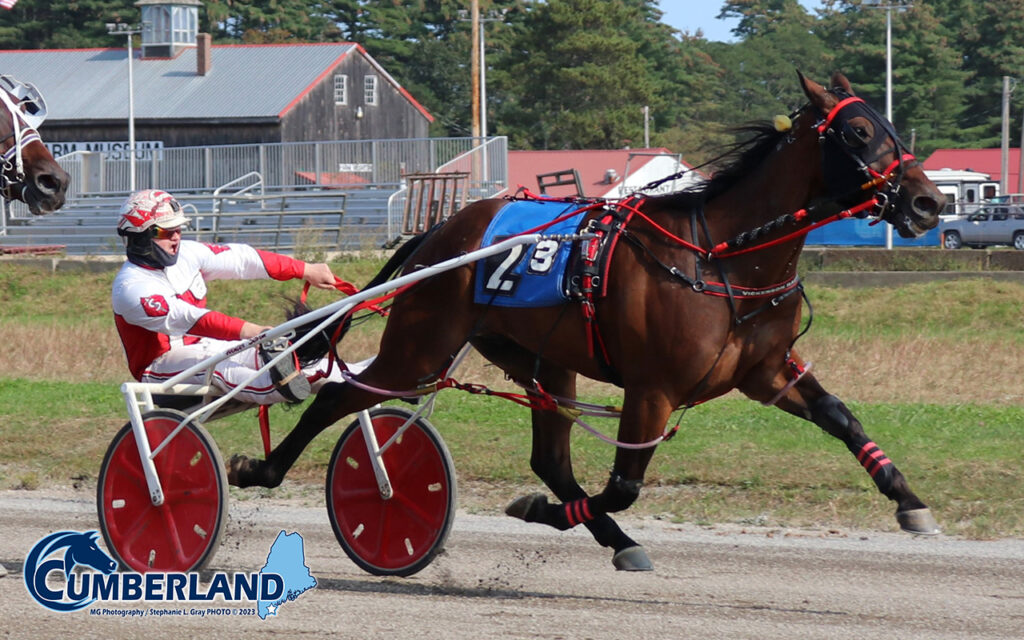 Trained and co-owned by Zach Vickerson with Haley Karken, he paid $10.80 to win the $5,200 conditioned pace. Make Some Waves finished second; Lexus With a View A (Chris Long) was third.
Airspinder won the $6,000 feature 1:57.4 for driver Dan Deslandes and owner-trainer David Sawyer. He paid $4.80 to win.
Driver Chris Long won three races on the afternoon card, which was the third day of racing at the Fair. Walter Case Jr. and Aaron Hall won a pair each.
Harness racing at Cumberland Fair continues at 1:30 pm on Wednesday (Sept. 27) with full cards scheduled through Sunday (Oct. 1). A special post time of 11 am is slated for that final date. There is no racing on Thursday (Sept. 28).
There will be a live draw for the Freshmen Finals on Wednesday (Sept. 27) at 12:30 pm.
Looking ahead, the Maine Sire Stakes returns with 3-year-old trotters on Wednesday (Sept. 27), and then roll into the 3-year-old pacers on Friday (Sept. 29). The highlight of the week will be all four $40,000-plus divisional Maine Sire Stakes freshmen finals on Saturday (Sept. 30).
First Tracks Cumberland's winter festival reconvenes on Sunday, November 5, abiding by a weekend racing schedule through Christmas Eve (Dec. 24). Winter post times will be 11 a.m.
More information can be found on our website: https://firsttrackscumberland.com and on our Facebook page: First Tracks Cumberland.