December 2, 2022 – by Chris Tully, for First Tracks Cumberland
CUMBERLAND, ME – Sophomore pacer Timbo Slice defeated a full field of veteran pacers on Friday (Dec. 2) to capture a $4,000 elimination leg of the Polar Express Late Closing Series # 1 at Cumberland.
Driver Andy Harrington allowed Timbo Slice to float out from post two and let a few front-runners go. Led Schnepplin (Jason Bertonlini) hit the ground pacing as soon as the wings folded, grabbing command of the pack and setting a 29.3 opening panel. Wally Watson immediately pulled 14-year-old Forward Bliss from the pocket and re-took the lead before the second turn.
As the field approached the half Eternal Ring (Mike Stevenson) flushed the cover of Timbo Slice, with Dancin Hill (Matt Athearn) following third over. Past the half in 1:01.3 it was three in and four out as the field charged into the paddock turn for the second time.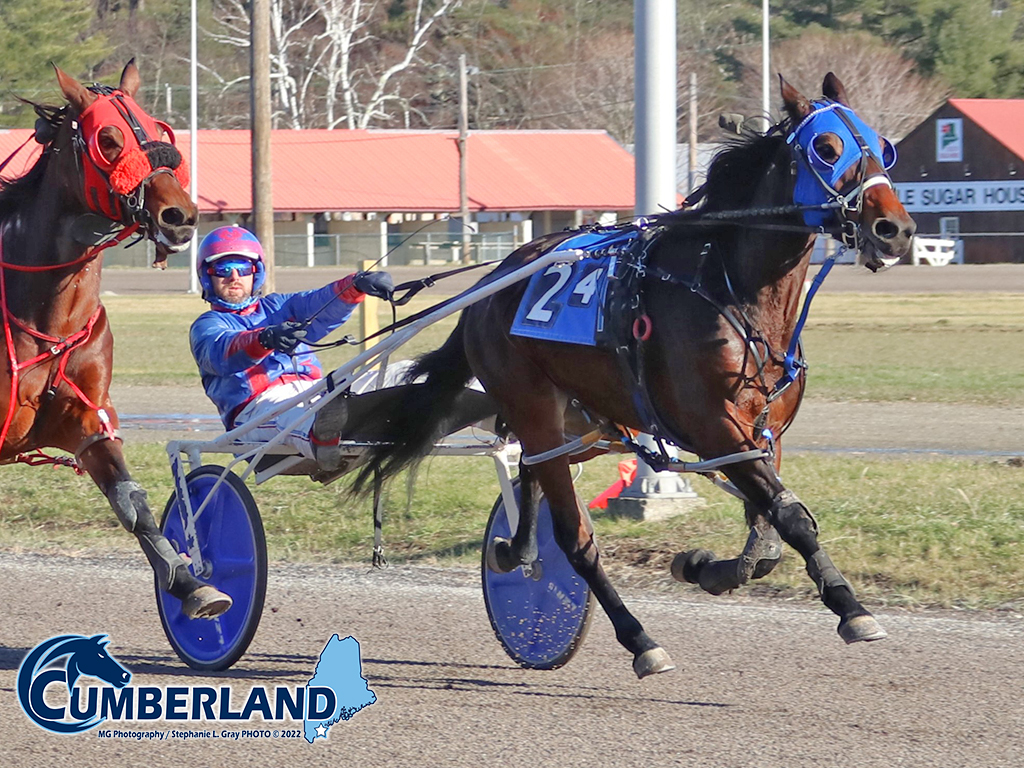 Moving down the backstretch Harrington had Timbo Slice on the move and pushing for the lead past the third panel in 1:31.2. With Timbo Slice gaining some separation at the head of the stretch, both Eternal Ring and Cash Crazy Express (Aaron Hall) started to advance on the leader. With his lead nearly evaporated, Timbo Slide managed to hold on until the wire and prevail by a quarter length in 2:02.3.
The 3-year-old son of Sunshine Beach is owned and trained by Lester Dancer and picked up his second win of the season, paying $27.40 on a $2 ticket. Wagering favorite Eternal Ring finished second, Cash Crazy Express was third.
The other Polar Express elimination leg was captured by Cee Pee Panic in 2:00.4. Driven to a wire-to-wire romp by Nick Graffam for trainer Benson Merrill, the 13-year-old gelding by Perfect Union is owned by John and Thelma Kiernan and Tom Bemont. He paid $3.40 and was the public's choice. Invictus Hanover (Kevin Switzer Jr.) finished second; Tuukka (Walter Case Jr.) was third.
Luke Varnum, the 68-year-old trainer/driver from Greene scored with his own Pembroke Ranger in a wire-to-wire romp that lit up the tote board in the finale. Paying $79.00 to win, the 5-year-old son of Western Maverick picked up his first win of the season, which Varnum owns with his wife Patricia. Pembroke Ranger was bred in Maine by Lynn-Marie Plouffe.
Four drivers won nine of ten races on the day's program, which saw double-digit win returns on nearly half the card. Kevin Switzer Jr. picked up three wins on the card, with Aaron Hall, Andy Harrington and Nick Graffam each winning two.
Racing resumes Saturday (Dec. 3) with twelve full-field races, which includes several open pace events as well two $5,000 elimination legs of the Polar Express Late Closing Series # 2. Road Untraveled (3-1, Nick Graffam) and American Road (5-2, Walter Case Jr.) lead the convoy in the first division, given their current form. In the second division Stormin Maverick (5-2, Walter Case Jr.) will attract some attention from inside, as will Bailey's Legacy (4-1, Nick Graffam).
Saturday's featured $6,500 Open 2 Pace marks the return of several fast-class pacers from Plainridge, including track record holder Adriano Hanover (5-2, Kevin Switzer Jr.) and Bag Pipe Major (3-1, Bruce Ranger). They both have a pair of competitive locals on their inside to contend with, namely Ry's Red Rocket (9-2, Matt Athearn) and Rocksapatriot (5-1, Dave Ingraham).
Every race, all weekend long, has a 50-cent Trifecta, and the final race each day also features a 20-cent Pentafecta.
Our extended pari-mutuel harness racing meet runs through December 24, 2022 with the first post at 11 am each day.
For more information go to our website: https://firsttrackscumberland.com/
Follow us on Facebook at @FirstTracksCumberland.