December 23, 2022 – by Chris Tully, for First Tracks Cumberland
CUMBERLAND, ME – A few days after Maine's Au Revior Retirement Showcase celebrated eighteen 14-year-old Standardbreds for their longevity in harness racing, two of those honorees came back to win the final starts of their illustrious careers. Leading reinsman Bruce Ranger was aboard both Personnel Space and Forward Bliss when the older pacers made their swan song bows in the Blue Seal Winners Circle on Thursday (Dec. 22) at Cumberland.
Personnel Space left from post position three and went right to the top to take control of opening fractions of 30 and 1:01.1. The 2-1 public choice never had an anxious moment as Ranger cruised through a 1:30.1 third panel en route to a one length, measured score in 2:00.2. He paid $6.00 to win. Putnams Storm (Bob Nadeau) finished second; Dansun Carruso (Andy Harrington) was third.
Owned and trained by Mike Girouard, the 14-year-old son of I Am A Fool made it look easy for the 46th victory of his career. The win put the lifetime earnings for Personnel Space at $234,794. After a lengthy career that included 349 starts, the retiree will live out his days at the owner's farm in Spencer, Mass.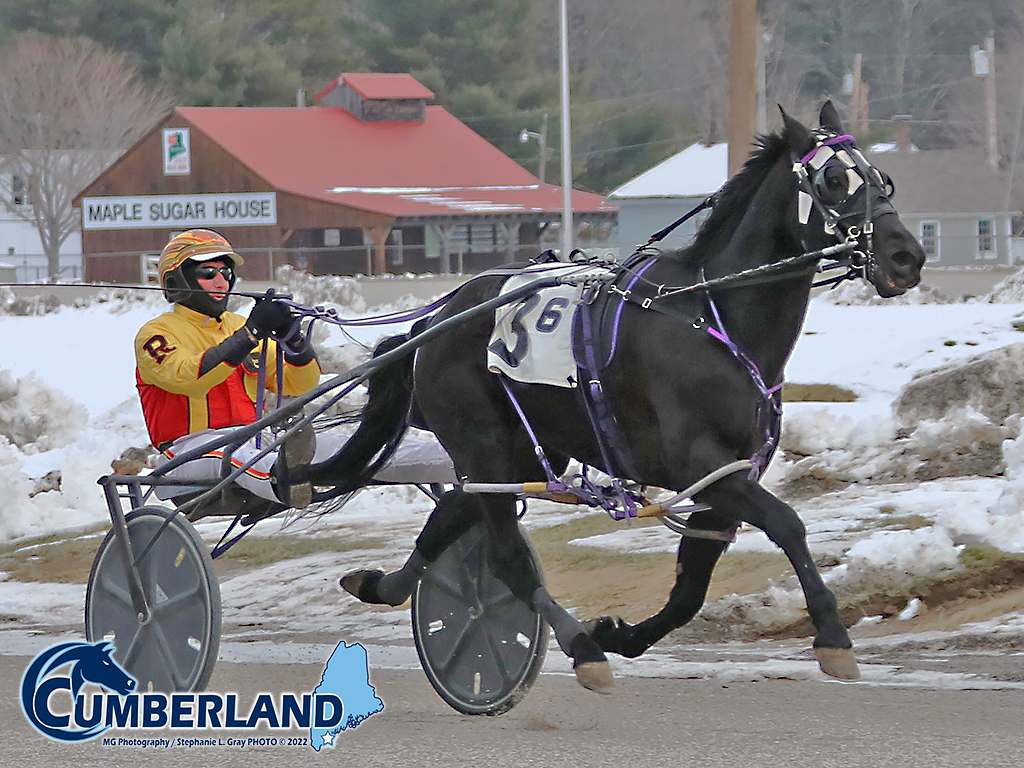 Forward Bliss, another elder statesman, used an off-the-pace tactic to get the job done and go out on a high note. Ranger had post four and got away second, allowing Bayonet (Mike Stevenson) to set the tempo of 30.3 and 1:02.2 for the first half.
She'sallfinn (Walter Case Jr) moved first over and got to within a length of the leader at the 1:31.4 third stanza. At the head of the stretch they were coming from everywhere as Ranger put Forward Bliss into high gear and got to the front for a 2:02 clocking. He paid $15.60 to win. Easteriffic (Matt Athearn) finished second; She'sallfinn was third.
Owned and trained by Adam Gray, the 14-year-old son of Blissfull Hall grabbed the 37th win of his career, pushing his lifetime earnings to $158,344. It was the 381st and final time he would go behind the gate. Although finished racing, Forward Bliss will now become the beloved riding horse for Stephanie and Adam Gray's niece Britney, and her two young daughters in Gardiner, Maine.
The featured $4,600 cond. pace of the day was captured by Shooting Brooke in 1:58.3 for driver Wally Watson and trainer Chris Lefebvre. The 4-year-old daughter of Straight Shooting paid $8.60 to win and is owned by Michelle Lefebvre. Favorite Rojas Blue Chip (Stevenson) finished second; Eleanor Jean (Steve Wilson) was third.
Heading into the final day, the year's leading reinsman, Bruce Ranger, leads all drivers with 78 wins, having picked up three wins on the card. Matt Athearn enjoyed a hat trick on the day's program as well, with Chris Lefebvre having a training double.
The year's final day of racing was postponed from Saturday (Dec. 24) to Monday (Dec. 26) and concludes the Winter Festival season at Cumberland. Post time 11 am.
For more information go to our website: https://firsttrackscumberland.com/
Follow us on Facebook at @FirstTracksCumberland.