December 27, 2022 – by Chris Tully, for First Tracks Cumberland
CUMBERLAND, ME – Mike Stephenson and Matt Athearn stuck around for the season's final day of harness racing at Cumberland, which boasted an extra 30 percent purse increase, and were both rewarded with three driving victories each on the Monday (Dec. 26) 11-race finale. Local and remote bettors also knew value when the saw it, pushing the total all-source handle to a First Tracks Cumberland record of $197,048.
Stevenson wasted little time finding the winners circle on the ultimate program, scoring a wire-to-wire victory with his own charge Osprey Delta in the opener. The 58-year-old New Brunswick-native who now makes Maine his home is stabled at the Cumberland Fairgrounds, and has a short commute to work each racing day.
Familiar with the track and its myriad of winter conditions, Stevenson was comfortable putting the 7-year-old daughter of Tad The Stud on the front end for the $8,450 Open 2 Trot featured opener. Setting reasonable fractions of 29.1 and 59 to the half, Stevenson was well in command throughout both circuits. Keeping the would-be spoilers at bay into a 1:29.4 third panel, the pair coasted home 1-1/4 length winners in 2:00.1.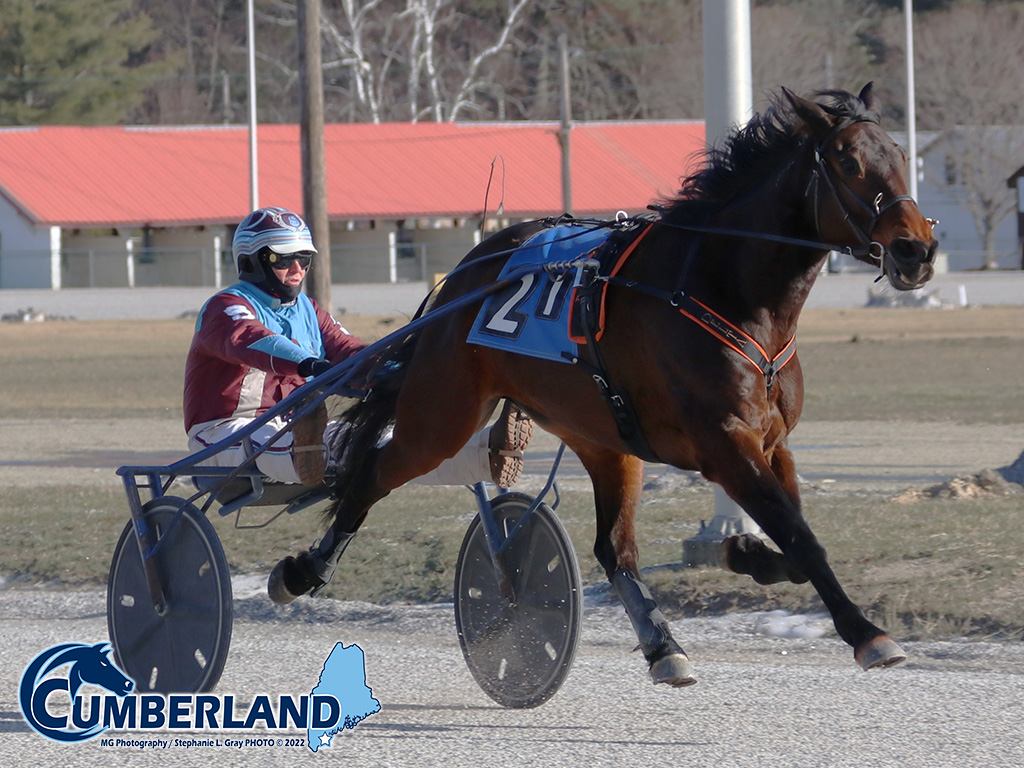 Trained by Stevenson and owned by Robert Collins' Steel Ponies LLC, it was the 15th victory of her career and equaled her seasonal best clocking. Osprey Delta paid $18.00 to win. Broadway Giant (Bruce Ranger) finished second; Kyrie Deo (Mark Athearn) was third.
Stevenson also scored with Virtual Success (1:58.1, $12.20 to win) who is trained by L. Alex MacDonald, and Besidetheseaside A (1:56.4, $21.20), trained and co-owned by Ralph D'Amelio.
Matty 'Ice' Athearn won the second race with his own 10-year-old gelding by Dragon Again, The Wayfairing Man, paying $12.80 on a $2 wager. Owned and driven by Matt, he is trained by his mother Gretchen Athearn, and scored an untested romp from post five in 1:57.4. Athearn also won with Kick Up The Dirt (1:57.4, $13.00) who is trained by Mike Girouard, and R T Lange (1:58.2, $3.80), Billy DuBois trains.
Several fast-class races were captured by newlyweds Ron Cushing and the former Heidi Gibbs. The driving-training duo sent out Rock Diamonds N in the $7,800 Open 3 Pace who went the fastest mile of the day, winning in 1:55.1 by four lengths. They also scored in the $7,150 Open 4 Trot with Swan Fine Lady in 1:59.4. Both horses were the favorites and owned by Ron Cushing and Kevin Sywyk, with the latter also including co-owner Lance Downs. It was a wonderful post-wedding gift for the couple who tied the knot during mid-December in Florida with a host of friends and family along for the adventure.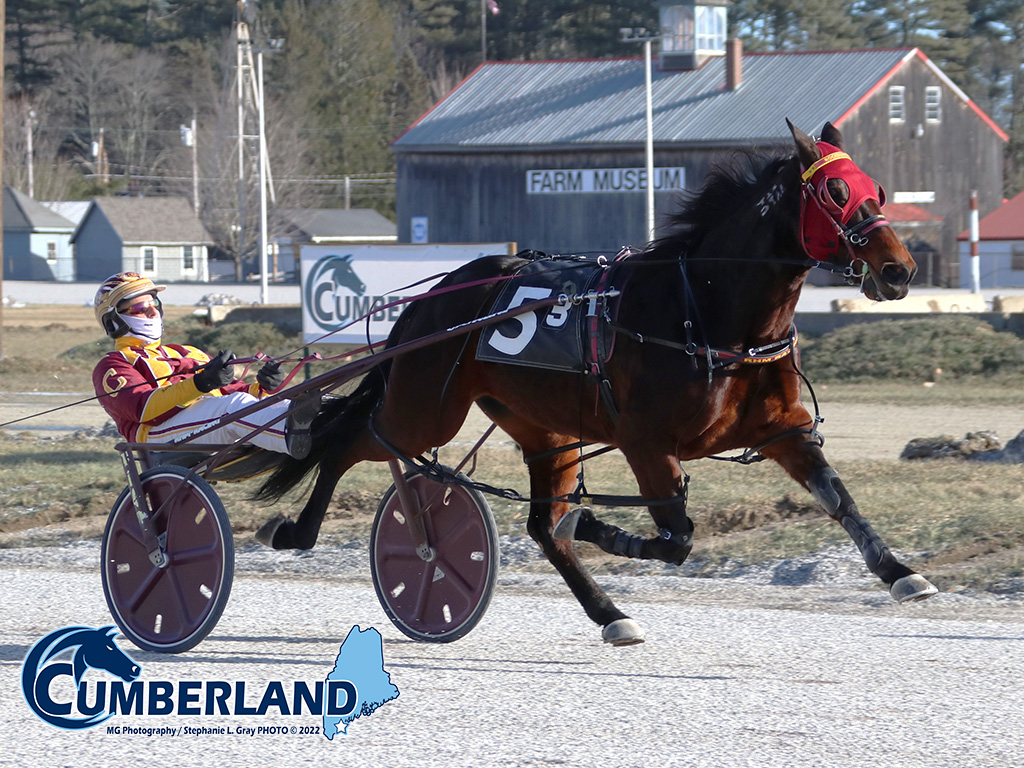 Bruce Ranger led all drivers at Cumberland in 2022 with 78 wins, and completed the meet as the leading reinsman. Walter Case Jr. finished second in the drivers' standings with 57 victories, and Kevin Switzer Jr. was third with 55. Trainer Chris Lefebvre was the leading conditioner with 31 trips to the Blue Seal Feeds Winners Circle. Benson Merrill was second with 23 victories, and Lisa Watson was third with 22 training wins.
Racing will resume in April 2023 at First Tracks Cumberland. The management team at Black Bear Racing would like to take this opportunity to thank all of the staff, racing officials, horse people, fans and bettors that helped make their second full year of racing another successful extended pari-mutuel meeting.
For more information go to our website: https://firsttrackscumberland.com/
Follow us on Facebook at @FirstTracksCumberland.