December 16, 2022 – by Chris Tully, for First Tracks Cumberland
CUMBERLAND, ME – Driver Drew Campbell won three-in-a-row, including a 10-1 score in the $10,000 Polar Express Late Closing Series Final # 1 with Sherry Cushing's Invictus Hanover on Friday (Dec. 16) at Cumberland.
Scoring from post three, Campbell got shuffled back to seventh as several early leavers tussled for command of the snowy racing surface. Three of the four outermost horses left swiftly, and despite the wind-driven precipitation Cee Pee Panic (Nick Graffam) was parked and forced by a yielding Cash Crazy Express (Aaron Hall) to set a 28.3 opening panel. Led Schneppelin (Jason Bertolini) was the first to pull past the 59.1 half-mile marker, and was looking the leader right in the eye into a 1:29.2 third panel. Followin him was Eternal Ring (Mike Stevenson) who was second over, followed closely by Invictus Hanover (Campbell) in the outer flow.
The pack was tight around the final turn with Led Schneppelin at 48-1 sticking a head in front. As they turned for home, four horses fanned out across the track for the last dash to the wire, with Invictus Hanover getting up in the final strides to win by half of a length in 2:02. Led Schneppelin hung on tough for second; Eternal Ring was third.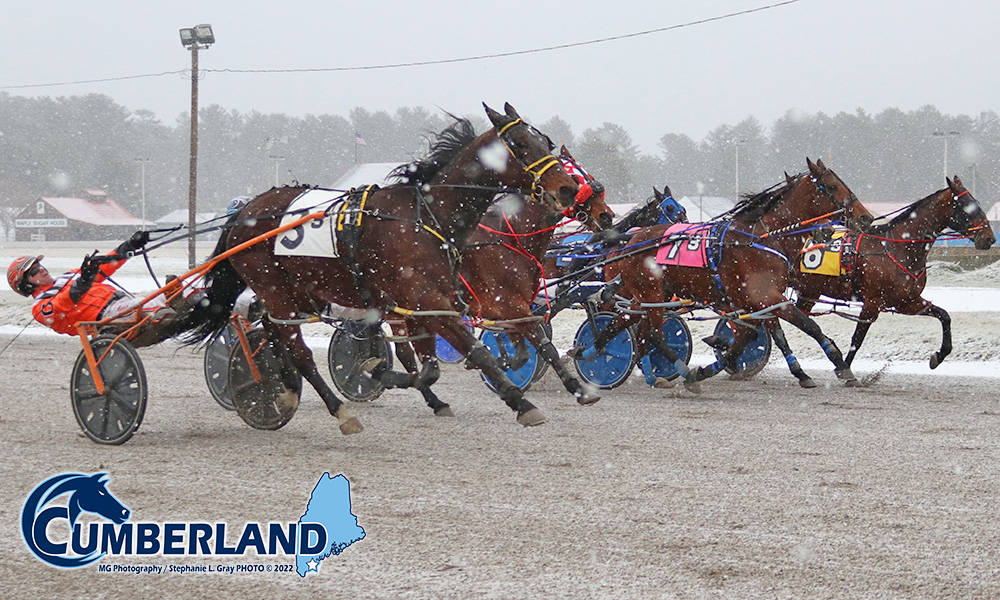 Invictus Hanover is trained by Cumberland's talented outrider Charlene 'Sherry' Cushing for owner Craig Jordan and paid $22.40 to win. An 11-year-old son of Yankee Cruiser, it was the 40th win of his career. The 3-7 exacta with Led Schneppelin on the bottom paid $199.90 for a $1 ticket, with the 3-7-1 trifecta coming back a whopping $1,660.50.
The Blue Seal Feeds swag bucket trophy was presented to the winning connections by Melanie Locke from the Windham, Maine, Blue Seal Feeds retail location.
Due to Winter Storm Diaz, Saturday's (Dec. 17) live racing card, which includes the annual Au Revior Retirement Showcase has been postponed to Monday (Dec. 19) with eighteen horses all taking their final bow before the fans.
Racing resumes Sunday (Dec. 18), for the $15,000 Polar Express Late Closing Series # 3 Final, which drew sufficient entries for a $7,500 consolation, races five and three, respectively. After the fourth race the horsemen and staff at First Tracks Cumberland will honor racing secretary Marc Reynolds for his dedication and commitment to Maine harness racing over the last several years.
The postponed 17th race date on Monday (Dec. 19) is a big day at the Fairgrounds as the $12,000 Polar Express Final # 2 carries a full field of eight. Between each race, two of the eighteen 'Au Revior' retirees will parade in front of the grandstand while the announcer reads a brief biography as we bid farewell to each 14-year-old. Sporting impressive combined earnings of $5.7 million in purse earnings with an average of $317,000, these retiring or retired Standardbreds will be the shining stars of the day. With a combined win total of 784, these 'monsters of the midway' have averaged 43 trips to their respective winners circles. Combined, these horses have started 5,552 times in races all over the world.
Every race, all weekend long, has a 50-cent Trifecta, and the final race each day also features a 20-cent Pentafecta.
Our extended pari-mutuel harness racing meet runs for one more weekend after this, with the first post at 11 am each day. Christmas week live harness racing will start on Thursday (Dec. 22), continue on Friday (Dec. 23), and conclude for the Winter Festival on Christmas Eve Day, Saturday (Dec. 24).
For more information go to our website: https://firsttrackscumberland.com/
Follow us on Facebook at @FirstTracksCumberland.