December 20, 2022 – by Chris Tully, for First Tracks Cumberland (Stephanie Gray photos)
CUMBERLAND, ME – Aaron Hall gave Amarettigone a tactically savvy steer to capture the $12,000 Polar Express Late Closer Series Final on Monday (Dec. 19) at Cumberland. The program was postponed from Saturday and included the Au Revior Retirement Showcase which honored eighteen 14-year-old Standardbreds as their racing days come to a close. But, on a day when older horses were the advertised stars, Bruce Ranger showed the Maine faithful that age is just a number, winning five in-a-row and six races on the card.
Hall had Amarettigone out and moving early from post three, grabbing the front end just before the 28.3 opening panel. Favorite Rojas Blue Chip (Mike Stevenson), leaving from post 8, had no choice but to continue on the outside and push to the front. Clearing just before the second turn, Rojas Blue Chip led the charge where Road Untraveled (Nick Graffam) flushed the cover of Sunset Over Miami (Walter Case Jr.) heading into 1:00 half-mile marker on track rated 'good.'
Past the 1:29.4 three-quarter stanza the outer flow continued to apply pressure to the leader Rojas Blue Chip, who had managed to gain a little separation around the final turn. That little bit of daylight was all the wiggle room that Hall needed to slingshot Amarettigone off the turn and charge for the wire and win by 1-3/4 lengths in 2:00.4. Rojas Blue Chip hung on for second; 14-year-old Dansan Carruso (Andy Harrington) was third.
The 8-year-old daughter of Real Desire is trained by Hunter Moody for owner Patricia Moody-D'Angelo. She paid $9.80 to win for the 24th time in her career. Sponsored by Blue Seal Feeds, the swag bucket trophy was presented to the winning connections by Aimee Nichols, on behalf of the Windham and North Yarmouth Blue Seal Feeds retail locations.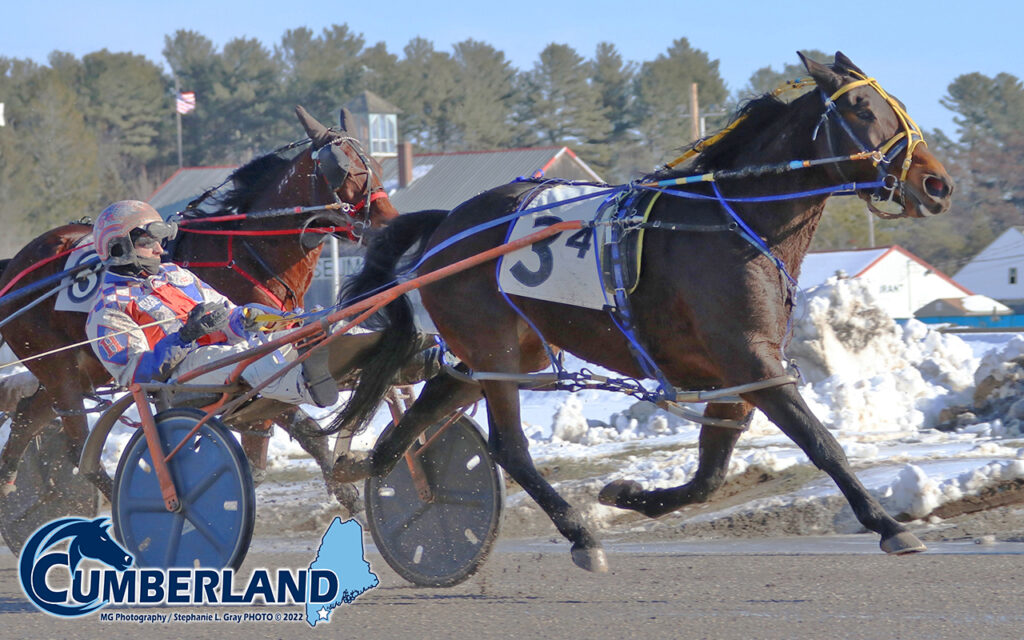 The day was a special occasion for horse owners throughout the Pine Tree State, as several dozen equine enthusiasts from Maine, Massachusetts, New Hampshire and New York converged upon the Cumberland Fairgrounds for the 'Au Revior' Retirement Showcase.
Eighteen horses paraded in front of the grandstand under sunny skies while the announcer read a biography as fans bid farewell to each 14-year-old. Each horse had a half page bio in the program with a special photo, and was presented with a custom designed plaque, hand-crafted and donated by the talented Barbara Dresser. As the horse and their connections posed for photographs in the winners circle, it truly was a day to remember for all involved as each horse has their own unique history and special traits. These equine athletes also look forward to their future as many will be living out their days with their proud owners, or were re-homed to riding stables for a second career as hardy saddle horses. They were all beloved by their owners and trainers.
Standardbreds love to work, and it was evident as the proud steeds paraded before the grandstand with their ears up and their heads held high. Often, when warm-ups or tractors went by, their tails would go up and their steps would lighten, having fondly recalled their days between the shafts.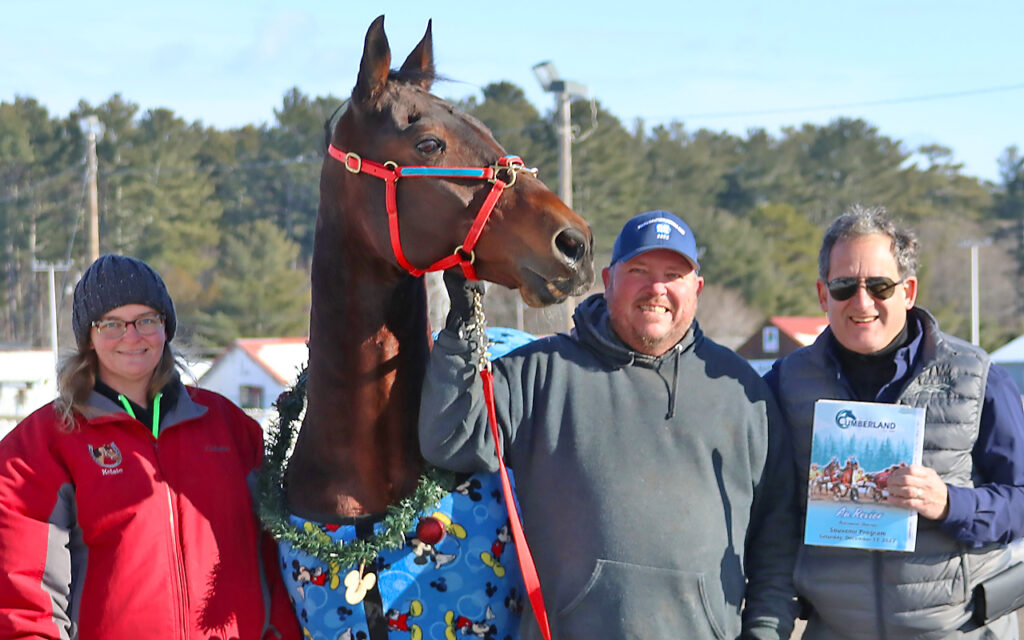 Sporting impressive combined earnings of $5.7 million in purse earnings with an average of $317,000, these retiring or retired Standardbreds have a combined win total of 784, and have averaged 43 trips to their respective winners circles. All told, these horses have started an incredible 5,552 times.
Listed below are all the horses that were recognized, with their owners/trainers of record:
ARSENAL, p,6,1:50.3f, $593,715 , Kelly Case
BETTORS FIRE N, p,11,1:50.1f, $1,043,789 , Ron Cushing & Kevin Swyck, Heidi Gibbs
CJ MARSHAL, p,7,1:53.3f, $138,501 , Scott Farley
CREIGHTON HANOVER, p,5,1:51.4f, $413,050 , Dennis Whittemore
DANSAN CARRUSO, p,7,1:57.3, $72,820 , Dawn Rodney, Billy DuBois
FORWARD BLISS, p,3,1:53.2z, $156,254 , Stephanie and Adam Gray
INTREPID HALL, p,4,1:50.4f, $359,191 , Tracy Hiles, Bobby Melanson
JAY BEES GRIN N , p,8,1:52.4f, $264,493 , Michel Bilodeau
LIFEONTHERANGE, p,3,1:54.3f, $166,076 , Shawn Gray, Kandace Niles
LUCKSGOTTACHANGE , p,9,1:54.2f, $112,424 , Michel Bilodeau
McRUSTY, p,7,1:51f, $494,200 , Kori Kinney, Dan Deslandes
MILLIONDOLLARDAD, p,3,1:54.2f, $199,386 , Dakota Jackson
PERSONNEL SPACE , p,9,1:53.2f, $232,574 , Michael Girouard
RAMBLING JET, p,6,1:54.1f, $193,195 , David Crochere
RIDEOFALIFETIME, 9,1:59.1, $91,404 , Karen Somerby, Roy Somerby
ROAD UNTRAVELED, p,5,1:49.1, $481,002 , John & Thelma Kiernan, Benson Merrill
SHAMDEROCK, p,6,1:51.3f, $289,298 , Mark and Phyllis Liebowitz
Heading into the final week, the year's leading reinsman, Bruce Ranger, showed no signs of slowing down, and leads all drivers with 75 wins. The 63-year-old native of Maine has 9,962 lifetime wins, while adding six to that total on the Monday card. Walter Case Jr. enjoyed a hat trick on the day's program as well, and is tied for second place in the drivers standings with 55 victories. The only event on the 10-race card that was NOT captured by these two drivers was the Polar Express # 2 final with Aaron Hall.
Racing resumes at Cumberland's Winter Festival harness meet on Thursday (Dec. 22). The final weekend of racing continues on Friday (Dec. 23), and concludes for the season on Christmas Eve Day, Saturday (Dec. 24). Post time 11 am.
For more information go to our website: https://firsttrackscumberland.com/
Follow us on Facebook at @FirstTracksCumberland.