November 26, 2021 – by Chris Tully, for First Tracks Cumberland (Stephanie Gray photos)
CUMBERLAND, ME – For the 83rd time in his fledgling career, Jason Bertolini lined up behind the starting gate in a pari-mutuel purse start. Since the year 2017 the 24-year-old has been knocking on the door, picking up five seconds and fourteen third place finishes along way. On 'Black' Friday (Nov. 26) Bertolini finally rang the cash register, finding his virtual 'stairway to heaven' with his own Led Schneppelin in 1:59.
Bertolini went right to work in the Aaron and Ryan Hall Stable after graduating Gardiner (ME) High School in 2015. Training and rubbing horses and learning as much as he could, he has been driving around the Maine fairs for the last five years. This summer he asked the owners if he could buy Led Schneppelin. They said, "sure, as long as YOU drive him."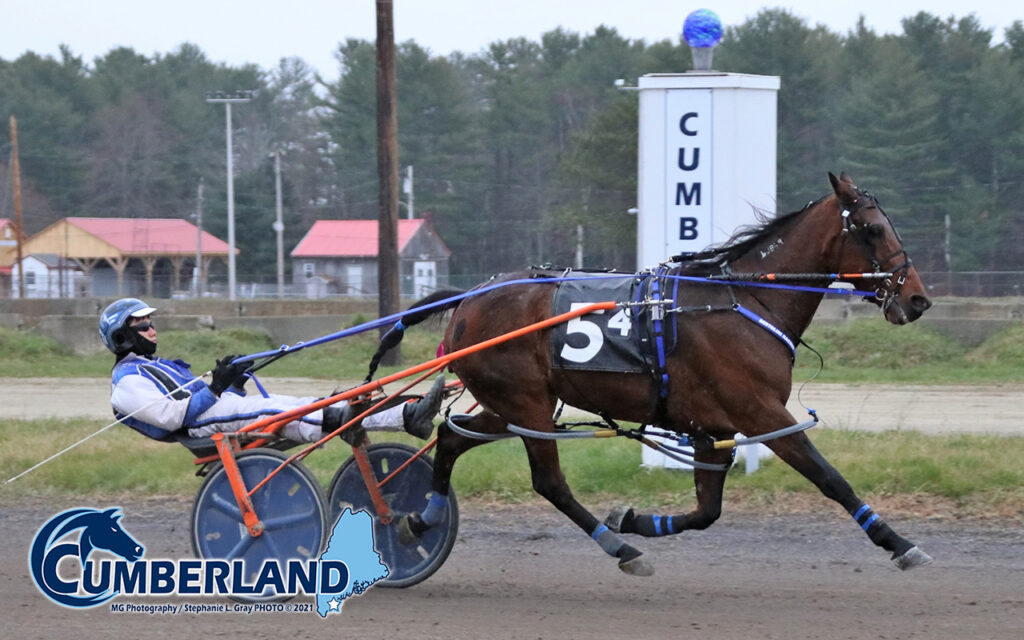 So off Bertolini went, into the Maine Amateur Driving Club (MADC), also known as the 'The Greatest Sideshow in Maine Harness Racing, in charge of his own destiny. Competing in the $4,000 'Group B', perhaps his boss, driver/trainer Aaron Hall said it best in a congratulatory Facebook post, "You'll never forget this one. You deserve this moment more than anyone I know."
Scoring from post five, US-born but Finnish-bred Bertolini was in no mood to let anyone go today. He left alertly and made the top just past the eighth pole with the 10-year-old son of Memphis Flash. From there Led Schneppelin and Jason Bertolini got every call, widening their margin on the field at every well-rated stanza. By the head of the stretch they were on top by three and never had an anxious moment.
Bertolini was quick to credit both of his mentors, Aaron Hall, and his mother Kirsi Bertolini, for much of his harness racing education. "They both gave me plenty of opportunity to drive and helped give me the experience I needed," noted the aspiring reinsman. "Yes, today was a great day. But like Kevin Switzer Jr. told me, 'One day you're a hero, one day you're a zero.' So I try to stay humble."
The oldest of five siblings, Bertolini has been going to the barn since he was an infant. His mother Kirsi is very proud of her son's strong work ethic and his horsemanship skills. The elder Bertolini stated, "Everyone in Maine wants him to warm up their horses because he gets along with anything."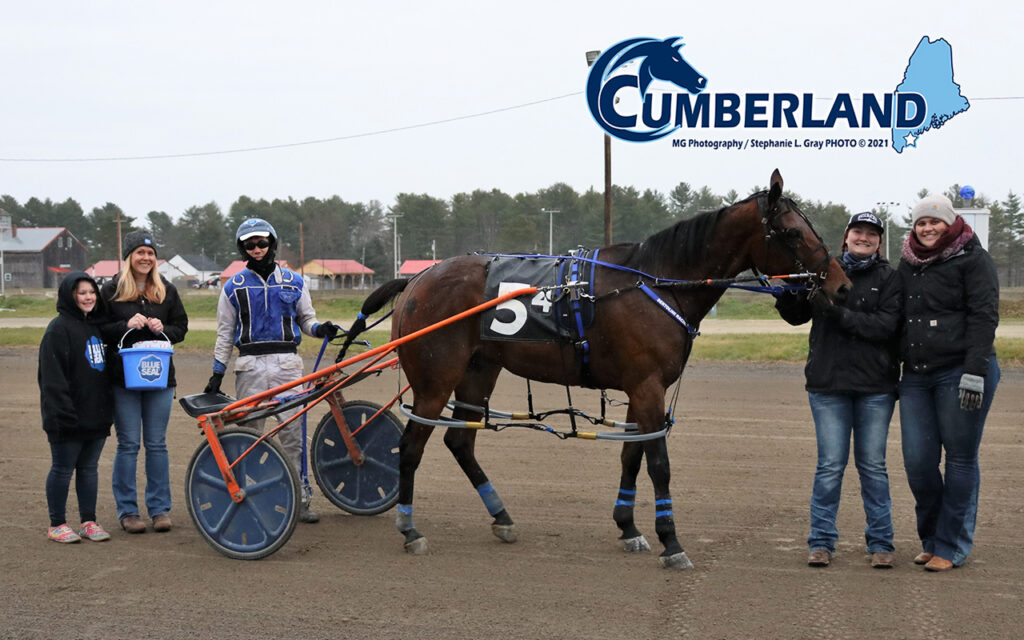 Jason echoed those sentiments, declaring "I believe you should work hard and dream big…and let the horses do the talking."
Led Schneppelin belted out $11.00 to win. Wagering favorite Colorful Speech (post 1, Zach Vickerson) finished second, American Fighter (4, Alex Richardson) was third.
Benson Merrill won the $4,500 MADC 'A' with Jet Aviation, paying $7.40 to win. The third split, $3,200 MADC 'C' was captured by Ryan Hall with his own Librado Hanover, kicking back a whopping $19.40 to his backers. The Maine Amateur Driving Club is sponsored by Blue Seal Feeds.
Racing resumes on Saturday (Nov. 27) with a full ten-race card, followed immediately by Cumberland's first of five Sunday (Nov. 28) cards. Post time remains 11:00 a.m.
Our Winter Festival extended pari-mutuel meeting continues with live harness racing several days each week through December 31, 2021.