November 27, 2021 – by Chris Tully, for First Tracks Cumberland (Stephanie Gray photos)
CUMBERLAND, ME – Nova Scotia-born harness driver Drew Campbell learned from his father Winston "Soupie" Campbell a long time ago, 'If you are going to do this, do it right."
Hanging around Drew Campbell, and his younger brother Heath, it's obvious that they live and breathe harness racing. "We were horse-crazy as kids and learned everything we know, including shoeing our own horses, from my father," he said. "I never wanted to do anything else and it's really great to be able to get up every morning and love what you are doing." noted the 54-year-old top New England reinsman.
Drew Campbell began driving horses in 1989 and has earned $17.6 million in purse earnings. Saturday (Nov. 27) at Cumberland he picked up his win number 5,500, just like it was another day at the office. He started the day by winning the third race with Lindas In Heaven, paying $4.80. Then Campbell came right back to win the fifth race with Surreal Sergeant, wire-to-wire, and paid $6.20 while reaching the milestone.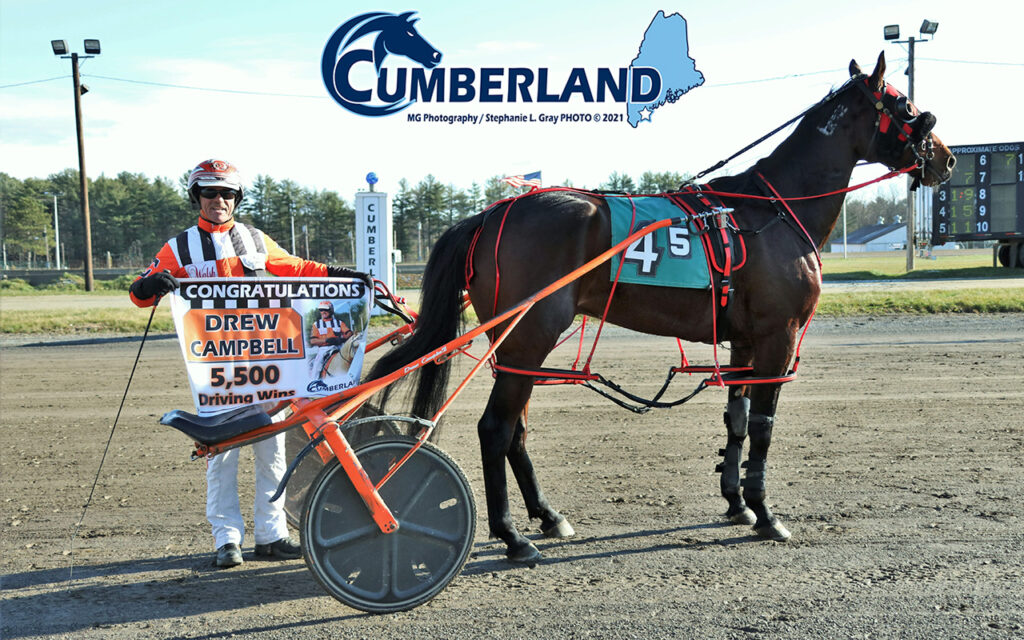 "I know a lot of people that win way more races than me," noted Winston 'Drew' Campbell who shares his first name with his late-father. "But 5,500 wins is a lot of work. Hats off to the guys that got more."
A third generation horseman, his dad 'Soupie' Campbell picked up 1,784 wins in an era when catch driving was not the norm, but the exception. Drew Campbell's first win came aboard a horse owned by his dad named Mountain North at Exhibition Park in Saint John, New Brunswick. At the time, it was the aspiring reinsman's seventh career drive.
"Driving horses is a lot of sacrifice and a lot of traveling," Campbell stated. "I also had a lot of help from the trainers and owners. They really put all this together!"
Campbell has enjoyed many decades of driving success, often with 300+ victory seasons and over a million in purse earnings in four separate years. "I have a blast racing no matter what happens," he said. "Of course I like making money, but some days things just don't go your way or the horse simply doesn't have it. Then you go out there the next day and do it all over again."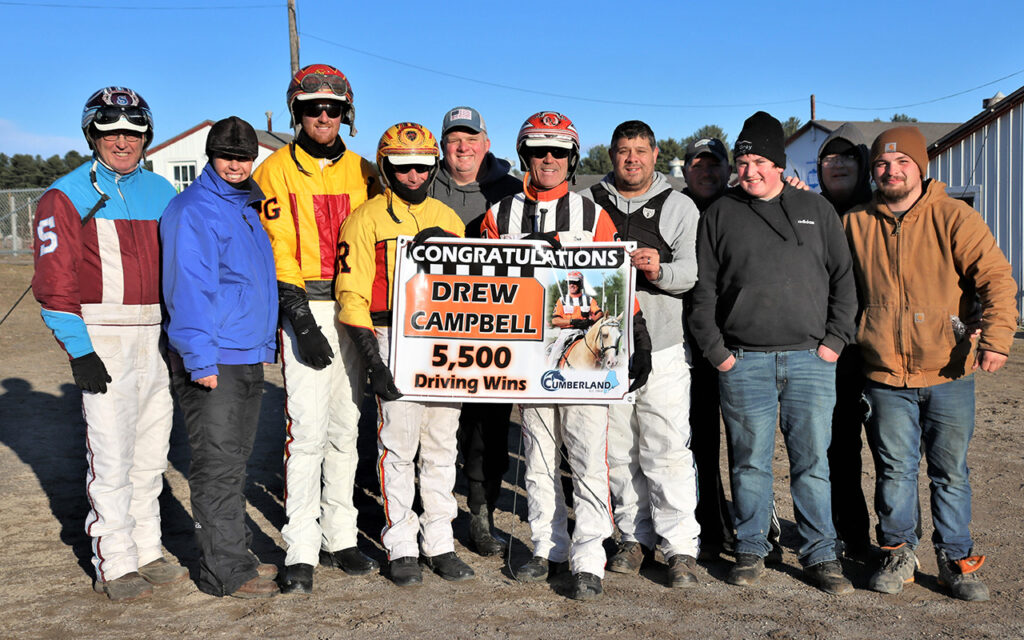 Although just four years apart in age, Drew's younger brother Heath is hot on his brother's heels in the driving category, with 5,414 wins and $17.2 million in earnings. "Heath is very successful in New England racing," Campbell pointed out. "Now he's at Gilcrest in Florida with a large stable of colts. I look forward to joining him soon to be his wing man."
For Drew Campbell, every day in the horse business is a victory.
Bruce Ranger has a slight lead over Drew Campbell in the Cumberland drivers' standings, 54-53. Other driving doubles on the Saturday (Nov. 27) card were enjoyed by Bruce Ranger and Nick Graffam.