November 18, 2021 – by Chris Tully, for First Tracks Cumberland (Stephanie Gray photo)
CUMBERLAND, ME – Gray-haired Putnams Storm, a 12-year-old gelding by Force Of Life, started his harness racing journey in the province of Nova Scotia, in the Canadian Maritimes. His owner, Bob Nadeau, an 83-year-old sales rep from Maine began his quest for trotting and pacing glory a decade before the United States Trotting Association began keeping detailed driver/trainer records in 1966.
Together, they have been having the time of their respective lives, racing and sometimes winning at Cumberland.
"I had been racing the horse from behind lately, but have had some bad trips and gotten locked in several weeks in a row," stated Nadeau, an independent contractor who has been selling pre-cast concrete for the last fifty years.
"Yesterday (Nov. 17) I decided, 'That's enough, I'm pulling early!'"
Steely-eyed Nadeau tipped the ashen Putnams Storm just past the quarter and was parked to the ¾ pole in 1:28.4, and had effectively worked his way to the lead.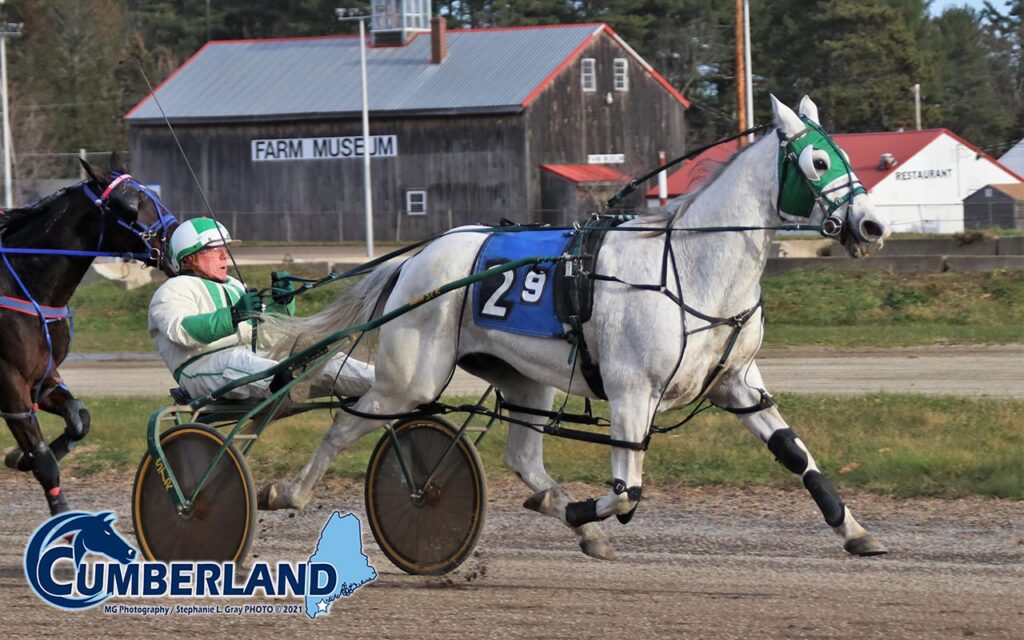 "I have always loved racing horses in Maine," noted the active octogenarian. "But I also knew that I didn't have enough talent to make a living driving race horses."
Nadeau acquired Putnams Storm in June of this season, and was the fourth owner of the horse just this year. Alas, the horse has grown on Nadeau. "He is one of the best horses I have ever owned. I have had Maine stakes horses since the 1970s, but this horse is special. He has a home for life."
As game a horse as one could want, Putnams Storm has taken a race record every year for the past eleven racing seasons. Earning his wings at Truro, NS and Charlottetown, PEI, since then the horse has changed hands and zip codes no less than a dozen times, racing all over the Northeast and Midwest. His swiftest victory came at the Red Mile in Lexington where he scored in 1:50.4 at age five, making him perhaps the fastest gray pacer ever bred in Nova Scotia.
By the Life Sign stallion Force Of Life p,3,1:52 ($243,534), Putnams Storm is out of the Cambest mare Reading Terminal. Lifetime he has amassed $171,113 in earnings with 35 victories to his credit. Winning confidently by a length and a half in 2:00.1 on Wednesday (Nov. 17), the score may have caught everyone except his owner by surprise as he paid $63.20 to win and $89.80 across the board. Prince Of Art (post 4, Dakota Jackson) finished second, Three New Dreams (post 5, Drew Campbell) was third.
Normally, no one helps Nadeau with the horse work, he is very self-sufficient. Not only is he the trainer, driver, caretaker and shipper, but he also shoes the horse himself.
Nadeau recalled, "I did have help on Wednesday, my son, a school psychologist got off of work early and came to watch him race. We both got our picture taken, which is special to me because he is definitely the nicest animal that I have ever had."
In other news, Drew Campbell has tied perennial leading driver Bruce Ranger at the top of the Cumberland leader board with 50 wins apiece. Campbell has 225 starts with 41 seconds, UDRS of .374 and earnings of $182,900. Ranger has 226 starts with 30 seconds, UDRS of .347 and earnings of $166.545. This is the first time this season that Ranger has had to share the top spot. However, Ranger is still on top at Plainridge, with two more race cards remaining for the season and is just $85,354 shy from breaking the $2 million seasonal mark at the Bay State oval.
Racing continues at First Tracks Cumberland on Saturday (Nov. 20) with the regular 11:00 am post time. Our Winter Festival extended pari-mutuel meeting continues with live harness racing several days each week through December 31, 2021.