November 6, 2023 – by Chris Tully, for First Tracks Cumberland
CUMBERLAND, ME – When live harness racing resumed at Maine's Cumberland Raceway on Sunday (Nov. 5) one of the state's top pacers, The Bird Dance N, continued his winning ways, grabbing the $6,000 featured pace in 1:56.4.
Driven by Dan Deslandes, the anxious 8-year-old son of A Rocknroll Dance took an unfamiliar position in the back of the pack as Aaron Hall scooted to the front with Bush Man N while setting an opening panel of :28. As the field approached the half Deslandes picked up the cover of Rocksapatriot (Dave Ingraham) in a softer :57.3 second stanza.
Hall worked gallantly to keep Bush Man N on the muscle on the front end, but by the 1:27 third quarter the challengers started to swell up and The Bird Dance N charged three-wide on the outside around the final turn. Once he was fed racetrack The Bird Man N sealed the deal with a :29.2. final quarter, besting Rocksapatriot by three parts of a length.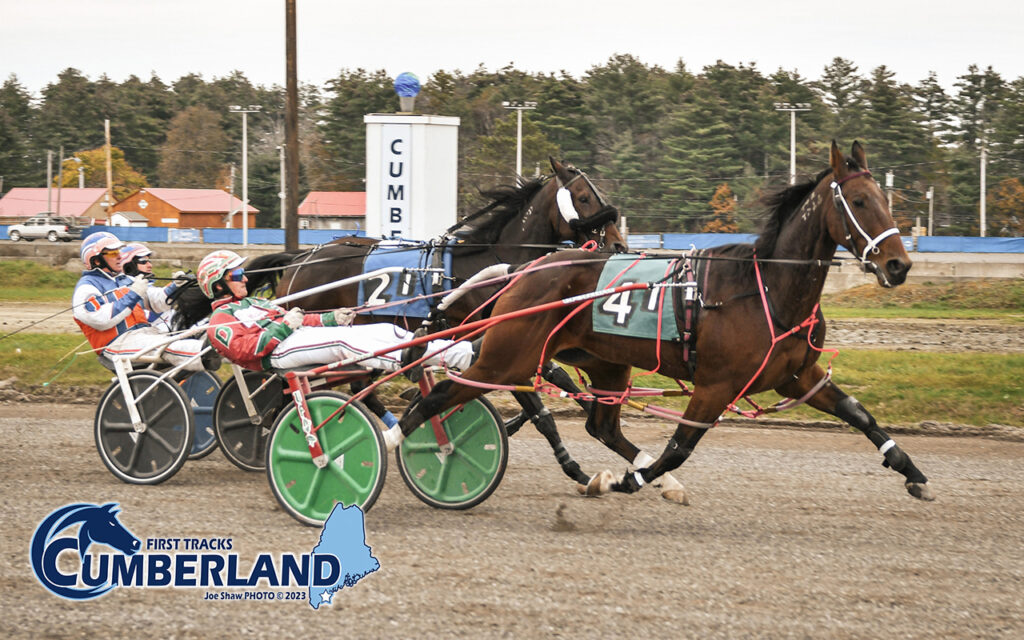 Owned by Jose Cervantes and trained by Karl Butterfield, it was the ninth win of the season for the favorite who paid $3.20 to win. Bush Man N hung on for third.
The co-featured $5,000 conditioned paces were captured by Western Stepp (Bruce Ranger, $8.80, 1:59.1) over the favored Wolverina (Nick Graffam) and Trente Deo (Dan Rawlings, $8.40, 1:56.4) who tied for the swiftest mile of the day. Jax Spratt won the $4,800 featured trot in 2:01.1, paying a whopping $25.80 to win. Owned by Bill Phipps, he was trained and driven by Aaron Hall.
The opening round of Maine Amateur Driving Club (MADC) action was won by Penney's Spirit in 2:01.1. Owned, trained and driven by McKenzie Sowers, the 14-year-old Maine-bred son of Ring Of Life picked up his second win of the year, paying $8.80 to win. Bob Nadeau's local fan favorite Putnam's Storm, also 14-years young, finished second. Led Schneppelin (Jason Bertolini) was third.
The popular MADC series continues to be sponsored by the Blue Seal Feed Stores of Windham and North Yarmouth, Maine.
Nick Graffam and Aaron Hall each piloted two winners on the early program, however a different conditioner captured each of the ten races. The wagering exceeded $107,000 in total handle and there was a $745 carryover in the Hi-Five Pentafecta and $422 in the Pick-4.
For the third season in a row First Tracks Cumberland will present the Au Revior Retirement Showcase, slated for Saturday, December 23. The event is open to 14-year-old horses that are racing or retired and have Maine connections. Horses will parade in front of the fans in either harness or halter and be featured in a half-page bio with photograph in the program. Equine honorees must be present to participate and must 'declare' by Dec. 6. To enter your horse, or for more information, send an Email of interest to Chris Tully at: [email protected].
Racing resumes at First Tracks Cumberland for our Winter Festival extended pari-mutuel meeting, which enjoys weekend action next Saturday and Sunday (Nov.11 & 12). Post time each day is set at 11 am. Cumberland (Maine) will race three days each week beginning December 1 and continue through Christmas Eve (Dec. 24) 2023.
For more information go to our website: https://firsttrackscumberland.com/
Follow us on Facebook at @FirstTracksCumberland.