November 3, 2023 – by Chris Tully, for First Tracks Cumberland
CUMBERLAND, ME – Racing resumes at the iconic Cumberland Raceway on Sunday (Nov. 5) for the first of 19 Southern Maine racing dates, knows as the "Winter Festival," with some of the Pine Tree State's top pacers kicking off the ten race card.
The featured $6,000 conditioned pace includes former track record holder Rocksapatriot p,4,1:51 ($238,661), who was bred by Maine resident Stephen J. Farrell, Jr. and is owned by his dad Stephen J. Farrell. Trained by Kelly Case and driven by 'Double-Digit' Dave Ingraham, the 8-year-old son of Rockincam has seven victories this season and 30 lifetime. He has been installed as the 5-2 second choice from post position two.
The favorite is The Bird Dance N, who is coming off of a win at Bangor with Dan Deslandes handling the lines. He is 3-2 from post four for trainer Karl Butterfield. The New Zealand-bred son of A Rocknroll Dance has eight wins this year and $57,241 earned, which includes several signature events.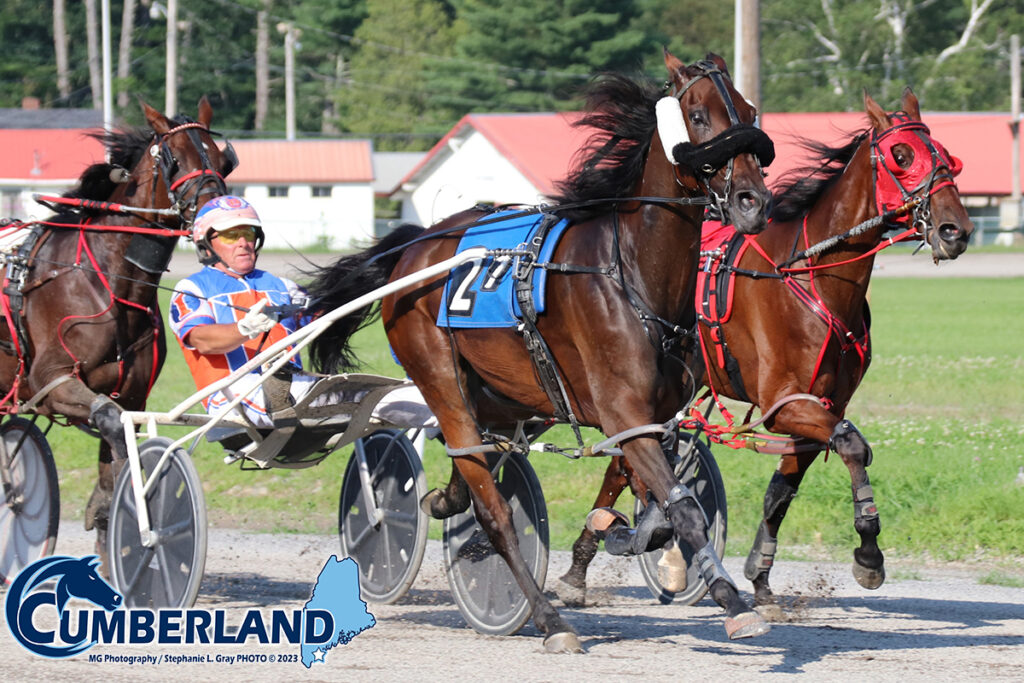 The second race marks the return of the Maine Amateur Driving Club (MADC), a consortium of harness racing enthusiasts who race all over the state for fun and bragging rights. Former national amateur driving champion Todd Whitney steers the favorite Harry Terror (6-5, post 5) for owner-trainer Michelle Lefebvre. Some local favorites round out the cast of characters, including: Forward Bliss (Doug Gray); Putnams Storm (Bob Nadeau), Road Untraveled (Benson Merrell), and Led Schnepplin (Jason Bertolini).
Once again, the MADC series is sponsored by the Blue Seal Feed Stores of Windham and North Yarmouth, Maine.
Former Maine Sire Stakes champion filly Wolverina p,4,1:52f ($311,958) has a homecoming of sorts, as she leads a field of distaffs in the $5,000 co-featured race six. Bred, trained and co-owned by Mike Graffam and driven by Nick Graffam, the talented 4-year-old daughter of Cheyenne Hollywood earned nearly $200,000 last season in Maine and Mass.
Overall, the entire card has a lot of action for horse players with nine events boasting full seven or eight horse fields. The Pick 5 starts with the third race; our Pick 4 highlights the seventh, and our High-Five Pentafecta in the finale.
For the third season in a row First Tracks Cumberland will present the Au Revior Retirement Showcase, slated for Saturday, December 23. The event is open to 14-year-old horses that are racing or retired and have Maine connections. Horses will parade in front of the fans in either harness or halter and be featured in a half-page bio with photograph in the program. Equine honorees must be present to participate and must 'declare' by Dec. 6. To enter your horse, or for more information, send an Email of interest to Chris Tully at: [email protected].
Racing continues at First Tracks Cumberland for our Winter Festival extended pari-mutuel meeting, which enjoys weekend action next Saturday and Sunday (Nov.11 & 12). Cumberland will race three days each week beginning December 1 and continues through Christmas Eve, 2023.
For more information go to our website: https://firsttrackscumberland.com/
Follow us on Facebook at @FirstTracksCumberland.