November 27, 2023 – by Chris Tully, for First Tracks Cumberland (Joe Shaw photo)
CUMBERLAND, ME – Apex trotter Broadway Giant made his third appearance in the First Tracks Cumberland winners circle in as many weeks, taking Maine's top $5,500 conditioned trot once again on Sunday (Nov. 26) by open lengths.
Driven by veteran reinsman Bruce Ranger, the 9-year-old son of Broadway Hall coasted to the top from post six and never looked back, scoring untested in 2:01.2. Owned and trained by Ron Patoine, it was his ninth victory of the season and fifth win in his last six starts. Winning by 3-3/4 lengths, he paid $4.40 as the wagering favorite and increased his yearly earnings to $30,660.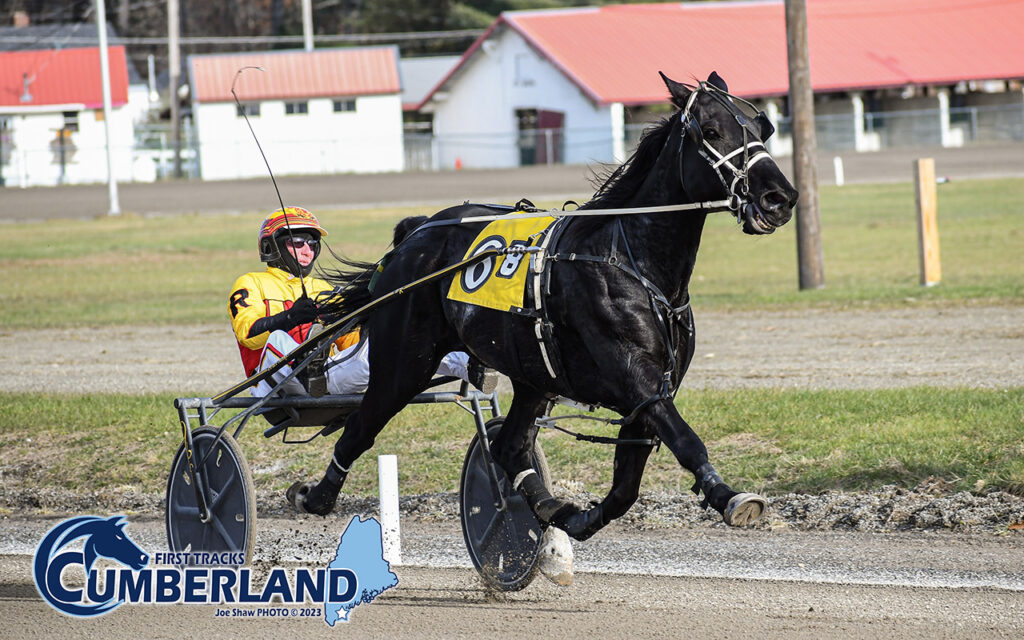 Osprey Delta (Mike Stevenson) finished second; Mister Muscle (Aaron Hall) was third.
This season's fourth leg of the Maine Amateur Driving Club (MADC) witnessed owner-trainer-driver Jason Bertolini pick up his fifth win of the year with his trusty Led Schneppelin. While waiting patiently to pounce from mid-pack, the 12-year-old son of Memphis Flash won by a head in 2:02.1 while closing swiftly to catch the tiring leaders. The pair paid $11.20 to win.
American Fighter (Dalton Lee) finished second; Causway (McKenzie Sowers) was third.
The MADC series is sponsored by the Blue Seal Feed Stores of Windham and North Yarmouth, Maine.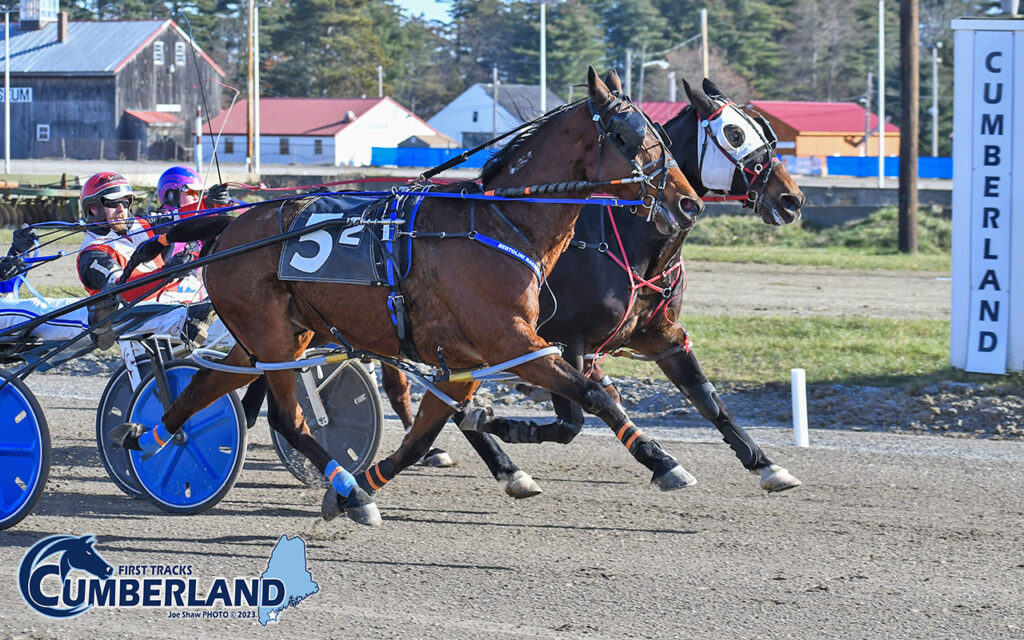 Nick Graffam and Aaron Hall each enjoyed driving doubles on the thirteen race card.
Cumberland transitions to three days of live harness racing each week beginning this Friday (Dec. 1) and continuing through Christmas Eve Sunday (Dec. 24). The draw for Friday is Tuesday (Nov. 28), with a double draw of Wednesday (Nov. 29) for Saturday and Sunday (Dec. 2 & 3).
For the third season in a row First Tracks Cumberland will present the Au Revoir Retirement Showcase, slated for Saturday, December 23. The event is open to 14-year-old horses that are racing or retired and have Maine connections. Horses will parade in front of the fans in either harness or halter and be featured in a half-page bio with photograph in the program. Equine honorees must be present to participate and must 'declare' by Dec. 6. To enter your horse, or for more information, send an Email of interest to Chris Tully at: [email protected].
For more information go to our website: https://firsttrackscumberland.com/
Follow us on Facebook at @FirstTracksCumberland.