November 21, 2022 – by Chris Tully, for First Tracks Cumberland
CUMBERLAND, ME – Leading reinsman Bruce Ranger led Broadway Giant on a tour of the Cumberland Raceway oval on Sunday (Nov. 20), handily winning the featured $6,500 Open 2-3 Trot by three open lengths.
The track was listed as fast despite temps in the mid-30s when the 8-year-old son of Broadway Hall left alertly and immediately took command from post four. Setting comfortable opening fractions of 29.2 and 1:01.4, he set the stage for his command of the following circuit. Last week's fast class winner Caulfield (Mike Stevenson) made a bid for contention first over going to the half, but only managed to get within a length of the leader.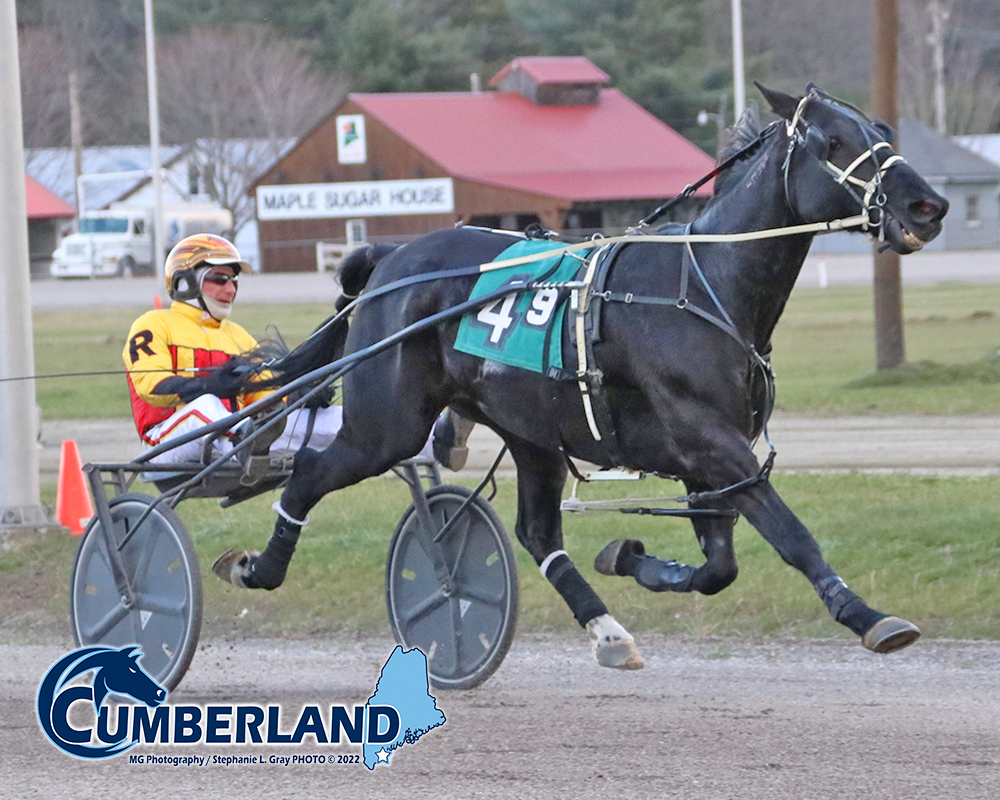 As the third panel of 1:30.4 came and went, so did Broadway Giant as the dark trotter opened up several length on his rivals to cruise to victory unabated in 2:01.4. Owned and trained by Ron Patoine, it was his 19th career victory and sixth on the season. Broadway Giant paid $3.20 to win as the wagering favorite. Namesmuscle (Mark Athearn) finished second; Caulfield was third.
Second choice trotting mare Osprey Delta (2-1, Mike Stevenson) picked up the pieces in the $6,000 Open 3-4 Trot, as the quick tempo-setting Mister Muscle (Walter Case Jr.) faded in the home stretch. "Casey" sent the 6-5 favorite Mister Muscle right out to the lead from post five with Osprey Delta right alongside to push him to a 29.2 opening panel before crossing over. Heading into a 1:00.2 half-mile marker, Aaron Hall moved Little Macabee to the outside in the second turn to challenge for the lead.
These two clashed while careening down the backside into a swift 1:30 third panel, with Little Macabee looking Mister Muscle right in the eye around the final turn. The speedy fractions had finally gotten the best of the leader, which allowed the challenger to take a momentary lead in the lane. But, unbeknownst to the front end battlers, Stevenson and Osprey Delta were flying down the center of the racetrack to steal the day's thunder in 2:00.3.
Trained and driven by Mike Stevenson, the 7-year-old mare by Tad The Stud is owned by Steel Ponies LLC (Robert Collins). She paid $6.60 to win. Little Macabee finished second; Prescott (Andy Harrington) was a fast closing third.
Bruce Ranger enjoyed three victories on the day's program, and continues to lead all dash-winning drivers of 2022 at Cumberland with 50 wins. Walter Case Jr. is second with 45, with Matt Athearn and Kevin Switzer Jr. tied for third with 40 apiece.
Next week's schedule excludes 'Black Friday' (Nov. 26) and restarts on Saturday and Sunday (Nov. 27 & 28), with the Winter Festival extended pari-mutuel harness racing meet continuing through December 24, 2022. The popular Au Revior Retirement Showcase for 14-year-old Standardbreds is slated for December 17, with entries due by Nov. 30.
For more information go to our website: https://firsttrackscumberland.com/
Follow us on Facebook at @FirstTracksCumberland.