December 15, 2021 – by Chris Tully, for First Tracks Cumberland
CUMBERLAND, ME – Driver Andrew Harrington swept the early Daily Double which included the first div. of the second leg of the Rick Cushing Memorial on Tuesday (Dec. 14) at Cumberland.
Harrington grabbed the two-hole from post three with Amarettigone which saw pylon position leaver Rojas Blue Chip (Mike Stevenson) cut sensible fractions of 29.2, and 1:01.1 to the half. Once the outer flow started with Manhattan Express (Drew Campbell) first over, the combatants were 'two-in' and 'four-out' as the field passed the three-quarters in 1:31.1.
Sitting in the catbird seat, Harrington never had an anxious moment when he found racing room in deep stretch to score with the 7-year-old Real Desire mare in 2:02.4 on a track rated 'good.'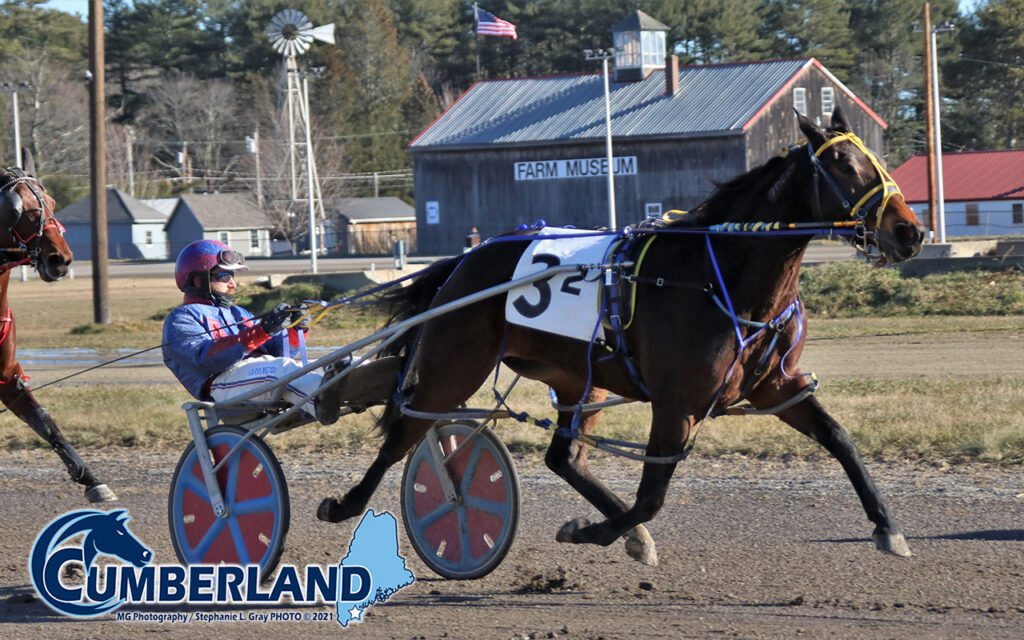 Trained by Hunter Moody for owner Patricia Moody-D'Angelo, Amarettigone paid $12.40 to win. Rojas Blue Chip finished second, Manhattan Express was third. The 3-1 exacta paid $26.80.
The second div. of the Rick Cushing Memorial went to Jo Pa's Sweet Lou in 2:01.4. Trained and driven by the husband and wife team of Lisa and Wally Watson, the 5-year-old son of Sweet Lou is owned by Mark Jacoff.
Jo Pa's Sweet Lou paid $24.60 to win. Mr Wiggle Pants (Drew Campbell) finished second, Bettoriffic (Matt Athearn) was third. The 5-2 exacta paid $43.10.
Safety Second was the only horse to repeat, taking the third div., and winning back-to-back legs of the Rick Cushing Memorial. Dan Deslandes smoked the field by over 14 lengths to stop the timer in 2:00.1. Safety Second paid $2.40 to win. Whatchagonnadoboo (Aaron Hall) finished second; Pembroke Ranger (Luke Varnum) was third.
Trained by Karl Butterfield, and previously owned by Barry Franklin, Safety Second was claimed from the last leg by Charles "Butch" Eaton for $4,000, and will surely be the favorite for the final.
Roderick "Rick" Cushing of Wilton, Maine was a well-respected trainer & driver for over 40 years on the New England circuit, and is also the late-father of Mike and Ron Cushing, who have carried on the family's commitment and passion for Maine harness racing. The top eight money earners (listed below) that raced in both legs and subsequently enter will qualify for the $10,000 final on Wednesday, December 22.
Bruce Ranger also had two wins on the program, which puts him one victory ahead of Drew Campbell in the on-going battle for Cumberland's top dash-winning reinsman.
Racing continues on Wednesday (Dec. 15) and then resumes once again on Saturday (Dec. 18) and Sunday (Dec. 19), post time for all race dates is 11:00 a.m.
Our Winter Festival extended pari-mutuel meeting continues with live harness racing several days each week through December 31, 2021, which is also the date of our special retirement ceremonies for 14-year-old Standardbred horses.
For more information, go to our website: firsttrackscumberland.com.
RICK CUSHING MEMORIAL EARNINGS STANDINGS
(For all horses that raced in both legs and eligible for final)
1) $ 4,000 Safety Second
T-2) $ 2,480 Bettoriffic
T-2) $ 2,480 Pembroke Ranger
4) $ 2,200 Jo Pa's Sweet Lou
T-5) $ 2,000 Amarettigone
T-5) $ 2,000 Mr Wiggle Pants
T-5) $ 2,000 Whatchagonnadoboo
8) $ 1,320 Lucky Michael
9) $ 1,200 Rojas Blue Chip
10) $ 960 Manhattan Express
11) $ 800 Redbreast Hanover
12) $ 640 Invictus Hanover
13) $ 520 Bolt Ruler
14) $ 480 Baileys Legacy
15) $ 400 Star Of Terror
16) $ 320 Zampara
17) $ 200 Ima Tragedy N