December 16, 2021 – by Chris Tully, for First Tracks Cumberland
CUMBERLAND, ME – The second round of three elimination legs of the Fred Nichols Memorial Late Closing Series went postward at First Tracks Cumberland on Wednesday (Dec. 15), with two new victors and one repeat winner visiting the Blue Seal Winners Circle.
The first $5,000 division was a wire-to-wire romp for Sanattle Slew and driver Dan Deslandes. The meet's third leading reinsman put the 10-year-old son of Santanna Blue Chip on the front end from post five, and never looked back. Scoring in 1:58.3 by 3-3/4 lengths, it was Sanattle Slew's fourth victory in his last five starts.
Trained by Karl Butterfield for owner Jose Cerventes, Sanattle Slew paid $6.00 to win. Cool Jack (Aaron Hall) finished second; Through The Fence (Drew Campbell) was third.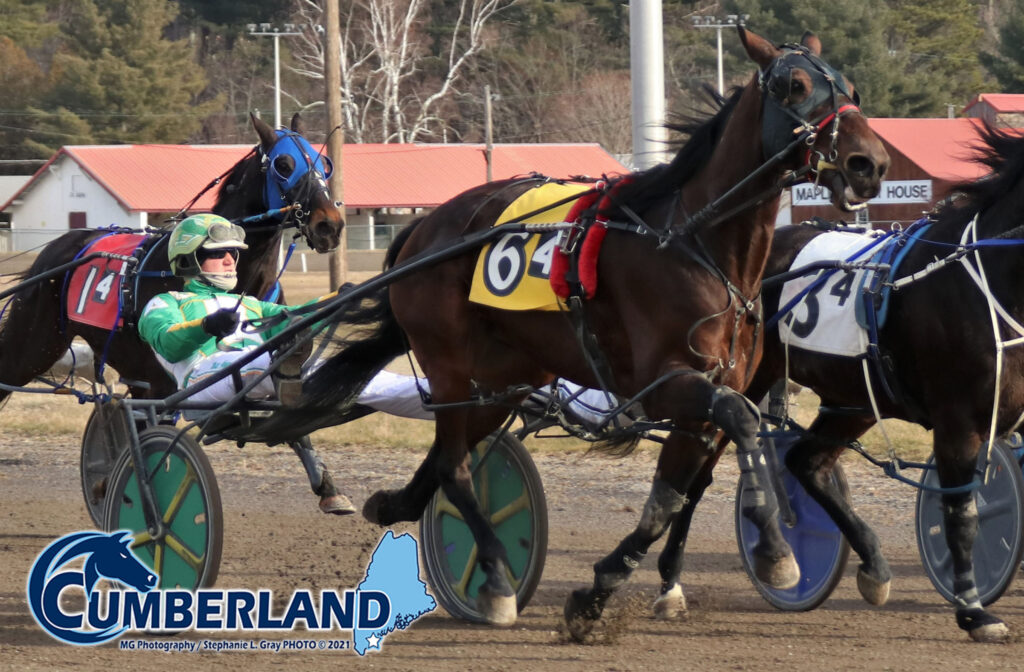 The second div. went to repeat winner Obscene Blue Chip and driver Matt Athearn. Starting from post six, the 7-year-old son of Western Ideal had the best view of favorite Mach Diesel (Bruce Ranger) cutting fractions of 28.2, and 58.2 to the half. Southwind Terror (Nick Graffam) was the first to pull first over, with Obscene Blue Chip (Athearn) enjoying that second over cover into a 1:27.2 third quarter.
Matt Athearn urged Obscene Blue Chip down the lane and squeaked out the win by a nose in 1:59.2 over King Royalty (Kevin Switzer). Mach Diesel (Ranger) finished third by a neck.
Trained by Kenneth Secord for owner Cris Wescott, Obscene Blue Chip paid $6.00 to win.
The third and final division of the Fred Nichols was captured by So It Goes and Nick Graffam who got up in the final strides to win by a nose over favorite Commondiscourtesy (Drew Campbell) in 1:58.4.
Trained and co-owned by Brian Lamb with Mona Dodd, So It Goes lit up the tote board, paying $62.00 to win.
Named for the man that was instrumental in keeping Maine's Harness Racing Industry alive, Nichols wore many hats in our industry, including, but not limited to USTA director, race secretary and promotions director. The top eight money earners (listed below) that raced in both legs and subsequently enter will qualify for the $15,000 final on Wednesday, December 22.
Kevin Switzer Jr. enjoyed two driving wins on the program. Bruce Ranger and Drew Campbell each had one win on the card, which was enough to keep the former in first place by one victory over the latter, in the on-going battle for Cumberland's top dash-winning reinsman.
Racing resumes once again on Saturday (Dec. 18) and Sunday (Dec. 19), post time for all race dates is 11:00 a.m.
Our Winter Festival extended pari-mutuel meeting continues with live harness racing several days each week through December 31, 2021, which is also the date of our special retirement ceremonies for 14-year-old Standardbred horses.
For more information, go to our website: firsttrackscumberland.com.
FRED NICHOLS MEM. POINT STANDINGS
1) $5000 OBSCENE BLUE
2) $3750 COMMONDISCOURTESY
T-3) $3100 SANATTLE SLEW
T-3) $3100 THROUGH THE FENCE
T-5) $2500 COOL JACK
T-5) $2500 SO IT GOES
T-7) $1850 MACH DIESEL
T-7) $1850 PO PO DEE
9) $1250 KING ROYALTY
T-10) $1000 JOEY THE THIRD
T-10) $1000 TAIL HOOK
T-12) $650 BET ON SUCCESS
T-12) $650 REAL SANCHO
14) $500 MOONSHINECHARLEIGH
T-15) $400 SOUTHWIND TERROR
T-15) $400 TOE TAG
17) $250 ROCKAHOLIC