May 25, 2023, by Chris Tully, for First Tracks Cumberland
CUMBERLAND, ME – The $10,000 Bruce Ranger Open Pace is the centerpiece of a fun-filled weekend (May 26 & 27) at First Tracks Cumberland, which is dedicated to one of Maine's favorite sons who recently went over the 10,000 win threshold. Just the 19th driver in harness racing history to reach that lofty total, the Cumberland County native hails from a long line of harness racing legends that helped put the historic Norton Farm on the map.
Opening Day (Friday) will start with a cookout in the Cumberland paddock area for local and participating horse people, which is generously sponsored by 'Silver Streak Starters.'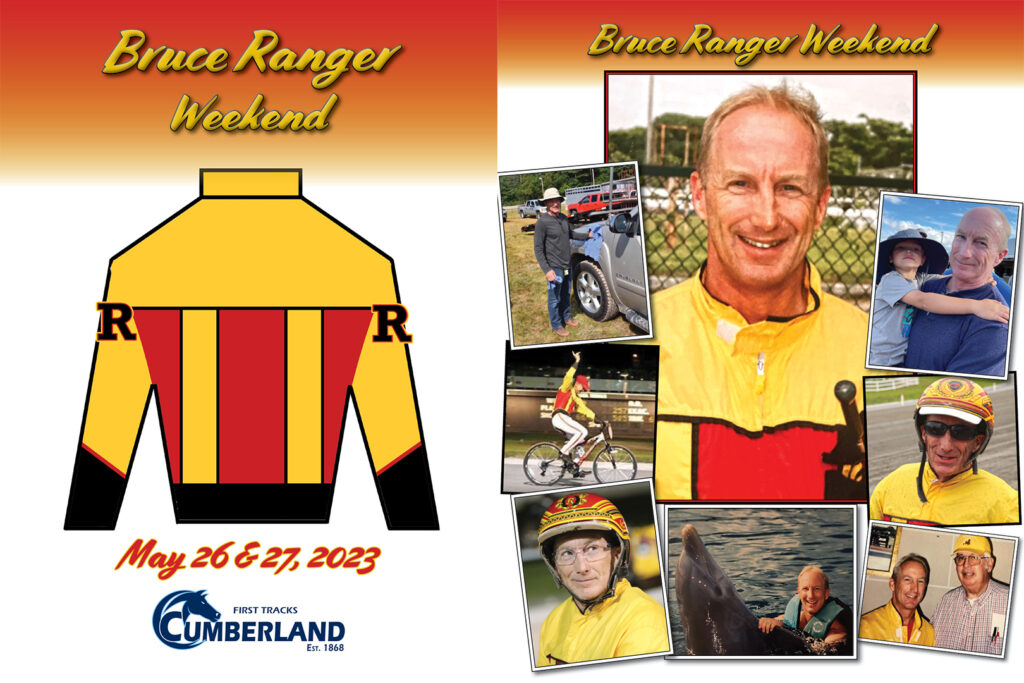 Friday's (May 26) 11 race program features the $10,000 for 10,000 Bruce Ranger Open Pace, with six of the area's top sidewinders vying for the five-figure purse. The wagering menu includes a 50 cent trifecta in every race, as well as the usual assortment of exotic wagers with low 16% takeouts. The Bird Dance N (post 4, 2-1) has been installed as the morning line favorite, and will be driven by Nick Graffam. Former track record holder Rocksapatriot (Dave Ingraham, post 3, 4-1) is the trackman's second choice. Ranger himself has a mount in the race named in his honor, and will be driving Paternity Suit A (post 5, 6.-1).
To commemorate the distinctive weekend, a collectable color cover program wrap has been printed and is loaded with seven pages of old and recent photos of Ranger. These special editions will only be available on track, at the regular program price of $2.
Saturday's (May 27) program carries ten races, and Bruce Ranger will sign autographs on the apron with fans and admirers immediately following the first race. During that time, the popular Maine Amateur Driving Club (MADC) will go postward in the second race. Now in its fourth week, no one not named Jason Bertolini has visited the winners circle in any edition of the MADC this year. The series is sponsored by the Blue Seal Feed Stores of North Yarmouth and Windham, Maine.
Live harness racing continues at Cumberland throughout the Spring and early Summer months with regular racing on Friday and Saturday each weekend. First post is slated for 3:15 pm (EDT) during the extended pari-mutuel meeting, which runs through August 5.