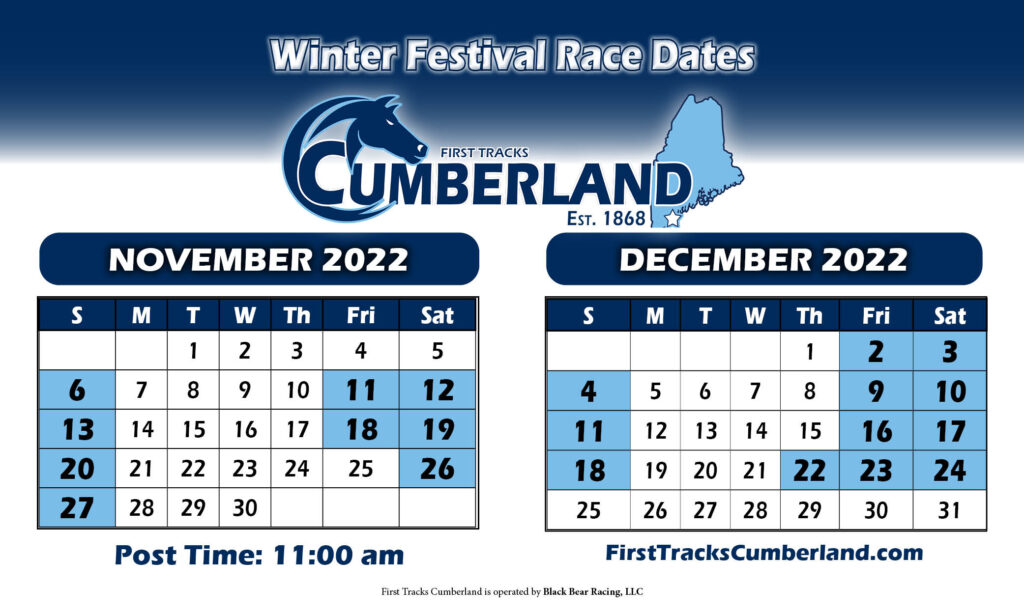 October 30, 2022 – by Chris Tully, for First Tracks Cumberland
CUMBERLAND, ME – Racing resumes at the iconic Cumberland Raceway on Sunday (Nov. 6) for the first of 21 Southern Maine racing dates dubbed the "Winter Festival" and carries a new 11:00 a.m. (EST) first post time.
Condition sheets for horse trainers will be available early in the week, with the first draw slated for Thursday (Nov. 3) for the opening day card.
In addition, racing secretary Marc Reynolds is working on several lucrative Late Closing series for the month of December, which should provide for very competitive fields vying for over $85,000 in additional purse monies.
Racing continues at First Tracks Cumberland for our second Winter-time extended pari-mutuel meeting featuring three consecutive days of racing with a Friday, Saturday and Sunday schedule. The action continues weekly through December 24, 2021.
For more information go to our website: firsttrackscumberland.com
Follow us on Facebook at @FirstTracksCumberland.