April 7, 2022, by Chris Tully for First Tracks Cumberland
First Tracks Cumberland's upcoming opening weekend marks the first harness racing dates of the year in the state of Maine, and leads off with two cards sporting a dozen races on both Friday (April 8) and Saturday (April 9).
Post time for the Spring/Summer meet is set for 3 p.m. on both Fridays and Saturdays, with the extended pari-mutuel meeting racing each weekend through July 23.
Friday's card wastes no time getting into the top classes, featuring a $6,500 Open I Trot to kick off the daily double. Two standouts that had been squaring off at Saratoga recently are Northern Skyway (post 4, Nick Graffam) and Vesuvio Bi (6, Bruce Ranger). Combined, they sport over half a million in lifetime earnings, and should benefit from the change in scenery.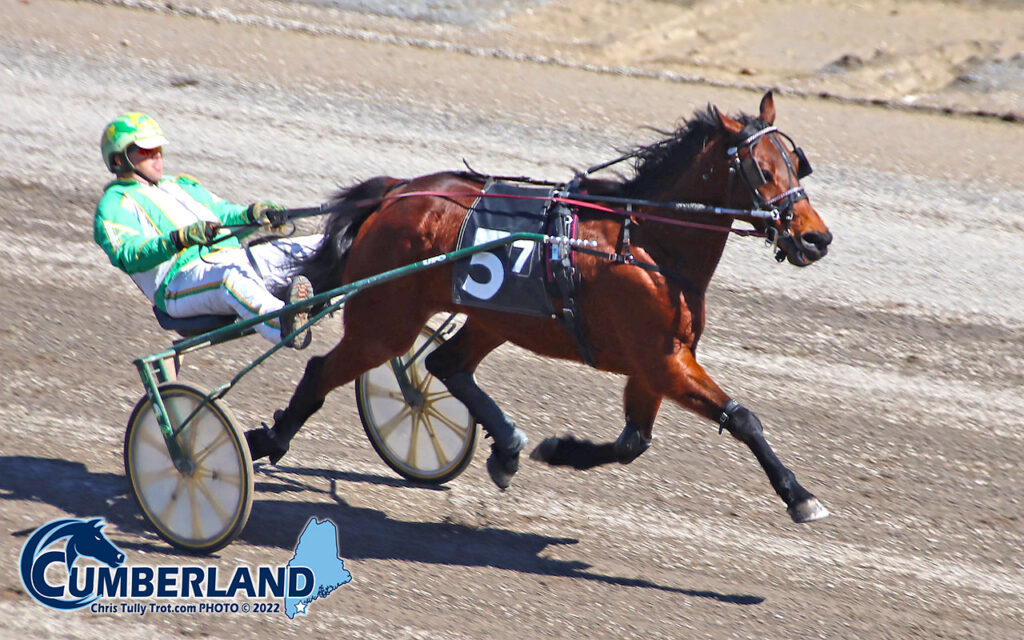 Not to be taken lightly is TrackMaster third choice Kyrie Deo (5, Mark Athearn) who ran off and hid in his recent Cumberland qualifier. The 5-year-old son of Donato Hanover won his last two at Plainridge before the previous season's end.
The first race kicks off the Cumberland 50 cent Pick-5, along with the usual Daily Double, Exacta and Trifecta wagering.
The second 'top trot' of the day is the $6,000 Open II which features some of the usual local suspects from 2021, along with some out-of-town invaders looking to steal some thunder.
Aaron Hall's recent acquisition brings Storm Bringer (post 5) in from the Burke stable and Yonkers where he earned $11,000 in just 3 starts this season.
Elisha Lafreniere sets up 14-year-old Ubanji (1, Bruce Ranger) for his swan song season, looking to improve on his second place finish last week at Monticello.
James Dunn brought Thruway (3, Nick Graffam) across the Ohio Turnpike from Miami Valley where the 7-year-old son of Cantab Hall picked up $14,000 seasonal buckeyes before heading east.
Race 3 marks the start of our new 20 cent Pick-6 with a low takeout of 16 percent.
Saturday's card is equally exciting, with several open events for pacers, as well as the triumphant return of the greatest side show in harness racing, the Maine Amateur Driving Club (MADC).
Race nine features the top pacers on the grounds, and the $6,500 Open I pits five over-achievers against one another over the recently refurbished racing surface.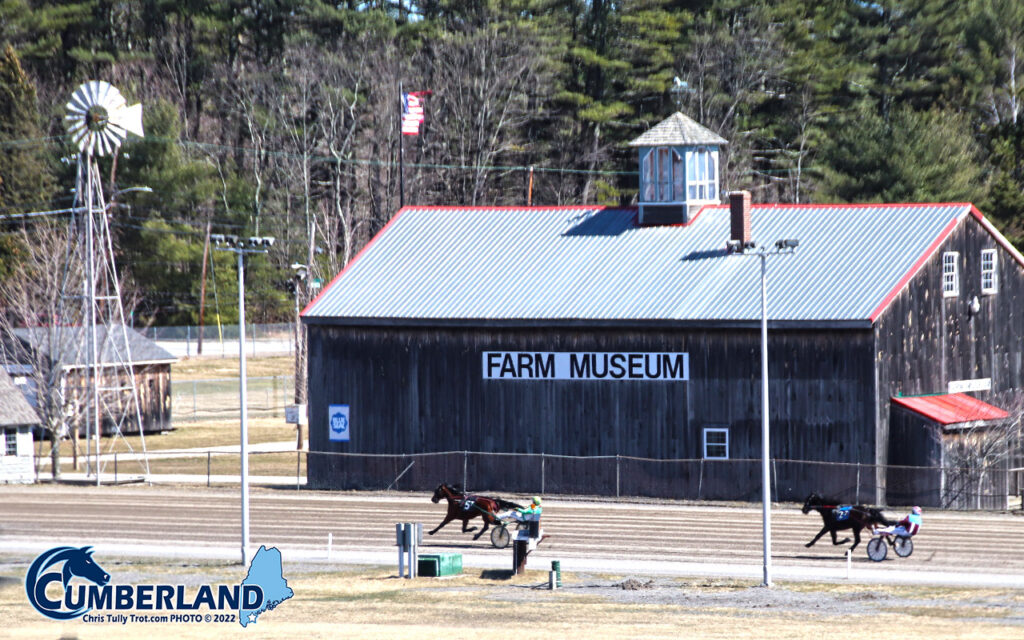 Ron Cushing returns from the tough Ohio circuit with Starznheaven (post 4) where the 10-year-old son of Rock N Roll Heaven already earned $17,000 this season. Nipping at his heals will surely be Soho Leviathan A (5, Kevin Switzer), who posted the fastest qualifier of the year at Cumberland (1:58.4) for trainer Bob Marston.
Looking to resume his position amongst the top ranks is Captain Nash (3, Bruce Ranger), who was on the board in 6 of 7 attempts at the tail end of the 2021 Southern Maine season.
Races 8 and 10 denote the start of the Maine Amateur Driving Club 2022 season, sponsored by Blue Seal Feeds. The always popular and lively events attract a well-rounded group of young and old, novice and seasoned, big and small harness drivers competing for swag bucket trophies and bragging rights.
The 8th race MADC $3,800 Group C features many of the top contenders of last year, including series point leader Benson Merrill (5, War Daddy), along with MADC president Joe Burke (6, Meetmeatthedance), as well as up-and-comer Jason Bertolini (age 25) and veteran Bob Nadeau (84).
The 10th race MADC $4,200 Group B sees many of the active teamsters return to the sulky, including local Amateur advocate Todd Whitney who has amassed 162 victories over several decades of competition. Whitney, the 2010 National Amateur Driving Champion, drives early morning-line favorite Inforce from post 6.
As always, the Maine Amateur Driving Club is sponsored by the nice folks at the North Yarmouth Blue Seal Feed Store and the Windham Blue Seal Feed Store, with leadership and support from Aimee Nichols, their dedicated territory sales manager.
The twelfth race finale on both Friday and Saturday features our new 20 cent Hi-Five (Pentafecta), with a low takeout of 16%.
Local horseman Mike Stevenson is just one win away from his 2,000th driving victory and is programed to steer six horses on Friday's opener.
Next week features the first legs of our 'Kick-Off' Late Closing Series for pacers, with the top class going for a $12,000 final the following week. See the condition sheet on the USTA online entry system, or our website, for more details.
Qualifiers will be held once a week on Saturdays at 2 p.m., before the start of the pari-mutuel card.
More information can be found on our website: https://firsttrackscumberland.com and on our Facebook page: First Tracks Cumberland.