January 1, 2022 – by Chris Tully, for First Tracks Cumberland
CUMBERLAND, ME – Roadshow Vic and Beer League had raced against one another on many occasions in the past, usually in full fields of trotters in the state of Maine. When the two veterans lined up behind the Wes Brown starting gate on Friday (Dec. 31) it would be for the final time of their careers.
Carded as race ten on the 13-race program, and highlighted by retirement ceremonies for 13 individual 14-year-old Standardbreds, Roadshow Vic emerged victorious in the $2,000 Geriatric Invitational Trot at Cumberland.
Driven to victory by his owner and trainer Mike Cushing, the 59-time winner goes out a winner having earned $323,323 lifetime. Roadshow Vic paid $2.40 to win.
Finishing a close second was Beer League, a 14-year-old son of Broadway Hall that is owned by Gayle Harris and was driven in the match race by his trainer Mark Harris. Beer League retires with $294,080 in lifetime earnings and 43 career victories.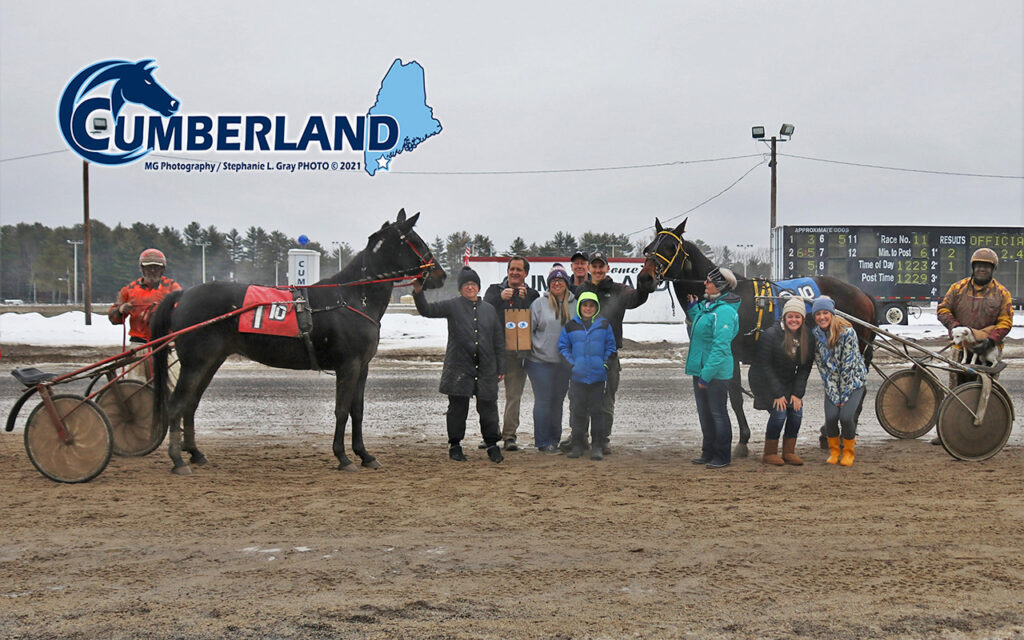 The winners circle was packed with well-wishers from both camps, with both horses having photos taken while looking at each other for one final occasion. Both horses ride off into the sunset and will live out their days comfortably at their owners' farms in Southern Maine.
The $3,500 Au Revoir Invitational Pace was carded as race eleven, with two 14-year-olds starting from inside: Three New Dawns (Drew Campbell, post 1) finished a game second, and Panhellenic (Kevin Switzer Jr, post 2), picked up his last check, finishing fifth.
Following that winners circle presentatation, the connections of Three New Dawns (Alexandria Chadbourne) and Panhellinic (Chris Dubois Stable) received their recognition as retiring Standardbreds with Yonie's beta halters with their names engraved on the brass nameplate, as well as a custom made name signs designed and produced by harness racing fan and talented artist Barbara Dresser.
The race was won by Milliondollardad (Bruce Ranger), who paid $11.00 to win. Owned and trained by Dakota Jackson, it was his second training victory of the day. Jackson's first victory came in race eight when he swooped the field coming down the home stretch to take the Maine Amateur Driving Club final with his own Rockaholic.
Sponsored by Blue Seal Feeds, the race marked the culmination of seven weeks of 16 divisions of the popular series, with Benson Merrill finishing as the top point earner.
Throughout the day a total of thirteen veteran Standardbreds were recognized for their on-track accomplishments with special presentations and gifts given to the connections.
An accomplished group of Harness Racing Stars, these pacers and trotters have collectively earned over $4.2 million for an average of $324,441 per starter. These monsters of the midway have won a total of 646 races from 4,189 starts for an average of 50 wins per horse, sporting an average race record of 1:54.1.
In addition to the four aforementioned horses, Hoboken Hanover, Cool Runnings, Pan Taylor, Fox Valley Primo, Sign To Inverell A, Windsong Gorgeous, Photo King, Trotalot and Classy Kyle were also acknowledged in the winner's circle. Some of these retiring 14-year-olds led various post parades of earlier races, while others walked over. Additional horses were also mentioned in absentia as they have taken new roles with New Vocations or as broodmares.
Driver Drew Campbell came out swinging in his quest for the dash title, winning three races on the card. Bruce Ranger won two on the card, but it was not enough to catch his fellow reinsman and friend Drew Campbell who ended the year in the lead with 75 victories over Ranger's 73 trips to the Blue Seal winners circle. Benson Merrill was the meet's leading trainer with 46 wins.
A good crowd enjoyed the full card of racing and fans bet over $100,000 worldwide on the day's program. First Tracks Cumberland is scheduled to begin racing again on April 8, 2022, pending final approval from the Maine Harness Racing Commission.
Following the last race, and prior to the trackside awards for the year's leading trainer and driver, First Tracks Cumberland CEO Mike Cianchette offered his gratitude to the horsemen, staff and fans for helping the inaugural race meet achieve resounding success.  Cianchette noted that it was the first time in history that harness racing was conducted on New Year's Eve, and added, "Just because people think we're crazy, doesn't mean we are wrong."